2nd Annual Pet Blogger Challenge
This post may contain affiliate links. We may earn money or products from the companies mentioned in this post.
The beginning of the new year is a great time to reflect back on what you accomplished over the past year as well as look to the future.  I've been thinking about this (my goals) a lot over the past few days and although I don't quite yet have a clear picture of what I'd like to do with my puppy training blog in the upcoming 12 months I do have some general ideas.
This morning after browsing through my RSS Feeds I found a number of dog blogs participating in the Pet Blogger Challenge.  After reading through a few Pet Blogger Challenge Posts I decided that this would be a great way to take a quick glimpse at things we've done on the blog in the past and what we plan to do in the future.
So we went ahead and visited this post: Pet Blogger Challenge, followed the rules, answered a few questions and voila…we have today's blog post!
1. When did you begin your blog?
I published my first blog post on PuppyInTraining.com way back on August 1st 2007.  My first post was basically the story about how I adopted my puppy, Linus from the animal shelter.  I remember being very concerned with my blog design (I used a free WordPress template and made a few customizations) and using a bunch of pictures of my first guide dog puppy in the heading (actually 2 are of Stetson my guide pup and 2 are Linus my rescue pup).  In fact I still have my original wordpress theme.  Here's what it looked like: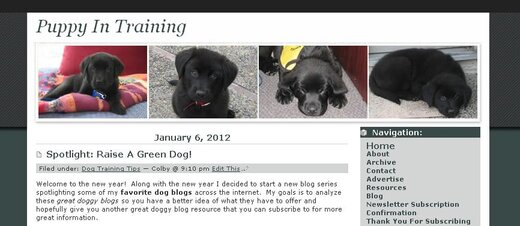 Since then I've published over 450 blog posts and changed my theme I believe 4 times.  My current theme is using the Genesis Framework.
2. What was your original purpose for starting a blog?
My original purpose for starting a blog was to document my journey raising a guide dog puppy in training.  I originally set it up to keep friends and family up to date on my first guide pup, Stetson's progress on his way to becoming a working guide dog.
3. Is your current purpose the same?
Since I started the Puppy In Training Blog I've raised 3 guide dog pups and I'm currently raising a 4th.  The purpose of my blog has evolved a little bit since it's beginnings and as technology has changed so has the purposed of my blog.
If not, what's different?
As I mentioned the blog has evolved.  My main purpose and goal today is to offer "Puppy Training Tips From My Experiences As A Guide Dog Puppy Raiser".  As I mentioned as technology has changed so has my blogging.  Today, I report a lot of my puppies activities using Facebook, Twitter, and YouTube rather than my blog.  For instance I post a lot of my pictures from outings on the Puppy In Training Facebook page.  I post short little tweets about what we're doing on our Twitter page.  On YouTube we started our Puppy In Training TV channel and also post dog product video reviews.
The blog really brings everything together and as I mentioned today we use it to share our experiences in order to help others with their puppy training problems.
If so, how do you feel you've met your goals?
My friends and family still interact with me on the blog and also now on Facebook, Twitter, and YouTube so I guess I did meet my original goals by keeping them up to date on our journey as guide dog puppy raisers.  The coolest part are the thousands of other people who also follow along and learn the in's and out's of raising a puppy.
4. Do you blog on a schedule or as the spirit moves you?
Recently it's been "as the spirit moves me", but in the past I've tried several different scheduling techniques.
If the former, how often — and what techniques do you use to stick to it?
As I mentioned in the past I've tried different scheduling techniques including blogging Monday thru Friday.  I also tried posting every day of the month.  We've even worked on posting only 3 days a week (Monday, Wednesday, and Friday).  However, in the long run we haven't stuck to any specific schedule.  In my experience I've had the best success sticking to a schedule by following this list:
Decide on a schedule (3 days a week, 5 days a week, every day in a month)
Brainstorm for ideas on a weekly or monthly basis
For each idea create an initial topic/title
Schedule the topics/titles for specific days using your blog software
Expand each topic/title into a blog post before the scheduled publish date.
Keep a back log of blog posts for busy days, vacation days, sick days, etc.
Repeat the following week/month
I'm in the process of putting together a new schedule for my blog for the year.
If the latter, do you worry about… well, whatever you might worry about (e.g. losing traffic, losing momentum)?
I'm not good when I'm not on a schedule which is how I'm currently operating.  However, I don't worry too much about losing traffic (a lot of my traffic comes from Search Engines), but I do worry about losing loyal readers.  I took a look at some of my numbers for the past few years and here's what I found:

My first post was on August 1st 2007 and I received virtually no traffic during those first few months besides the occasional visit from my mom, dad, and a few friends.  I didn't even have Google Analytics installed until February 2008.  However, I did have Google AdSense installed during those early months and according to AdSense I received 1,528 page views from 25 blog posts during the time period: August 1st, 2007 – December 31st, 2007.
As you can see over the years my traffic has steadily climbed, but none more than in 2008, my first full year as a blogger.  I really stuck to a good schedule in 2008 and produced 196 blog posts and that's what I'd like to get back to in 2012.
I'm going to try and be an overachiever this year and focus on producing on average 4 blog posts a week.  That means I should end the year with 208 blog posts and hopefully my most productive year as a blogger.  This goal is definitely attainable especially given the fact that it's a leap year and I have an extra day to complete the task!
5. Are you generating income from your blog?
Yes, we actually made almost enough money to buy a cup of coffee in our first year of blogging.  We feel very lucky that we receive a little bit of money from our Puppy Training blog which helps to cover our hosting costs which shot way up this year thanks to a few traffic spikes back in April 2011 that forced us to move off our shared hosting plan.  Bluehost refused to reactivate our account so we moved to a HostGator Virtual Private Server.   However, our income still exceeds our costs and this allows us to make more donations to some of our favorite non-profit organizations including Guide Dogs of America and Cuddly Canines Rescue.
If so, how (e.g. sponsor ads, affiliate relationships, spokesperson opportunities)?
The Puppy In Training Blog has actually been producing income starting in it's first year, 2007 (although we didn't receive an actual check until a few months in to 2008).  Way back in 2007 we made just over $1 with Google AdSense.  Since then we've made a little bit of money every month using mainly Google AdSense, Amazon Affiliates, Chitika, and a few other affiliate programs.  We've also dabbled in sponsored ads, posts, and text link advertising.
According to our Amazon Affiliates account we've sold over $25,000 worth of products since 2007.  However, it doesn't amount to a ton of money since our commission is usually between 4% and 8% (usually closer to 4%).
Our Google AdSense Ads produced some of the highest single day earnings in 2011 and we nearly broke the $100 mark one day.   However, on average we receive much less than $100 a day.
None of our other forms of income individually produce more than $50 a month on average.   I made a few changes to this section of the post (1/21/2012) and it's a little more vague then I'd like, but if you're interested in chatting further on this topic then please feel free to contact me through our contact form.
If not currently, do you hope to in the future — and how?
We have a few plans to try and diversify our income in 2012 and hopefully should announce a few things in the coming weeks.
6. What do you like most about blogging in general and your blog in particular (bragging is good!)?
Some of our favorite things about blogging are:
Making relationships with other bloggers.
Helping people with their puppy training issues.
Being part of an online community.
Helping some of the organizations we volunteer for with monetary donations produced from the blog.
Keeping connected with friends and family through the blog.
7. What do you like least?
Feeling obligated to write a blog post
Managing the technical aspects of the blog.  This seems to get worse as the blog grows.
Dealing with negative people who visit the blog.
Not having enough time to read and comment on other people's pet blogs.
8. How do you see your blog changing/growing in 2012?
I'm hoping that 2012 will be a big year for the Puppy In Training blog.  A few of my goals off the top of my head are to:
Create and maintain new relationships with other pet bloggers
Work on my email newsletter
Create an e-book
Create a puppy training membership area for new puppy raisers
Thanks to Edie of Will My Dog Hate Me and Amy from the Go Pet Friendly Blog for hosting the 2nd Annual Pet Blogger Challenge.  We really got a lot out of not only thinking about our own blog, but also reading through the many other blogs participating in this years challenge.
How about you?  Did you participate in this years Pet Blogger Challenge?  What is the most interesting thing you learned from someone else's Pet Blogger Challenge post?

Top Picks For Our Puppies
Check out more of our favorites on our New Puppy Checklist.