4 Steps To A Great Puppy Group Photo
This post may contain affiliate links. We may earn money or products from the companies mentioned in this post.
If you saw my blog post the other day, 4 Steps To Avoid In A Puppy Group Photo then you might be asking yourself:
"what does this guy know about taking a great puppy group photo".
Over the past couple days I caught a glimpse of some great puppy group photos and made a few assumptions on how these photos and photographers were able to produce such wonderful images.
Disclaimer: These are just my assumptions on how to create a great puppy group photo and not actually images I've been able to produce on my own. If you want to see the quality of my most recent puppy group photo then take a look at the post 4 Steps To Avoid In A Puppy Group Photo.
Here are the 4 steps I hope to follow during my next group photo shoot (if you saw my last photo it shouldn't be too difficult to improve upon).
4 Steps To A Great Puppy Group Photo
Use A Professional Camera – It doesn't have to be a super expensive high end camera. When I actually remember to bring my camera I have a Canon PowerShot Elph. The Elph is adequate for most pictures an average photographer will take. Most camera's should get the job done, but a higher quality camera will produce higher quality photos. My suggestion: Just don't use your camera phone!
Get Several Assistants – I'd have at least 1 assistant/person per puppy. The assistant can concentrate on keeping their individual puppy in position for the perfect puppy group photo. Whenever I see these puppy group photos I always wonder how many people are on the other side of the camera.
Get Proper Lighting – In my post 4 Steps To Avoid In A Puppy Group Photo I mentioned that it was much more difficult to take pictures of black labs then yellow labs. This can be solved by using proper lighting.
Use Great Photo Editing Software – This can solve all your problems. We can crop our image. Make parts of the photo lighter or darker. We can even edit out certain things like perhaps people holding the puppies. My mom is a whiz with Photoshop and also a very sharp photographer. I prefer Adobe Fireworks CS3 which is also an Adobe product (a watered down version of Photoshop). If you're really into photo editing I'd recommend purchasing Adobe Photoshop (aff link). It's not cheap, but you will have all the bells and whistles for creating great images.
Sample Picture From CCI Website
This image is from the Canine Companions For Independence website. I'm guessing that a professional photographer took this picture. A beautiful background with vibrant colors and puppies lined up all in a row.
The only issue I have here is that the features on the black labs are not easy to see and was probably caused by poor lighting. I cropped the picture slightly using Adobe Fireworks CS3 and the picture may have been touched up using another editing program.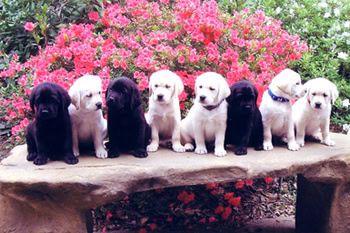 Sample Picture From Cuddly Canines Website
Adorable Black Lab Mixed puppies from the Cuddly Canines Website. I used Adobe Fireworks CS3 to better center the puppies by cropping the image.
The lighting is pretty good and you can see the features on these young pups faces. I'm guessing this photo was taken using a camera similar to my Canon PowerShot Elph which shows the quality of image you can produce with a consumer digital camera.
Are you interested in the puppies sitting on top of the fire truck? These puppies are being fostered in Huntington Beach, CA and will soon be up for adoption. For more information please contact Cuddly Canines through their website at http://www.cuddlycanines.com.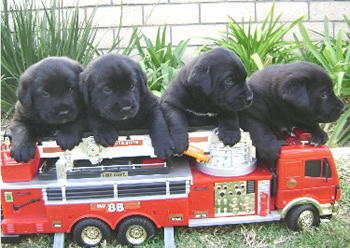 Major kudos on both pictures for getting all the puppies to sit, stay, and pose for such wonderful images. I'm wondering how many attempts it took to get these great puppy group photos and how quickly they dispersed after the snap of the picture.
Trust me when I say it's not easy getting your puppies to line up and stay in position for long periods of time…especially puppies as young as the ones in our sample pictures.
What do you think? Do you have any great puppy group photos? If you do I'd love to see them and possibly add them to my blog.
Top Picks For Our Puppies
Check out more of our favorites on our New Puppy Checklist.