4 Steps To Avoid In A Puppy Group Photo
This post may contain affiliate links. We may earn money or products from the companies mentioned in this post.
As a Guide Dog of America Puppy Raiser it's a regular occurrence taking a group of puppies for an outing at the mall, restaurant, airport…etc. for socialization and training. At the end of training and socialization we almost always get our puppies together for a puppy group photo. When it comes to working the camera, positioning the dogs, getting proper lighting, leaving your dog in a stay position I'm a complete amateur. So, I ask myself…"why are my pictures so much worse then the professionals I see online on a daily basis?"
A little over a week ago we took our puppies to the MainPlace Mall for obedience and socialization training. When we were done I snapped a puppy group photo with my camera phone.
Here are 4 steps I will do my best not to repeat when taking our next puppy group photo.
The 4 Steps To Avoid In A Puppy Group Photo
Forget your camera – It seems simple enough, but every time there is a Kodak moment I leave my digital camera at home and use my inferior cell phone camera (if I use anything at all).
Own a black lab – My camera skills are already inferior, but to make matters worse Stetson is a black lab…half the pictures I've taken of him don't show any of his features. Take a look at the sample picture. You can see every feature on the yellow labs, but the black labs look like a smudge.
Put your finger in front of the camera lens – If you notice the sample picture there is a mysterious black shadow in the top right corner…that would be my finger.
Be the last to put your puppy in a sit-stay for the photo – The puppies stayed in position for a decent amount of time, but I was the last to get Stetson in position and one by one they began standing and walking away. I didn't have time to position myself or get the entire bear (behind the dogs) in the picture.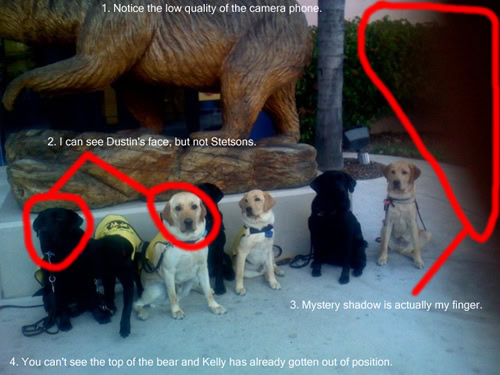 I can avoid three out of four of these mistakes during our next photo shoot and puppy outing. Hopefully documenting my mistakes today will help me and you avoid these puppy picture problems tomorrow.
Are you a professional photographer or a budding amateur? What can you suggest to make for better quality pictures?
Top Picks For Our Puppies
Check out more of our favorites on our New Puppy Checklist.