5 Doggy Links You Should Not Miss
This post may contain affiliate links. We may earn money or products from the companies mentioned in this post.
Welcome tor our first Puppy Training Weekly Roundup!  So what exactly is our Puppy Training Weekly Roundup?  Well it all started way back when we decided to compile a list of top dog blogs.
Step 1 my list of top dog blogs is now COMPLETE!
Step 2 is to add the top 50 dog blogs to my Google Reader account. CHECK!
Step 3 visit Google Reader every day and read my favorite blog articles.  CHECK!
Step 4 add cute puppy picture to post to try and attract more readers/subscribers. CHECK!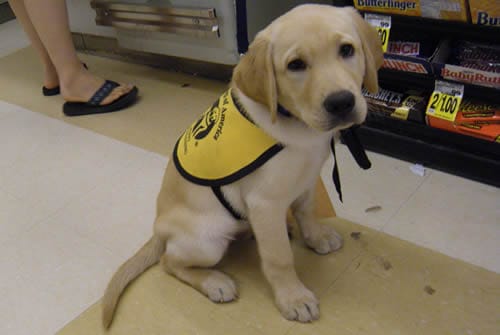 Step 5 at the end of every week share my 5 favorite dog blog posts from the week…SEE BELOW!
Why am I doing this?  There's so much information blasted out everyday I thought it would be nice to see just a short list of my favorite readings from the week.  Now you don't have to scan through 50 blogs and hundreds of posts to find the top 5.  Of course your top 5 might be slightly different then mine in which case you're welcome to subscribe to all the blogs on the top 50 dog blogs list.
Puppy Training Weekly Roundup 1
Let's Talk: Has Your Dog Had Ill Effects from Chicken Jerky? – There was a Chicken Jerky scare back in 2007 and it's back again here in 2011.  The FDA has advised consumers who feed their dogs chicken jerky to carefully monitor their dogs for hours after feeding the treats.  We stopped feeding the jerky tenders to our dogs after the first scare in 2007, but just to let everyone know we never had any problems with the treats and our dogs.  We figure it's better to be safe then sorry.
Bed Bug Dog Inspection – We knew bed bugs were on the rise, but after checking out the statistics in this article I'm thinking about moving Stetson from K9 Nosework training to Bed Bug Sniffer Training.  Seriously, check this out:
Consider that six years ago, there were 537 bedbug complaints and 82 violations (in other words, verified infestations); last year, complaints topped out at nearly 11,000, with 4,084 violations cited (nearly double that of the previous year).
Super Tough Dog Toys For Super Tough Dogs – So this one isn't really a blog post, but Johann puts together some awesome Squidoo lenses and this one on super tough toys for super tough dogs fits our Labs to a "T".  In fact, I'm not so sure these are super tough enough for my boys.  We'll have to do some of our own experimentation and report back our findings.  Thanks Johann, Gracie, and Nancy for putting together this awesome lens.
 Top 10 Dogs For The Energetically Challenged – I'm sure there are many of you out there who are just looking for a companion to relax on the couch with you and watch football all day Saturday and Sunday.  Well here's a list of dogs for those who enjoy the couch potato.  One thing I noticed that I found a bit funny was that many of the couch potato breeds have a tendency to be obese…go figure!
Five Training Tips For First Time Dog Owners – It can be a bit hectic bringing home that first puppy or dog.  This is a great article giving you five wonderful tips for the first time dog owners.  We always preach tip #1 – Be Consistent.  It is so important to be consistent with your puppy's training.  If not, they will have a very difficult time learning any command or behavior you try to teach.
That's a wrap!  I hope you found this weeks Puppy Training Roundup useful.  I'm sure over the coming weeks we may make some changes like add more posts or have fewer posts.
Anyhow, if you're a dog blogger and you wrote a particularly interesting post this week then please leave me a comment with a link in the comment section below and I'll definitely check it out.  Who knows, maybe I'll include the link in next weeks roundup…there's a thought (thinking outloud again)…if we start getting some great links to blog articles in the comment section maybe I'll include my favorite link from the comment section from each week in the following weeks Puppy Training Roundup.  We'll see…maybe a good chance for you guys to get an easy link back to your amazing posts!
Top Picks For Our Puppies
Check out more of our favorites on our New Puppy Checklist.