6th Annual Pet Adoption Fair – Home For The Holidays!
This post may contain affiliate links. We may earn money or products from the companies mentioned in this post.
Twice a year the Irvine Animal Shelter has a big Pet Adoption Fair and we try to make both events every year.  The Super Pet Adoption happens every summer and really is a must see for any pet lover if for no other reason then to see some awesome adoptable pets and make a few donations to your favorite animal rescues.
The second big Irvine Pet Adoption Fair is happening this Sunday from 10am – 3pm.  The weather forecast is for PM showers so make sure you arrive at this years pet adoption early so you don't get wet.
THE EVENT WILL BE HELD RAIN OR SHINE – OVER 500 homeless animals are depending on you to find their forever home. Please don't let discouraging weather prevent you from visiting us!!!
Irvine Home For The Holidays Pet Adoption Fair
Here are some of the details on this years Home For The Holidays Pet Adoption Fair:
WHAT: Home For The Holidays 6th Annual Pet Adoption Fair
WHEN: Sunday, December 2nd 10am – 3pm
WHERE: Irvine Animal Care Center
6443 Oak Canyon Road, Irvine, CA
Here's the full flyer from for this years Pet Adoption:
We love going to the pet adoption every year (usually twice a year if we can catch the Super Adoption in the summertime).  We do our best to support our local shelters and rescues and in past years we even used to have a Guide Dogs of America booth that we'd volunteer at!
We plan on spending the majority of the day at this years event so we can talk to the many wonderful rescues to see how we might be able to help them with their cause.  Our hope is that we can help spread the word with our online presence here on the Puppy In Training website and through our social media channels: Facebook, Twitter, YouTube, and Google+.
Here's a pic of one of the pups we met at last years Home For The Holidays.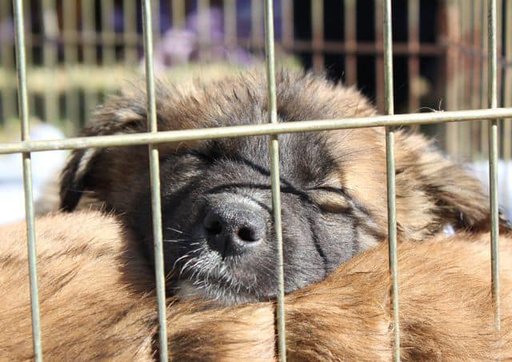 If you are involved with an animal shelter or rescue please feel free to contact us through our contact form or by leaving us a comment below.  We'd love to hear ideas on how we can help out animal shelters and rescues.
So how about you guys?  Are any of our fellow Southern Californians going to join us at this years Home For The Holidays Pet Adoption Fair?  If so, what are you most interested in seeing at this years event?  If you happen to see us don't be shy…stop us and say hello!
Top Picks For Our Puppies
Check out more of our favorites on our New Puppy Checklist.