A Father's Day Card From The Dogs?
This post may contain affiliate links. We may earn money or products from the companies mentioned in this post.
A Father's Day card from the dogs?  I know it sounds like utter insanity if you're not a pet lover like myself.  However, all you other pet bloggers out there have to agree that it is essential that you're dogs create mother's day cards, father's day cards, and every other kind of holiday card in between.
So what did Apache, Stetson, and Linus do for me this Father's Day weekend?  Well, to start off Dublin (my previous puppy in training) made a visit to the house!  I assume this must have been my early Father's day gift.  Dublin and his family stopped in Irvine on their way to San Diego.  He played at the condo and we visited Downtown Disney and the Rain Forest Cafe (more on our adventure with Dublin in tomorrows blog post).
Seeing Dublin on Father's Day weekend was a most awesome Father's Day present.  Thank you so much Liz, Lance, Alexandria, Abby, and Dublin for stopping by this weekend.  It really made my day!
Father's Day Card From The Dogs
However, that's not all!  Linus, Stetson, and Apache also put together this wonderful Father's Day card!  Take a look: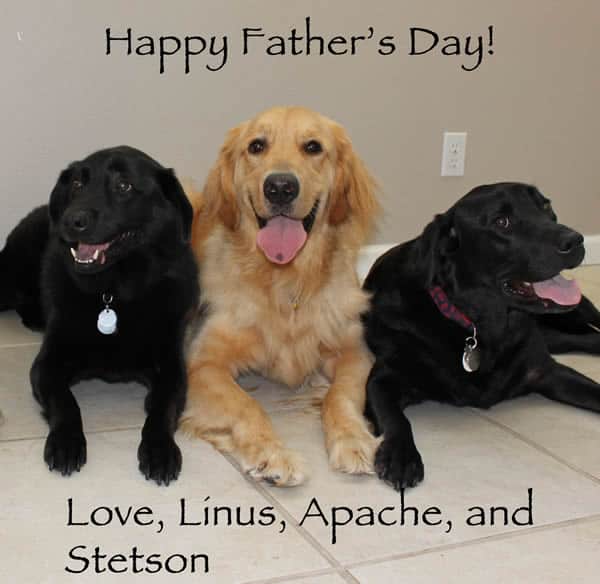 This message is actually for all the Dad's out there today.  Happy Father's Day!  I hope your Father's Day weekend was as wonderful as mine.
Yeah, it's true…I did help the boys put together this Father's Day card, but hey there's no fun if you can't be called a crazy dog person once in a while.  After all I'm always calling my mom a crazy cat lady 🙂
So what did your dogs do for you on Father's Day?  I'd love to hear about it.  Just leave us a comment in the comments section below.
Top Picks For Our Puppies
Check out more of our favorites on our New Puppy Checklist.