And They Call It Puppy Love…Literally…
This post may contain affiliate links. We may earn money or products from the companies mentioned in this post.
Once again cuteness takes over this blog. I was reluctant to post, but the story comes from Japan (I'm Japanese), it's exactly one month from Valentine's Day, the heart-shaped marking and puppy are adorable, it's a true story, and it's Friday! I went ahead and did my due diligence on this one unlike last weeks Dog Kissing Firefighter article. Amazingly it's true! This little Chihuahua was born with a perfect heart-shaped pattern on his coat and has been confirmed by Snopes.com.
These photos are already all over the internet, but I thought it would be a nice way to end the week.
Wouldn't this little guy be a perfect Valentine's Day gift.
Puppy Born With Heart-Shaped Mark
Heart-kun, as he has been named by owner Emiko Sakurada, was born on May 18, 2007, one of a litter of puppies at the Pucchin Dogs shop.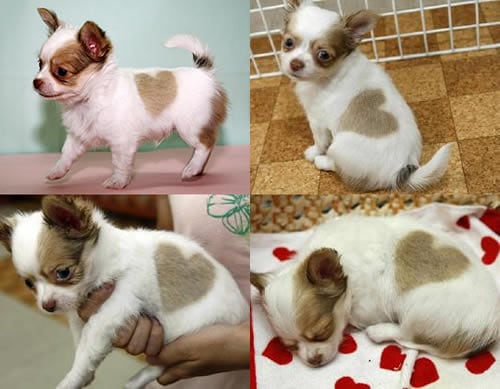 Heart-kun was born as part of a litter raised by breeder Emiko Sakurada. This little Chihuahua was born with a perfect heart-shaped pattern in his fur. Ms. Sakurada said that she had never seen a similar marking on the approximately 1,000 other puppies that she had bred, and that she had no plans to sell Heart-kun, who has "brought good fortune" to her and everyone who crosses his path. Miss Sakurada has had many requests to purchase this little guy, but with the good luck he has brought it's safe to say that he's going nowhere.
Here's a video of little Heart-kun on YouTube.
I wonder how much Miss Sakurada has been offered for little Heart-kun. Do you have any similar stories?
Top Picks For Our Puppies
Check out more of our favorites on our New Puppy Checklist.