Apache Is Working Hard On His Service Dog Training
This post may contain affiliate links. We may earn money or products from the companies mentioned in this post.
We recently got an email and to quote a part of it: "…I would say he is going to be a Great Service Dog…"  We certainly hope this will be true.
In case you don't remember Apache was my last guide dog puppy in training.  After spending a month at guide dog college he was career changed due to a medical condition.  However, the good news is he was career changed to a service dog organization called Canine Support Teams (CST).
Today Apache is in the Prison Pup Program with CST working on his service dog training with an inmate trainer at Chino Institute for Women.
Apache, A Great Service Dog…We Certainly Hope So!
Sorry, they don't allow picture of Apache while he's in the Prison Pup Program 🙁  I would have loved to have seen him in his dog Halloween Costume.  Since no updated picture here's one of him as a puppy: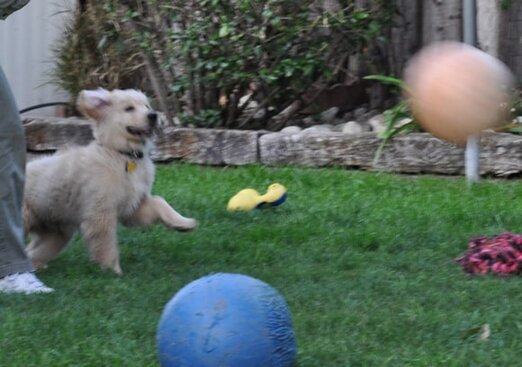 So without further adieu here's the latest update we received about our buddy, Apache:
I got to spend time with Apache last night. I have to tell you he won first place in the Halloween Costume contest he was dressed like an Indian featuring a feathered headress and a loin cloth, he enjoyed every minute of the attention. His sister Asha was Pocahontas..very cute together.

Apache is doing very well, in last nights class we had a 2 part class the first part was the Primary Trainers taking the dogs through obedience commands with their hands behind their backs using no treats or hand gestures. I can tell you Apache did very well. He kept his eyes on his Trainer and stayed right by her side, even with the distraction of other dogs. The reason this is important and is practiced is not every client will have the ability to hold a leash and give gestures. We want the dogs to maintain eye contact and do what ever they are asked to do. He did a great job…

The second part of the class was a babysitter or secondary trainer who has never worked with the dog to do the same thing. Apache still did well with this but like all the other dogs was not totally focused on the new person. So it was good for the entire class to see that all dogs need to work for whoever asks them to do the command. We did let them bring out treats and all the dogs responded better to the new people and we had lots of wagging tails. Overall it was a Great class.

I spent some time talking with his trainer and asking about progress, any issues etc. She said he is doing well at all his obedience, directional, and working on task. He loves, loves, loves to retrieve. He started with the basic dropped items off the floor, keys, pens, glasses. He has progressed to retrieving items off counters, he is tall enough to retrieve out of the sink. He has such a gentle mouth he has moved on to mail and single sheets of paper. He can also now turn lights on and off with the commands Light & Switch.

I would say he is going to be a Great Service Dog. The next Team Training is in March…client files are being reviewed and if there is a good match for him he may be in that Team Training.
I'm happy to hear that Apache did so well with his secondary trainer.  He must be maturing!  Maybe it's because his second birthday is right around the corner.  Does that mean he's almost an adult!?  Probably not till he's closer to three years old.
I'm so proud of Apache.  I hope he truly does become a great service dog for someone.  My fingers are crossed that he makes the next team training this March.  GO APACHE!!!
Do you have a dog in formal guide or service dog training?  How's your puppy doing?   Tell us about your experiences in the comment section below.
Top Picks For Our Puppies
Check out more of our favorites on our New Puppy Checklist.