Black Labrador Retriever Puppy In Training!
This post may contain affiliate links. We may earn money or products from the companies mentioned in this post.
One of my favorite times of month is our monthly Orange County Guide Dogs of America puppy raiser meeting.  This month we had several new puppies including this little black Labrador Retriever puppy in training!
It reminds me of my first meeting with Stetson over 6 years ago!  He wasn't our first puppy, but we certainly learned a lot about how to train a puppy with Stetson.  In fact Stetson taught us a lot about crate training puppies as he was by far the most difficult puppy to crate train…he cried for nearly 4 weeks straight and didn't let me sleep for more than 2 hours in a row during that first month.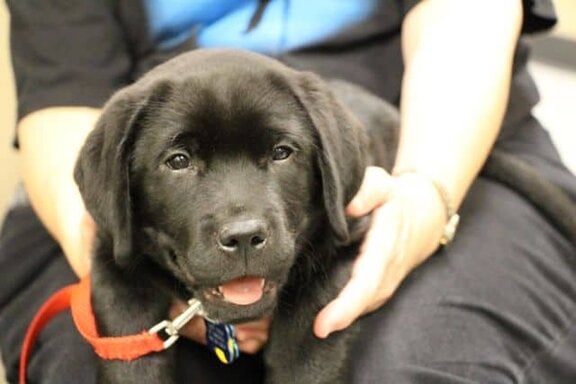 Stetson A Former Puppy In Training
Stetson never made it as a guide dog, but he has had many adventures since his start as a guide dog puppy in training.  He's achieved his Canine Good Citizen, he's become proficient at finding Birch in his K9 Nosework training, and he's great at keeping my feet warm late at night.  Of course Stetson is also a great product tester for the many doggy product reviews we do right here on the puppy in training blog.
Not all of our guide dog puppies in training will become working guides, but those that do not still have a great career ahead possibly as Search and Rescue Dogs, Service Dogs, Therapy Dogs, or as someones trusted pet just like Stetson.
What about you guys?  Have any of you raised your puppies to do a job?  Tell us about what your puppy is up to in the comment section below.
Top Picks For Our Puppies
Check out more of our favorites on our New Puppy Checklist.