BlogPaws/PetSmart Build A Biz Blog Contest – PuppyInTraining.com Video Entry
This post may contain affiliate links. We may earn money or products from the companies mentioned in this post.
About 2 months ago we entered the BlogPaws/PetSmart Build A Business Blog Contest. Our original entry was just an application with some basic information about our Puppy In Training Blog along with a bit of information about why we wanted to build a business blog.  We ended up as 1 of 10 finalists for the Build A Biz Blog Contest (congratulations to all the finalists) and our second step in the competition was to submit a 2 minute video that brings to life the reasons we want to build a business blog – enhancing and elaborating on our written entry.
We were given a couple weeks to work on our video entries and after some hard work prepping a script, shooting, and editing video here's what we produced.
Why We Want To Build A Business Blog Video Edition
Our Entry into the Build A Biz Blog Contest:
Did you guys like the video?  Guess what? We ended up being 1 of the 2 grand prize winners for the Build A Biz Blog Competition along with Snoopys Blog (Congratulations Snoopy and Annette)!
We were a bit surprised because we really aren't video gurus.  Besides our Puppy In Training TV series and a few product video reviews we really don't know too much about video production.  Obviously Linus took the the reigns and guided us to victory.  Thanks Linus!
A Few Notes On How We Produced Our Video
Equipment
Google Docs – I used Google Docs as text editor to write my script.
Macbook Pro 2008 – my computer.
iMovie 2009 – my video editor.  Comes free with iLife and your Mac.
Flip MinoHD Video Camera (affililate link) – I like the little handhelds better then using my phone.
Gorillapod Video Tripod (affiliate link) – The gorillapods are tiny tripods with flexible legs that allow you to attach the gorillapod and camera to many different things like walls, trees, bushes, etc. and are great for shooting video of yourself.  This model has magnets in the legs.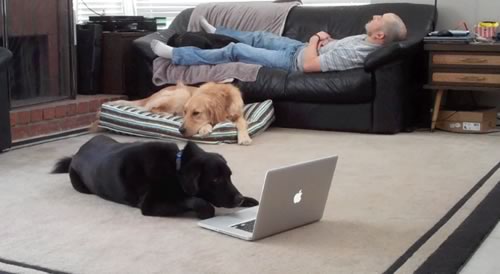 The Process
I'm no video expert, but here's a little step-by-step of my process creating the video.
Brainstorm Ideas – This took the most time as I tried to figure out exactly what I wanted to do in the video and jotted down notes.
Write The Script – My script is a 2 column table.  The left column I write what I want to say.  The right column I describe the video clip I want to shoot.
Shoot The Video – After I write the script I have an idea of all the clips I want.  I work with my talent (the doggies), get them ready for their roles, and finally shoot the video using my flip and trusty Gorillapod.
Edit The Video – I upload the clips to iMovie then edit the videos using my MacBook Pro and iMovie.
Re-Shoot Video – After editing I re-shot a couple clips to get them exactly as I wanted them.
Re-Edit Video – I add the new clips and finish up the editing
Final Review – After I'm totally done with everything I gave myself 1 additional day to take a second look at the video and made some minor edits.
Upload Video – Final step was to upload the video to the FTP site so the judges could review them.
A Couple More Small Notes
I added music to my original video that had a royalty free license through iMovie, but after reviewing the Build A Biz Contest rules I decided adding music may have been in violation of contest rules so I pulled all the music.
I made sure to blur over any logos.  Again I wanted to make sure and stay within the rules of the competition.
Overall I wanted to make a video that brought to life the reasons I wanted to build a business blog.  I wanted to make it somewhat humorous and entertaining.  Finally, I decided to put it in the voice of one of my dogs (who sounds curiously like me).
I was very happy with the final results and especially happy after hearing that we were 1 of the 2 grand prize winners!
By the way I did see a couple other of the contest finalists posted their entries on their blogs.  Take a look:
You Did What With Your Weiner
Do you have any video hints or tips for us novice video producers?  If so, tell us your tips and tricks in the comment section below.
Top Picks For Our Puppies
Check out more of our favorites on our New Puppy Checklist.