This post may contain affiliate links. We may earn money or products from the companies mentioned in this post.
Today was just like every other day reading through my feeds on Google Reader, getting the latest and greatest news, and taking a look at some of the many dog and puppy pictures that come through my feeds.  While scrolling through the many blog posts I enjoy on a daily basis I saw a picture that I could have sworn was a mop head being thrown over an obstacle on a dog agility course.
Thanks to our friends over at The Days Of Johann an Agility Dog I had the pleasure of seeing this great agility dog picture and wanted to share it with the readers here on Puppy In Training.
Johann found this pic at Reuters and we agree with Johann that "this is one of the coolest dog agility photos we have ever seen!"
Dog Or Mop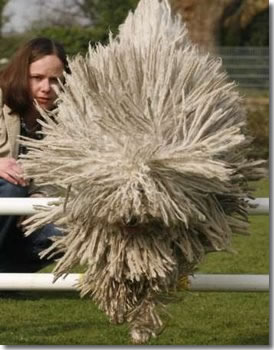 Here's the caption straight from Reuters:
Eva Meyer watches her Puli dog 'Fee' during a photo call for a dog show in Dortmund April 24, 2008. More than 6,000 dogs will compete for the title of the best pedigree hound on May 2 to 4, 2008 in Dortmund.
What do you think?  Dog or Mop?  Do you have any interesting photos of your dog?  If so, I'd love to see them and maybe post them here at Puppy In Training.
Top Picks For Our Puppies
Check out more of our favorites on our New Puppy Checklist.