Fun Dog Pictures By You The Reader
This post may contain affiliate links. We may earn money or products from the companies mentioned in this post.
Here's a collection of fun dog pictures I've received during the past few months. Over time I've collected several images sent to me from the readers of this blog. I'd like to thank everyone who has sent me a picture without you this post would never have been made.
I'd like to encourage you to please keep them coming. I love reading stories from other people and also the pictures that accompany the stories. I hope you enjoy these pictures submitted by you the reader:
Fun Dog Pictures
I had to include a couple of bunny pictures that I received:
Lets Tear This Gator Apart! — Puppies At Play
Garcon? Having Fun With Photoshop!
What's This Goat Doing On My Back?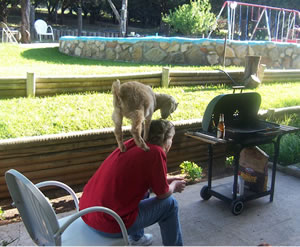 You might be wondering why included a picture of a baby goat standing on someone's back. Well there's an interesting back story to that picture and here it is:
If you take a look at the comment section a while back on our Piglet raised by a Dachshund family posts you'll see this comment:
This reminds me of one of our dachsi's, Gidget…she is a longhair and a couple of years ago there was a newborn goat show up in our driveway… I got the baby goat and put it in a box, had my husband go into town and get some baby formula and a bottle. Even tho I had to feed Buttercup with a bottle, Gidget stayed in the box with her and cleaned her and took care of her until she was about a month old. I couldn't get Gidget to leave that baby goat! The only time she would leave, would be to come and get me when the baby was hungry!
Love the story!
We are crazy dachshund people too…we have three. Two are longhairs and one is a short hair. Our first, Schautzi lived until she was almost 15. When we brought our daughter home from the hospital, Shautz decided that was her baby and no one but me or my husband could go near the baby without Schautz's permission!
They are such a wonderful breed….
Kind, caring, and protective of their humans!
Unfortunately, the hard drive on Susan's computer crashed and she did not have copies of pictures of Gidget and Buttercup. However, she did have this one of Buttercup standing on the back.
Once again thanks everyone for sharing and please if you have a fun dog picture send it to me and I'll try to post it here on the Puppy In Training website.
Top Picks For Our Puppies
Check out more of our favorites on our New Puppy Checklist.