Green Puppy? Is Your Puppy Eco-Friendly?
This post may contain affiliate links. We may earn money or products from the companies mentioned in this post.
When it comes to raising and training our puppy we make sure we do our best to raise a green puppy.  Not literally "green" of course.  We do what we can to be eco-friendly and reduce our carbon paw print.
As many of you know today is earth day so we decided it was a good idea to take a look at the things we are doing with our puppy to keep the environment healthy.
Green Puppy?
So here's what we did: We took a look at the things we currently do that embody raising a green puppy. Then we thought about three things we could do in the future to help minimize our impact on the environment.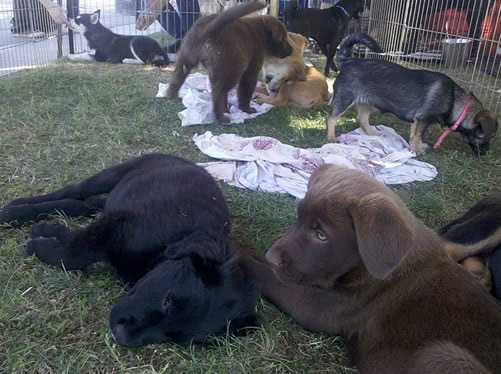 The puppies in the image above were up for adoption at the OC Pet Expo. The two in front looked a lot like purebred Labrador Retrievers. The one in the back looked a lot like a purebred Husky. The Humane Society estimates 25 percent of dogs in the shelter are purebred.
Without further adieu…here's today's Earth Day list:
Things we do to raise a green puppy:
Puppy Adoption – We encourage everyone to visit your local animal shelter or rescue. Adopting a homeless puppy/dog does not add to the current population while purchasing from a pet store or breeder encourages more breeding. We adopted Linus, an Australian Shepherd Mix from the Carson Animal Shelter. Take a look at Linus' Puppy Adoption Story.
Use That Dog As A Heater – In the winter Linus my Aussie Mix and Stetson my black lab make great heaters. We rarely turn the heat on in the winter I just cuddle up next to the two dogs and they keep me warm during those cold winter nights.
Buy Dog Food In Bulk – This is a no brainer for us. We have three dogs and always buy the largest bags we can find. It saves on our own gas and packaging waste. If you have a smaller dog you can still buy in bulk. Just make sure you get a nice Airtight Pet Food Container to keep your dog food from spoiling.
Pickup the Poop – One of my biggest pet peeves is when people do not pickup after their dogs. Dog poop can pollute water and spread disease. Obviously this is bad for the environment, but on top of that I seem to always find the unscooped poop with the bottom of my shoe…grrrrrrr
Spay And Neuter Your Dog – to help prevent overpopulation make it a point to spay or neuter your dog. This will help keep unwanted puppy litters out of the shelter. As an added bonus you may receive a significant discount when registering your dog if he is already spayed or neutered.
Reuse Your Dog Toys – We admit that we love to buy those furry new plush toys. However, we do our best to keep them in use by stitching up the seems over and over again an do our best to keep each toy in use until the very end.
Things we can do to make our pup a more eco-friendly and green puppy:
Use Biodegradable Dog Waste Bags – We've long talked about using biodegradable poop bags, but haven't yet tried them. We have three dogs and the poop bags can really add up. We need to do better and start using earth friendly biodegradable dog poop bags. There are many options on Amazon.com for biodegradable poop bags. We've been using these Mighty Paw Dog Poop Bags.
Make Your Own Pet Toys – We have tons of old toys and we do our best to stitch them back together and keep them in use as long as possible. However, we've also long thought about taking some of our old clothes and turning them into doggy toys for the boys. We'll add it to our list of things to help our puppies go green!
Purchase Eco-Friendly Supplies – We're not great label lookers, but moving forward we plan on looking for eco-friendly supplies to clean up puppy messes, organic shampoos, and keep our eyes open for green alternatives whenever purchasing new puppy products.
There you have it! Six things we currently do to raise a green puppy and three things we plan on doing in the future to become better green puppy raisers.
What about you? Are you raising a green puppy? What eco-friendly things do you do to reduce your puppies impact on the environment? Let us know in the comments section below.
Top Picks For Our Puppies
Check out more of our favorites on our New Puppy Checklist.