In Loving Memory Of Trooper, You'll Be Missed!
This post may contain affiliate links. We may earn money or products from the companies mentioned in this post.
Unfortunately, this evening I learned that Trooper passed away over the weekend. Stetson and I were lucky enough to be in puppy kindergarten with Trooper. We spent a little time together on a drive home from the GDA facility and got to take a walk around Silverlake and work on heeling. We also had the chance to work on table manners at a quaint little restaurant in Glendale.
Rest In Peace Trooper, You'll Be Missed!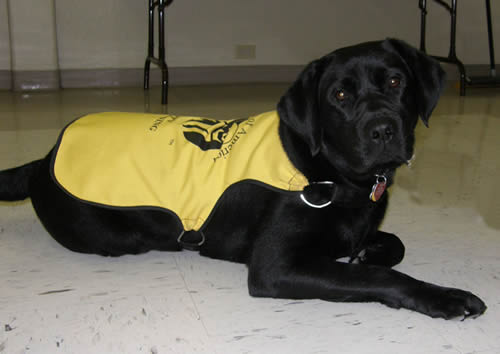 Canine Nasal Cancer
I wanted to post a little information about Trooper's symptoms in hopes to help other puppies who may have similar problems. Trooper had a virulent form of nasal cancer and there was no chance of recovery. This is taken from an email from Joe and Janet, Troopers puppy raisers:
For the past month, we had been treating Trooper for what was initially thought to be an ear infection, then an eye infection, then a tooth infection, but always with the belief that he would recover.

That was not the case, and as his condition worsened by the hour, less than a day after Boomer's death, I held Trooper in my arms as his suffering ceased.
Our thoughts and prayers go out to Trooper's puppy raisers Joe and Janet who also lost their thirteen year old family pet Boomer over the weekend. Rest In Peace Boomer.
Janet's Goodbye:
No one there to greet me,
No one at the door.

No one softly snoring,
Stretched out on the floor.

No more muddy footprints
Brought in from the rain.

No more gentle tinkle
Coming from your chain.

In time our hearts will start to mend,
Our tears will cease to flow.

You loved us well, we loved you back,
Now we must let you go.
Top Picks For Our Puppies
Check out more of our favorites on our New Puppy Checklist.