Join Us In Celebrating International Guide Dog Day!
This post may contain affiliate links. We may earn money or products from the companies mentioned in this post.
I know the day is almost over, but I'm always writing late at night.  So please forgive me for this tardy post…maybe we can just call it an early notification for next years International Guide Dog Day.  However, seeing how Dublin graduated from Guide Dog College just a few days ago I thought it was appropriate to be sure and recognize the day.
International Guide Dog Day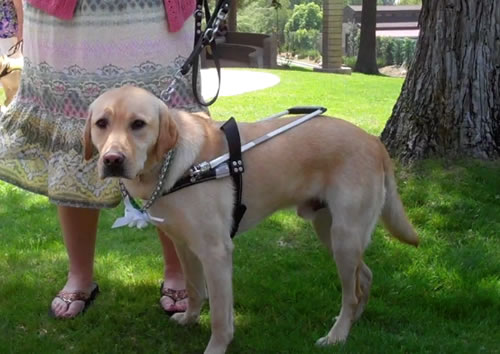 International Guide Dog Day is always the last Wednesday in April and is a day where we can celebrate the important role that Guide Dogs (like my buddy Dublin) play in helping blind and vision impaired people achieve safe and independent travel.  Just the thought of Guide Dog Day makes me think back to Dublin's graduation day.
Here's the Wikipedia description of a Guide Dog:
Guide dogs are assistance dogs trained to lead blind and visually impaired people around obstacles.

Although the dogs can be trained to navigate various obstacles, they are partially (red-green) color blind and are not capable of interpreting street signs. The human half of the guide dog team does the directing, based upon skills acquired through previous mobility training. The handler might be likened to an aircraft's navigator, who must know how to get from one place to another, and the dog is the pilot, who gets them there safely.

In several countries, guide dogs, along with most service and hearing dogs, are exempt from regulations against the presence of animals in places such as restaurants and public transportation.
In the United States Guide Dogs are covered by the Americans with Disabilities Act (ADA).  For more information on the commonly asked questions about service animals in places of business check out the ADA website.
Guide dogs are legally allowed access to all public place where regular customers are normally allowed to go including places like restaurants, movie theaters, grocery stores, taxi cabs, airplanes, hotels, amusements parks, and shopping malls.  Here's questions #4 from the ADA web page about Commonly Asked Questions About Service Animals In Places Of Business:
Q: What must I do when an individual with a service animal comes to my business?

A: The service animal must be permitted to accompany the individual with a disability to all areas of the facility where customers are normally allowed to go. An individual with a service animal may not be segregated from other customers.
If you're interested in learning more about Guide Dogs then please visit the Guide Dogs of America website.  They have lots of information about guide dogs including information on how blind and visually impaired can apply for a guide dog and how to become a puppy raiser like me!  I actually talk extensively about my experiences as a puppy raiser here on the blog and also produced the YouTube series Puppy In Training TV to document Dublin's adventures from puppy in training to guide dog.
Did you do anything different today to celebrate International Guide Dog Day?  Hopefully today's blog post enlightened you just a little bit about the importance of guide dogs in our community.
Top Picks For Our Puppies
Check out more of our favorites on our New Puppy Checklist.