Kitty Vs. Puppy – The Age Old Battle
This post may contain affiliate links. We may earn money or products from the companies mentioned in this post.
It's Friday again and time for me to post some of my puppy humor. Well maybe not so much humor, but some cute pictures to help ease you through the end of the week. Today we check in with images across the internet and confront the age old battle of Kitty vs. Puppy. What side will you take? The ferocious Kitty with razor sharp claws and instincts to attack it's prey at the most unsuspecting moments. Or do you prefer the descendant of the wolf…the puppy dog and his sharp as daggers teeth, large canines and flesh ripping jaws. Also a viscous hunter reknowned for his hunting abilities as a pack animal.
Without further adieu Puppy In Training is proud to present to you The Age Old Battle – Kitty Vs. Puppy….
Let's Get Ready To Rummmbbbblllllle!!!
…
Kitty Vs. Puppy
Battle #1 Chihuahua Vs. Kitty
As you can see from this image the battle has just begun. The Chihuahua, one of the smallest of dog breeds, plans on yapping this kitty into submission. What you can't see in this picture is the cunningness of the kitty as he plans his destruction of the unsuspecting Chihuahua.
…
Battle #2 Tri-Color Puppy Vs. Kitty
Yes!!! You can see from this picture that the battle has begun. It appears that the kitty has the upper hand with the wrestling position on top of the puppy, but as you can see from this picture the puppy has just swiped the kitty across the face with an uppercut from his left paw causing the kitty to squint in pain…
…
Battle #3 Shepherd Mix Vs. Kitty
The war between Kitty and Puppy has spilled out into the streets. This kitty has the size and agility advantage over our little shepherd mix puppy. However, take a look at the powerful jaw of this puppy, canines exposed (you need to zoom in to see the canines), and ready to attack the jugular!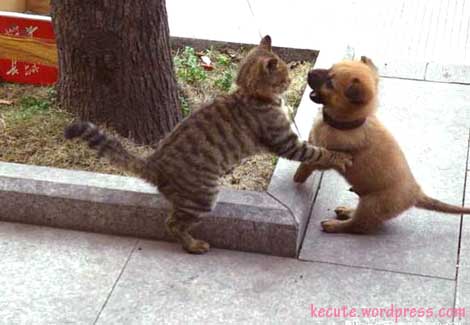 It's difficult to declare a champion through just these three images. The battle will wage on…I'll let you be the judge. In the comments area let me know who you think has the edge in the battle between Kitty and Puppy.
Top Picks For Our Puppies
Check out more of our favorites on our New Puppy Checklist.