This post may contain affiliate links. We may earn money or products from the companies mentioned in this post.
Linus is a shy timid dog…quite the opposite of my guide dog puppy in training, Stetson. Now that Stetson is gone we plan on taking Linus to the same guide dog training classes Stetson attended.
Stetson attended six guide dog training classes (each classs was 6 weeks long) during his time with me. It was my goal to get him as much training as possible before we took him in for formal training. The Guide Dog's of America requirement is that we take our puppy's to a minimum of two classes: 1 puppy class and 1 basic obedience class. Stetson was an over achiever and attended every scheduled Orange County GDA class while he was a puppy in training.
Linus is not training to be a guide dog…he's just attending class with the other guide dog puppies in training.
A Shy Timid Dog
Linus has taken a total of three training classes: 1 puppy class and 2 basic obedience classes. Recently, I have noticed that he will do several things when he see's other dogs that he doesn't know.
Sometimes he would shy away/hide behind my legs
Sometimes he would bark and lunge
Sometimes he would just go up and sniff the other dog
More recently he's been barking and lunging at dogs he doesn't know and I do not like this behavior. I'm not positive what the best steps are for Linus, but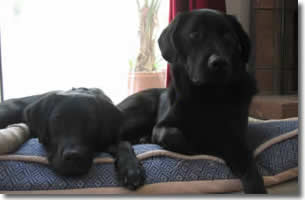 I knew that I needed to get him back into training class where he'd have the chance to interact with well behaved dogs and puppies.
<– Linus is on the right. Stetson has the bandaged foot.
Several months ago we worked on Linus's behavior and it was told to us that shyness is a hereditary problem and that Linus most likely inherited this from his mother or father. Linus is a shelter dog and we never knew too much about his mother or father, just that his mother was an Australian Shepherd mix, his sister was almost twice as big as Linus, and she was tri-color. I'm not positive, but Linus may have been the runt of the litter…does being the runt have anything to do with being shy and timid? I'm not sure.
Guide Dog Training Classes
Linus started guide dog training class a little over a week ago and has already attended two sessions. Most of the dogs are Labrador Retrievers and are either a guide dog puppy in training or a career changed guide dog. My main goal with this class is to get Linus used to being around other friendly, well-behaved dogs. He already knows his basic obedience.
Week 1
During the first week of class we mainly stayed along the outside of the class and did all the same training exercises that the other dogs and puppies performed. We (our trainer and me) wanted Linus to be somewhat close to the group, but not to the point where he was uncomfortable. As we progress through the weeks we will move Linus closer and closer to the other dogs in class.
I was advised to constantly praise Linus and give him treats when he wasn't showing any fear during our class sessions. Basically, I'm constantly giving Linus treats which seems to serve two purposes: It's a reward for not being afraid and it keeps his mind off things going on around him. A dog or puppy will not accept treats or food in a scary situation.
All the dogs went for a walk and worked on their heeling. Linus just stayed off to the side while each dog walked past him.
The dogs did a weaving exercise where all the dogs sit in a line while one dog weaves in and out of the stationary dogs. During this exercise Linus first just watched from the sideline and then we just walked along the sideline rather than weave.
Week 2
The goal during week 2 was to try and move Linus a little closer to the other dogs and let him get more involved in the exercises.
During the walk Linus and I worked on our healing at the end of the pack.
We stopped near the basketball court and worked on our sit-stays and down-stays. Linus and I kept a little bit of distance from the basketball courts and the group, but we worked on the same commands.
We left the basketball courts and worked on the command "Leave It". While our dogs were in either a sit or down our trainer, Ramona dropped french fries right in front of their noses. When the french fries fell to the ground we gave our dogs the command "Leave it" and the dogs are supposed to leave the french fries. Linus and I just observed as the other dogs worked on this command.
Finally, we worked on the command: "Come". We attached a line to our dogs, put them in a "Sit-Stay", walked twenty feet away, and gave the command "Linus, Come!" or just plain "Linus!". Linus did well with this command and just came straight to me while the other dogs watched.
I'm very pleased with Linus's progress. During his two training classes he hasn't shown any aggression towards the other dogs. However, he doesn't seem completely comfortable. He has definitely shown improvement from week 1 to week 2.
Do you have a shy or timid dog? What do you do to help improve their behavior?
Top Picks For Our Puppies
Check out more of our favorites on our New Puppy Checklist.