Monday Mischief – A Linus Tail
This post may contain affiliate links. We may earn money or products from the companies mentioned in this post.
Linus here!  I'm back and taking over the blog for the day!
Ever since that big guy, Apache left we've had guide dog puppy visitors from big to small.  Toby (8 week old yellow Lab) was our first visitor and stayed with us for 2 weeks.  Now, Journey (7 month old yellow Lab) is hanging out with us and boy does he love to play!  One of the funniest things he does is jump around like a bucking bronco!
I've never seen a Lab do that before in my life!  It's so funny!!!
Journey The Bucking Bronco!
Although not considered mischief in many circles a jumping guide dog is not a good thing so we're working on keeping Journey a little bit calmer around the house.  However, that doesn't mean Dad didn't catch a pic of this bucking bronco:
Journey jumped so high his head came clear out of the frame!  As you can see my tail already got into a little bit of mischief by getting in the middle of Dad's shoot.
Linus' Tail Got Into A Little More Mischief
Of course my tail couldn't just stop at that little, tiny bit of mischief.  More was in store!
As usual Dad woke up bright and early to feed us breakfast.  Miss Ali was tired after a long week of camping and stayed in bed.  After a little bit of breakfast I hopped back on the bed and look what my tail decided to do: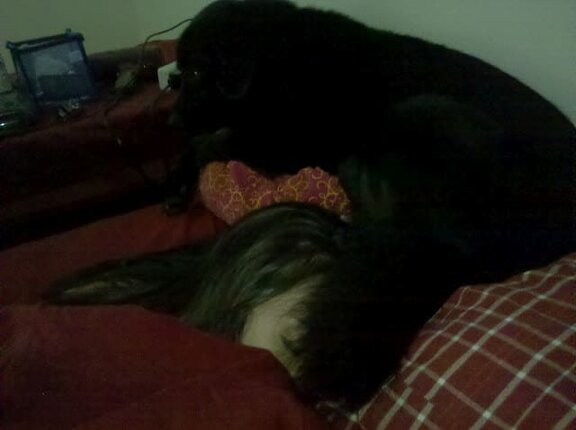 Dad thought it was so funny he snapped this pic.  It was still a bit dark outside so the photo didn't come out to well, but as you can see my tail is brushing up against Miss Ali's face almost completely covering it.  I don't know about you, but I think that would probably tickle…Dad just laughed….quietly…
I hope everyone had a great an mischievous weekend!
Linus and Stetson write a guest post every Monday called "Monday Mischief", where they talk about their mischief, antics, and adventures from the past weekend.
Top Picks For Our Puppies
Check out more of our favorites on our New Puppy Checklist.