Monday Mischief – Apache's Lazy Days
This post may contain affiliate links. We may earn money or products from the companies mentioned in this post.
Apache here.  This weekend the weather was being a bit mischievous.  Dad says it's called June gloom, but it looked like it might rain all day.  That's not right in the summer time in errr…sunny southern California.  We hung around the house most of the time.  Dad got to see the Kings win game 2 of the Stanley  Cup finals!
Apache The Golfer
I got to go for a nice walk on the golf course.  I was waiting for my pals Stetson and Linus to join me.
I waited under the tree for my pals, but no one came.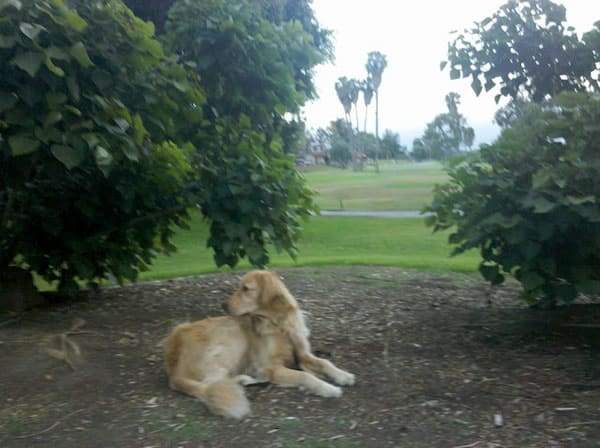 I waited between 2 bushes and looked back behind me, but I still didn't see Stetson and Linus.
I scanned the horizon and still, nothing.
Finally I got tired of waiting and rested at the top of the hill.
Oh well, I didn't get to see my pals, but I did get to go for a nice walk around the golf course.  Stetson and Linus must have been getting into some other kind of mischief back at the house.  Hmmm….I wonder what kind of mischief I was missing out on…
Tonight is Stanley Cup playoff night!  Dad says that we root for the Los Angeles Kings.  They only need to win 2 more games to win the Stanley Cup!  They haven't won the cup since becoming a franchise way back in 1967!  WOW!!! That's older than my dad! And he's old!!!
GO KINGS GO!!!
Linus, Stetson, and Apache write a guest post every Monday called "Monday Mischief", where they talk about their mischief, antics, and adventures from the past weekend.

Top Picks For Our Puppies
Check out more of our favorites on our New Puppy Checklist.