Monday Mischief – BlogPaws A Pet Blogger Conference
This post may contain affiliate links. We may earn money or products from the companies mentioned in this post.
Linus here! Stetson and I had a long boring weekend, but we heard that Dad was up to a little bit of mischief at a thing called BlogPaws.
I waited by the front door for Dad most of the weekend, but  I did get a little sunbathing in on the patio too (I was still keeping my eyes and ears open for Dad)
Dad did a terrible job taking pictures at BlogPaws.  He said he was too worried about his PetSmart Build A Business Blog Case Study Presentation.  I guess so because when he got home he had a grand total of 5 pictures from BlogPaws! 5!?  And zero pictures of dogs!  Pathetic!
Dad said the Sheraton was an awesome host for BlogPaws 2012.  They've been added to the top of our list for Pet Friendly Hotels.  If you're looking for a Pet Friendly hotel in Salt Lake City I'd highly recommend the Sheraton.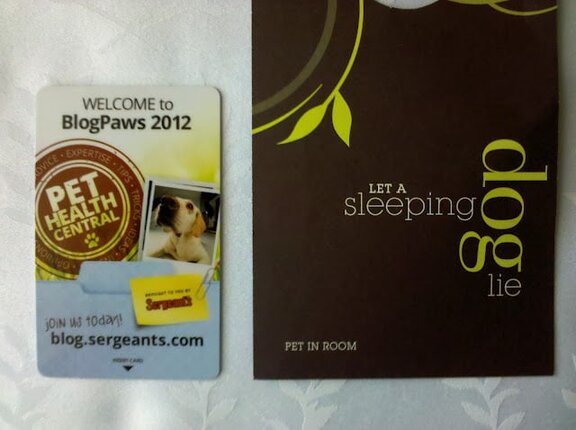 There were lots of interesting Pet Bloggers at BlogPaws.  One of Dad's favorites was the Giant Hamsters blog.  Well, not really Giant Hamsters, but actually a pet called a Capybara which looks like a 115 lb giant hamster.  It's not just that we thought Capybara's were cool pet's, but when we discovered the name ROUS Foundation we had to start quoting some of our favorite lines from the Princess Bride.  ROUS is short for Rodents Of Unusual Size.  Until this past weekend I thought they only existed in the Fire Swamps from Princess Bride…Inconceivable!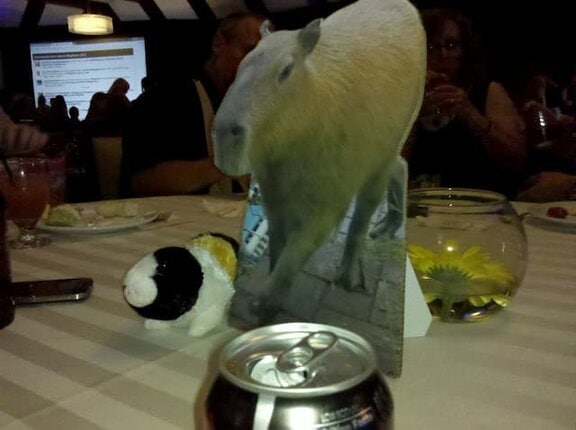 Hopefully Dad did a good job on his presentation because he sure as heck did not do a good job with his camera.  At least he did okay bringing home some swag for us.  Check out this spread:
When Dad finally came home we smelled a million different things on him. I think he was hanging around some other dogs…grrrr…but he also had a bag full of treats so he's forgiven. Maybe next year he'll take us along to this so-called BlogPaws Conference.
So at the end of the day we asked what is BlogPaws really about?
BlogPaws is the gathering place for pet bloggers and the BlogPaws Conference is a pet blogging and social media conference.  It's a great place to network with your fellow pet bloggers as well as big name brands like PetSmart.  The conference is packed with great information on many topics to improve your blog including social media marketing, monetization, traffic building and much more.  There are several breakout sessions throughout the day, keynote speeches, as well as time to meet with the sponsors and exhibitors…did I mention you will come home with a pile of pet swag!

From BlogPaws website:

BlogPaws is an online community site for pet bloggers, pet enthusiasts, pet people on Twitter and Facebook and brands eager to tap into a growing, vibrant, vocal community of serious writers, bloggers, tweeters. We are the go-to resource for pet people and brands to partner on projects and campaigns, to be educated on social media, and to arrange face-to-face meetings all over the country. [Read More]
Can you believe Dad didn't even get a picture with his pal Snoopy!  BOOOOO!!!!  Dad says he had an awesome time at BlogPaws and was so happy to meet so many dedicated pet bloggers!  Like I said maybe we'll get the invite to next years event…
Linus, Stetson, and Apache write a guest post every Monday called "Monday Mischief", where they talk about their mischief, antics, and adventures from the past weekend.
Top Picks For Our Puppies
Check out more of our favorites on our New Puppy Checklist.