Monday Mischief – Go Kings!
This post may contain affiliate links. We may earn money or products from the companies mentioned in this post.
Apache here!  Once again I get to take over the blog while my daddy gets some extra work done.  He says he has a case of the Mondays…I'm not too sure what that means, but he said it's funny because he quoted some movie called Office Space.  I don't get people humor.
Anyhow, I'm a huge Los Angeles Kings fan and over the weekend I was watching Kings beat up on the St Louis Blues!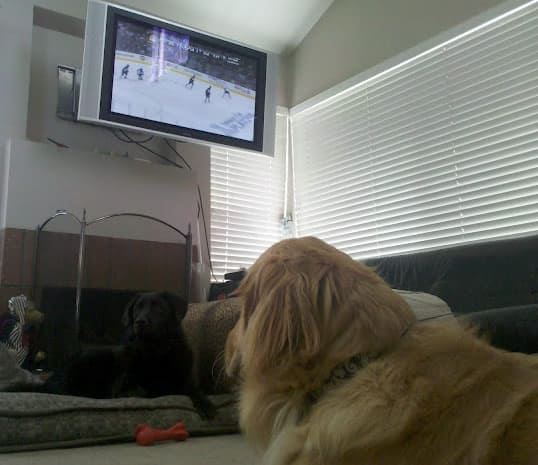 It was so much fun I told my daddy I wanted to see some live action hockey.  Lucky me I got to hop in the car and check out Ali's roller hockey game.
Watching Ali's roller hockey game was very much like a Kings game…maybe a little bit slower, but not much!  It was a defensive battle and my favorite girl's team won 1-0!  Go Ali and Velda's Avengers!  Those girls kick butt!
Speaking of the Avengers did anyone go see the movie this weekend?  I heard it made a record breaking amount of money!  Over 200 million dollars!  I'm not sure what that means…do you know if that would get me a lot of dog bones?
I was also super lucky because I got to say hi to baby Makayla!  I love kids they always have tasty stuff on their hands.  No one was quick enough to catch me and my mischievous ways, but that little girls hands are now clean!  Plus she gave me a few pets…my favorite!
I had a great weekend!  Especially watching the Kings sweep the Blues and get to the conference finals for only the second time in their franchise history!  Dad says he watched them get to the Stanley Cup finals back in 1993 when they had a guy named Wayne Gretzky.
I hope you had a great weekend.  Tell us about your adventures in the comment section below.
Linus, Stetson, and Apache write a guest post every Monday called "Monday Mischief", where they talk about their mischief, antics, and adventures from the past weekend.
Top Picks For Our Puppies
Check out more of our favorites on our New Puppy Checklist.