Monday Mischief – Guide Dog Outing And Fireworks
This post may contain affiliate links. We may earn money or products from the companies mentioned in this post.
Apache here reporting on my Guide Dog Adventures over the past week.  Guess what?  Remember a few weeks ago we met up with my mentor, Dublin at Downtown Disney.  Well this week we went back to Downtown Disney with our Orange County Guide Dogs of  America group to grab a bite to eat and visit some of the stores.
Guide Dog Outing To Downtown Disney w/ Fireworks!
There were a few major differences this time at Downtown Disney:
We went with 6 other guide dog puppies in training.  More puppy distractions.
It was summertime!  Lots and lots of people.  Navigating through large crowds was a lot different from our last visit.
We went at night time.  Everything looks a little bit different at night.
Fourth of July is right around the corner which means fireworks!  We stayed for the fireworks and boy were they loud!
So enough jabber! Lets get to some of those pictures:
We were a little extremely late because of some major summer traffic.  Bad Daddy for not planning for traffic!  Yep, that's me…I'm always smiling for the camera!
Wait a second…who's that impostor!  He looks like me, but where's his treat spot?
We grabbed dinner at the La Brea Bakery lots of humans and doggies!  After grabbing dinner we walked the streets of Downtown Disney and made a stop at the Build-A-Bear store.  That's Me (Apache), Massimo, Koa, Cici, and Tucker is the one acting silly.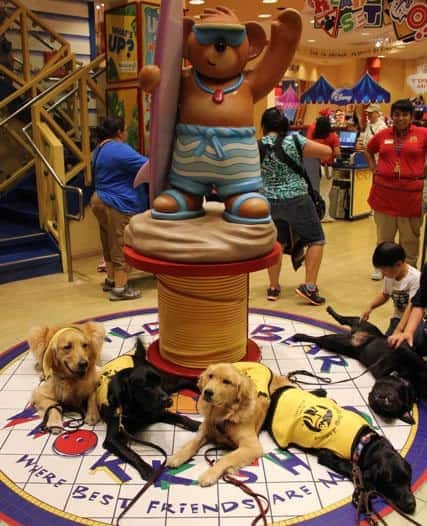 It was getting late when I heard these loud booming sounds!  I didn't know what was going on and I'm not sure I really liked it either.  I looked around, but I couldn't tell where the noises were coming from.  Dad told me to "sit" then "down" then "stay" and then he repeated the exercise.  I felt like I was back at my obedience training class.  Dad said I was a good boy for following his directions and took me for a little walk so we could work on our loose leash heeling.
I'm not sure I like the 4th of July and I didn't like those fireworks too much, but Dad said I did okay considering how loud it was and with all the distractions of Downtown Disney.  He said Dublin didn't even notice the fireworks when he visited Downtown Disney.  How could he not notice!  They're so loud!  I guess Dublin isn't as sensitive as me.
Linus, Stetson, and Apache write a guest post every Monday called "Monday Mischief", where they talk about their mischief, antics, and adventures from the past weekend.

Top Picks For Our Puppies
Check out more of our favorites on our New Puppy Checklist.