Monday Mischief – Guide Dog Working And Training At Downtown Disney
This post may contain affiliate links. We may earn money or products from the companies mentioned in this post.
Hi everyone! Apache here to tell you all about my adventures over the weekend.
I didn't know why, but Dad was cleaning up the house on Friday. I guess he got fed up with all of my fur balls rolling around on the floor. Dad said something about a special guest coming over to visit.  He even made sure to give me a good brushing so I'd look nice and handsome!
Guide Dog Training And Working With Dublin
We were watching TV at the house until around noon when a knock came at our door.  Sure enough in came our special guest and his family.  My Daddy called him Dublin and he was wearing a special harness:
I thought that nifty little harness was the coolest thing ever!  Dad says that pretty soon I'll get to wear an awesome harness like Dublin!
Dad said that Dublin was his puppy in training before me, but was now working as a guide dog.  We tried to calm ourselves, but Dublin was so happy to see his old pals Stetson and Linus that his new partner, Liz took off his harness and let him play for a little bit.
I challenged Dublin to a little bit of tug-o-war with one of my new doggy toys.
After we got all of our puppy play time out of the way. Dublin said bye to his buddies: Stetson and Linus and the rest of us went over to Downtown Disney.
We grabbed lunch at the Rainforest Cafe and listened to lots of animal sounds and sat through thunderstorms. Dublin was a real pro and slept curled up in a little ball underneath Liz almost the entire time. I stayed alert and watched the elephants and gorillas moving back and forth.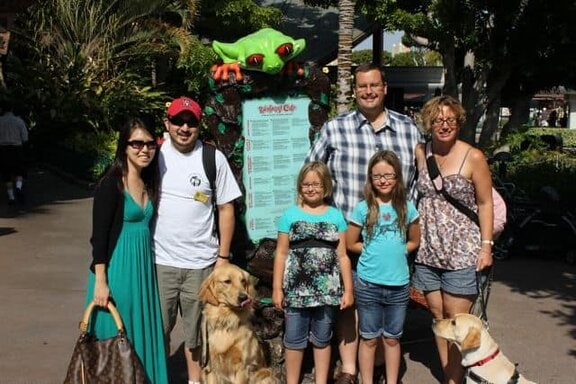 After lunch we walked around Downtown Disney and even had a chance to visit the Legoland store and the Build-A-Bear Store. I was really tempted to grab one of those un-stuffed toys (aren't they for doggies too?), but I was good and Daddy gave me lots of praise for leaving them in their bins.
At the end of the day.  I got some awesome hugs from my new best friends: Alexandria and Abby!
It was an awesome day and I learned a lot from my new doggy pal, Dublin:
I saw how Dublin showed Liz the bottom of stairs and the curb.  He waited until Liz found the curb or step before moving forward.
I heard some new commands like "left", "right", "forward", and "follow".  Daddy says I'll learn those commands when I start Guide Dog College.
Dublin did not pay any attention to the sights and sounds in the Rainforest Cafe.  He curled up into a tight ball under the table and just slept.
There was a lot of foot traffic at Downtown Disney and Dublin was very good about maneuvering Liz through the crowds.
Dad seemed really happy to see Dublin and said that one of his favorite stories was when Liz told him that she went hiking for the first time in 17 years with Dublin guiding her.
Dublin is my new hero and I hope some day I can be a guide dog just like him!
Linus, Stetson, and Apache write a guest post every Monday called "Monday Mischief", where they talk about their mischief, antics, and adventures from the past weekend.
Top Picks For Our Puppies
Check out more of our favorites on our New Puppy Checklist.