Monday Mischief – Guide Dogs Of America Open House
This post may contain affiliate links. We may earn money or products from the companies mentioned in this post.
Apache here!  Did you guys make it to the Guide Dogs of America (GDA) Open House this past weekend?  While Linus and Stetson had the house all to themselves (no doubt causing mischief of their own) Dad, Ali, and I went to the GDA Open House and hang out with fellow puppy raisers and hundreds of other guide dog puppies in training.
Dad shot video of Dublin at open house last year and posted the video in this years GDA Open House post.
GDA Open House 2012
The theme at open house was GDA Western Day 2012.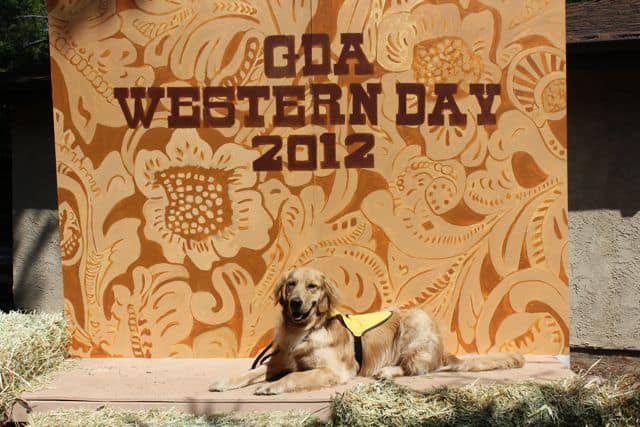 The Guide Dogs of America Open House is one of our favorite events of the year. Dad took me down to the silent auction and they had tons of awesome doggy toys, but that's not all…there were auction baskets for everyone from to dog stuff to cat stuff to human stuf…they even had LA Kings stuff (GO KING GO!)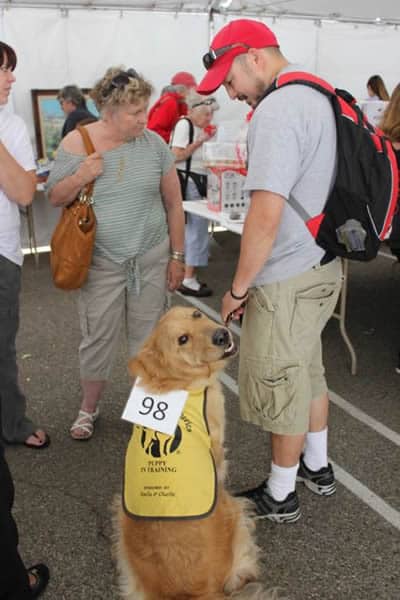 Dad entered me into the Puppy Trials where I got to show everyone how well I could do basic obedience and avoid distractions.  Here we are at the sit-stay station.  I got that one down no problem, but when we got to the down-stay station the grass smelled so good I decided to take a giant mouthful (hey I gotta get into some kind of mischief over the weekend).  Daddy said that was a no-no.  Oops!  Oh well!  Dad told me that we need to work more on obedience in the grass because I was being way too sniffy.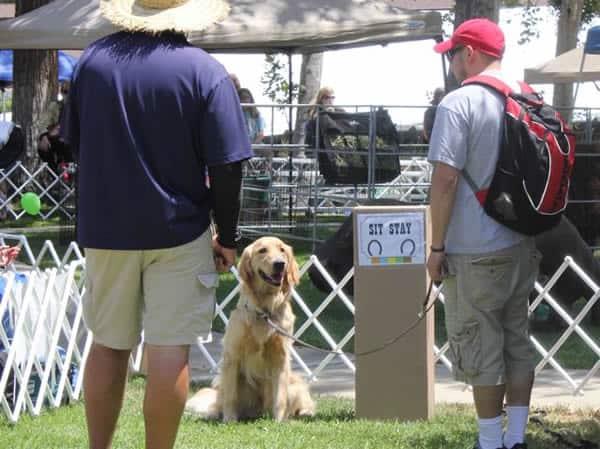 There were tons of distractions including walking over different surfaces like foam and bubble packing. I even saw a Llama and chickens. My favorite were the pots filled with kibble and hot dogs on a stick. I was a good boy and didn't try to eat them one bit.
Here we are walking down the hill towards the bus where we worked on boarding and sitting quietly. Dad said he was really proud of me because overall I did well in the puppy trials.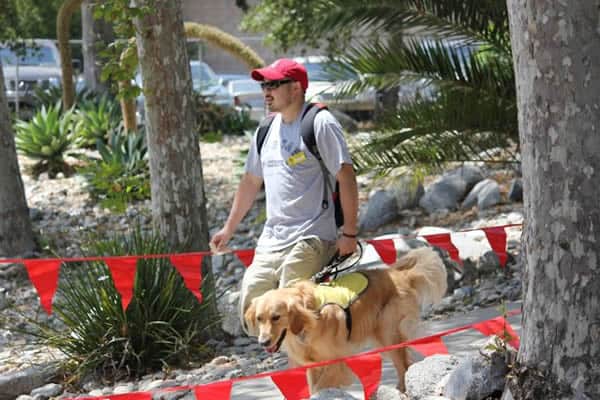 The GDA Open House was awesome!  I had a great time seeing all my friends both human and doggy.  I was exhausted at the end of the day and slept the entire car ride home.  When we got home I went straight to my doggy bed to take a nap.
Did you go to the Guide Dogs of America Open House this year or in the past?  If so, what was your favorite part?  Tell us about it in the comment section below.
Linus, Stetson, and Apache write a guest post every Monday called "Monday Mischief", where they talk about their mischief, antics, and adventures from the past weekend.
Top Picks For Our Puppies
Check out more of our favorites on our New Puppy Checklist.