Monday Mischief – Memorial Day Weekend, Dad's Mischief, and Arizona Puppies
This post may contain affiliate links. We may earn money or products from the companies mentioned in this post.
Hi all!  Stetson here!  Dad's finally letting me write my first blog post and he's no where to be found this weekend.  I stayed with grandma and grandpa for Memorial Day weekend.  Dad just picked me up and he's looking kind of red.  He said that it was really warm in a place called Arizona.  I'm not sure where Arizona is, but I sure am glad to be back home!
Memorial Day Weekend, Dad's Mischief, and Arizona Puppies
I'm so glad Dad is home, but from the looks of things I think he was up to a bit of mischief.  He smelled a little bit different.  Kind of like someone I already knew and a couple of strangers.  Then Dad showed me a couple pictures and told me a couple things about this far off land called "ARIZONA".
Dad says he lived in Arizona for 6 years and wanted to go back to see some friends.  Okay I guess I'll let him off the hook this time.  Dad knows I have a good sniffer because I'm nearly a master sniffer at my K9 Nosework class (not really, but I like to think so).  He said that the first thing I must have smelled on him was this little guy with curly fur named Ozzie.
Ozzie is a Bichon Poo.  Dad said I would have really liked taking my mid-day naps with Ozzie.
I sniffed my Dad and again I could smell something else on him that I didn't quite know what.  Dad showed me this picture of a Cocker Spaniel named Skelliewag.  Dad said that Skelliewag is 3 years old and just started living with his new family (Dad's friends the Harris Family).  That was awful nice of the Harris family to adopt an older dog.  Dad says Skellie reminds him a lot of Linus because he was a little bit timid and shy.
As soon as I saw this third picture I raised my paw and told Dad I knew I caught a familiar scent on your clothes.  That's my buddy Dublin!  I used to boss him around when he was a little 12 pound pup.  Dad says Dublin has an important job now.  He's working with his new partner, Liz as a guide dog at his new home in Arizona.  Hmm…for some reason I feel like I could have been a guide dog too, but I decided I liked to stay at home and keep an eye on Dad.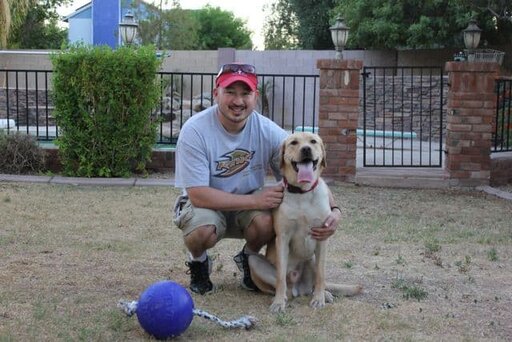 So dad was up to a lot of mischief over the weekend.  I'm not too sure what else he did, but I did hear him talking about Ice Hockey, Scottsdale, Chandler, Tucson, Taliesin West, Frank Lloyd Wright, and some other big words as I dosed off to sleep on my spot on the couch…zzzz
Linus, Stetson, and Apache write a guest post every Monday called "Monday Mischief", where they talk about their mischief, antics, and adventures from the past weekend.
Top Picks For Our Puppies
Check out more of our favorites on our New Puppy Checklist.