Monday Mischief – Puppies In Training And Fun At The Fire Station
This post may contain affiliate links. We may earn money or products from the companies mentioned in this post.
Apache here!  Monday's my day!  Well and Linus and Stetson's day too…Even though dad is feeling better now he still letting me take over the blog…YEAH!!!
So what kind of mischief did we get into over the weekend?  Well I won't really call it mischief, but me and all of my guide dog puppy in training buddies took a trip to our local Fire Station.  Dad says it's important for us to get used to different sights, smells, and sounds and the Fire Station is a perfect place to visit.
Dad said that last year Dublin who's now working as a guide dog visited the same fire station and said hello to all the firefighters.  If you want to see his video check it out at Dublin at the Fire Station.
However, today it's all about me and my trip!
Fun At The Fire Station
We got to meet up with all my guide dog puppy in training friends.  We were all wearing our guide dog jackets which meant we were working…in other words no mischief 🙁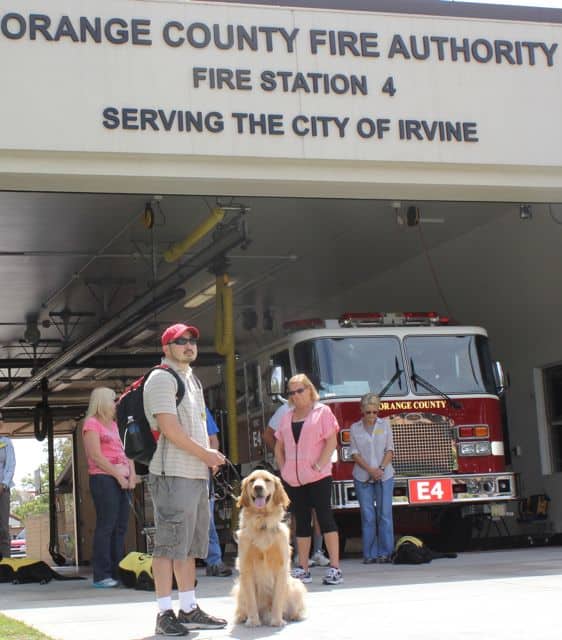 We got to walk around the entire fire station and smell all the smokey equipment, see fire fighting gear and also walk through the lounging areas. Ali got a good shot of Dad and me in front of this awesome sign!
We went back outside and I got to meet a real live fire fighter in his gas mask!  Some of the pups were afraid because he smelled funny, talked weird, and his breathing was like Darth Vader (according to my dad).  I didn't care!  I love attention and when I saw he was giving away free pets I put my face right in his lap.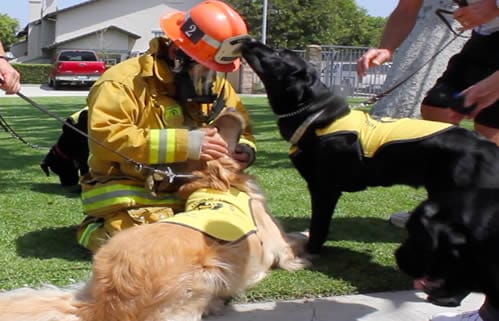 Dad said no mischief then he asked me to jump up in the back seat of the fire truck. I started to, but said no and instead went to lick dad in the face.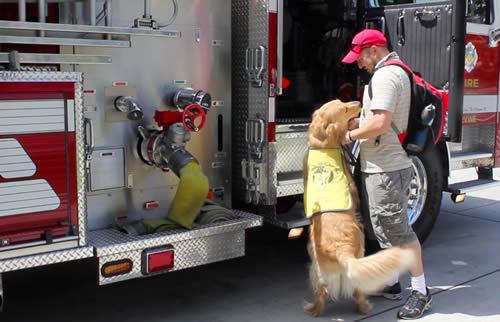 At the end of the day we all visited the Farmer's Market then grabbed lunch. All of us puppies in training worked hard at the fire station so we passed out under the table during lunch and took a nap.
I hope everyone had a great weekend!  Make sure you say "hi" next time you see a fire fighter.  They're our new favorite!
Linus, Stetson, and Apache write a guest post every Monday called "Monday Mischief", where they talk about their mischief, antics, and adventures from the past weekend.
Top Picks For Our Puppies
Check out more of our favorites on our New Puppy Checklist.