This post may contain affiliate links. We may earn money or products from the companies mentioned in this post.
It's a month late, but better late than never!  Actually this past month gave me a chance to take in and see some of the things my fellow pet bloggers plan on accomplishing in the coming year.   PuppyInTraining.com participated in the 2nd annual Pet Blogger Challenge (PBC) on January 10th and so did 94 other pet bloggers.  At a snails pace I read each and every PBC post which gave me inspiration for my 2012 goal post!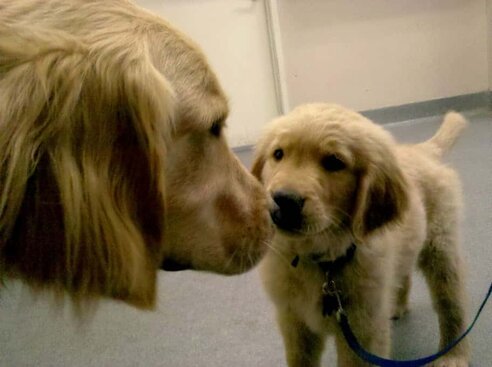 This is the first year I decided to share my goals for this blog publicly.
Why?
I'm sharing my goals with you today because it's a way to keep me accountable for meeting those goals.  Many of you probably aren't interested in my goals, but the fact that I'm posting them here on the Puppy In Training blog gives me motivation to complete those goals and also put together a nice report for the beginning of next year.
So lets get started with Puppy In Training 2012 Goals!
GOAL: 366 Days of Blogging
For some this is easy for others (like me) this is a beast.  The closest I've gotten was way back in 2008, my first full year of blogging.  I hit 196 blog posts that year and it was by far my biggest growth year.  I only blogged for 5 months in 2007 and received a paltry 1,528 page views (probably all from me and my mom).  In 2008 that number jumped to 294,607 page views.  I'm not even going to calculate the percent increase, but it's big.
Since then the growth of this blog has ranged from 30-60%.  Okay, but not great.  This year I'm going to strive for greater things.  Reach for the stars!  And 366 Days of Blogging is going to get me there!
By the way this year 366 days = 1 year so we're going above and beyond your average joe and doing 1 more day then everyone else does in a regular year!!!
GOAL: Write 52 Articles For My Autoresponder by March 31st 2012
I've been saying this for a while, but now I have a measurable deadline.  I'm really just letting my email subscriber list go to waste by not creating a sequence of emails for my autoresponder.  I've got over 3,000 subscribers!  That's a potential 3,000 extra people viewing my content on a weekly basis.  Time to start working on getting you guys valuable content through my autoresponder.
By the way, another reason why I should be working on this is because each subscriber is costing me precious $'s.  If I'm not going to use the list then I may as well stop paying Aweber.
GOAL: Attend BlogPaws and Barkworld Expo
The 2 major pet blogging conferences that I know of in 2012.  I'd like to know more about my fellow pet bloggers as well as work on my pet blogging skills.  These conferences will help me with both.  However, one is in Salt Lake City, UT and the other is in Atlanta, GA while I'm in Irvine, CA.  It will cost me a pretty penny to get out to these locations.  However, I think this is the year I get it done.  Plus I have old friends to visit in both cities 🙂
GOAL: Write An eBook by June 30th 2012
It's been on my plate for years, but this is the year I write a companion eBook for this website.  The goal is to put together a How To Train Your Puppy eBook by mid year and I'm going to make it happen.  After all I can't let that extra day go to waste (because of the leap year).
I'm pretty sure this is going to be a freebie, but I'm not entirely sure.  There's always something to be said for charging a little bit of money.  When you pay for something you are more likely to read or use it.
GOAL: Build A Membership Site by January 31st 2013
This is the monster goal for the year.  I have tons of ideas hopping around in my head, but until I actually accomplish some of the other long awaited projects (see above) I'm not going to touch this goal.  If I can stick to the timeline then I definitely believe I will accomplish this one as well.
Another one of those things that might require fees.  Again I'm not too sure on membership fees.  I'll look into it more after I start creating a timeline for the project.
GOAL: 2,000 Facebook "likes" by January 31st 2013
It seems realistic and unrealistic.  Realistic because it's really not that large a number.  I've seen sites grow their facebook "likes" to 2,000 in hours/days/weeks.  All I need is that one viral moment and I should easily breach the 2,000 "Likes" on the Puppy In Training Facebook Fan Page.
However, on the other side of the coin it's unrealistic because if you ever watched the number of "likes" on the Puppy In Training Fan Page then you will know that it only increments about 1 new "like" per day.  That means in 1 years time we'll be lucky if we clear 1,000 "likes".
I'm just looking for that 1 moment of brilliance.  That 1 extra effort.  That 1 time that will put us over the top.  2K is within reach, but we have to work for it!
*I think Google+ is going to be a big thing this year and I will probably set some kind of goal for the Puppy In Training Google+ page as well.  As of this writing the page is dormant, but not for long.
GOAL: 250K Page Views a Month by January 31st, 2013
Since I'm starting in February my goal time line will be exactly one year.  This is a monstrous goal with my top month in 2011 equaling 104,351 page views.  That means I would need a 140% increase from last years total.  However, lets take a look back and compare October 2010 and 2011.
October 2010 – 53,328 page views
October 2011 – 104,351 page views
That's a 96% increase!  That's with no goals or direction in 2011.  I think we can do better in 2012!  A 250K page view month is going to happen in 2012!  BOOK IT!
Things will inevitably change in 2012 and I may have to make a few adjustments to these goals, but here they are as they stand the first day in February 2012.  My goal of goals is to hit a homerun on all of these and with a little bit of luck…I will.
What are your goals for 2012?  Most of you probably already talked about your goals publicly and if so please leave me a link in the comment section below so I can check them out.  If not, please feel free to leave a few of your goals in the comment section below…of course we're going to hold you accountable once they're posted to the blog 🙂
Top Picks For Our Puppies
Check out more of our favorites on our New Puppy Checklist.