Nissan Xterra 2008 – A Dog Car For Outdoor Recreation
This post may contain affiliate links. We may earn money or products from the companies mentioned in this post.
When I first sat in the Nissan Xterra 2008 I felt like I was getting into a more civilized SUV in comparison to the Toyota FJ Cruiser or the Jeep Wrangler Unlimited. I think this SUV was designed for someone who enjoys using their vehicle for outdoor recreation or for those who want to just give off that impression.
While I was not thrilled with any one part of the Nissan Xterra there weren't too many negatives either. I enjoyed the on pavement driving as it was probably the smoothest ride out of the three cars I have test drove to date. Other than that it was a very average vehicle to me.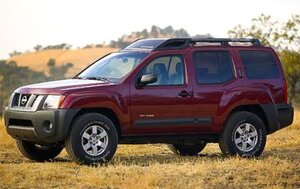 One thing I have noticed just from general observation is that all of the Xterra's come with the luggage rack on top. This is an option on many other vehicles. The rack also includes a small storage spot above the driver and passenger seats that includes a lock. I took a look at this little storage area and must say you won't be getting a whole lot in there (I think it was recommended that you could store your wetsuit in the tiny compartment).
As far as the looks and design…again just average to me. When my buddy and I went to test drive this car he mentioned he didn't want to influence my decision, but he thinks this is one of the ugliest SUV's on the market and also thought the inside was very cheap. He called it just simply "A low end SUV!"
So lets get to the numbers and what the dogs thought:
Nissan Xterra 2008 Specifications
VEHICLE SPECIFICATIONS
type
4 Door mid-SUV
msrp
$21,240
transmission
automatic/manual
gas mileage
16mpg/20mpg
horsepower
261hp @5600RPM
standard engine
4.0L V6
seating
5 passengers
Does It Stack Up? Dog And Human Criteria Lists
Criteria for the dogs:
Seats that fold flat or easily removable – hopefully fits a crate or two – From what I recall the rear seats did fold flat – YAY! but the rear seat bottom had to be folded up in order for you to get the seat flat.
Plenty of usable cargo space relative to the size of the vehicle with wide, square backs, and little rear slope to make most of cargo area. – The cargo space is nice as it is in all of these mid-size SUV's. Again, I did not bring the crates and nor will I until I'm making my final choices on these vehicles.
Dog friendly interior – Even the best dog can have accidents in the car. – The Xterra I was driving was a four wheel drive. Our salesperson said they rarely got the 4X4's and said they usually were sold immediately (probably just a sales tactic). Anyways, I noticed the interior of this vehicle was not quite as dog friendly as the Wrangler or FJ. The seats seemed durable and the rear of the car was plastic and I noticed rubber floor mats, but I could see the carpeted floors being a bit of a hassle to clean.
Door & window locks – Dogs are smart and some can open a car door. – Doors and window locks are standard on this baby.

All-wheel or four-wheel drive and high ground clearance – for camping or going to the mountains with your best friend (I'm talking about your dog of course). – As I mentioned earlier our salesperson told us that the 4X4 are more difficult to come by, but the Xterra does come in 2 or 4 wheel drive.
Criteria for the humans:
Price Range: Under 30K – Once again the base model comes in pretty low at just under 22K. That fits well under my price range.
Curb Appeal – Hopefully the car is not hard on the eyes. – I think this is just an average looking car and wouldn't give it high or low ratings. My friend thinks it's hideous.

Fuel Economy -Unfortunately SUV's get worse gas mileage. – 16/20mpg's! Better than the FJ, but still nothing to write home about.
Reliability – If you're car is not working what good is it? – I looked up a couple reviews on past Xterra reliability ratings and found that the vehicle for the most part had minimal problems when it came to maintenance
Retains Value – Cars are terrible investments, but we want it to retain some of it's value. – The KBB projected resale value of the 07 model is below average. Here's a link to the page I was looking at: Nissan Xterra.
Extras – Any miscellaneous extra goodies the car may have. – The luggage rack with the extra storage space is an added bonus.
Car in the City – Smooth ride? Does it have power? Handle Well? – While many reviews mentioned that the Xterra had "…a truck like ride and handling" I thought it was a smoother ride than some of the other SUV's I test drove. I think I'd be completely comfortable with this car in the city. The power of the vehicle was just fine as I floored it several times off the line to see what it could do and it didn't disappoint.
Advantages – The Things I Like
The things I like about this vehicle are:
I thought – nice handling.
Price – it's at the lower end for price.
Rear seats fold flat .
Luggage rack and extra storage spaces.
Disadvantages – The Things I Don't Like
Some things I didn't like in test drive and read on the internet:
Average to ugly (my friend would say) looks.
Carpeted floors aren't durable a la FJ Cruiser and Jeep Wrangler.
Fuel Economy – It's and SUV for god's sakes!
Just seems like an average all around car to me. Nothing is jumping out at me telling me. As Donkey from Shrek would say it's not saying "Pick Me! Pick Me!"
Conclusions
As I've mentioned over and over in this article , this vehicle is just not blowing me away. The only added bonuses I see are the included luggage rack and the additional storage spaces included with said luggage rack. Other than that I liked the car, but did not love it. As a dog car it falls short on being the first of the three SUV's without durable floors. I envision the carpets getting dirty and having difficulty cleaning compared to the plastic floors in the FJ and the pull out carpet in the Wrangler.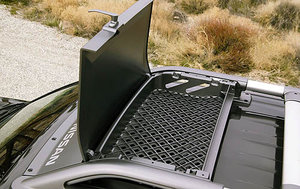 I am just a regular consumer just like everyone else and don't get to thoroughly test drive these vehicles. I review information already on the internet and couple that with my own test drive and opinions. Hopefully this review helps you make your decision, but I'd highly recommend you do additional research on some of the other great auto review websites like Edmunds, Yahoo Autos, or DogCars.com.
I still have my eye out for the perfect dog car. Three reviews down and many more to go. If you're interested take a look at my reviews of the Jeep Wrangler Unlimited and the Toyota FJ Cruiser.
If you liked this article check out my first article on the Perfect Dog Car.
Let me know what you think about this car. Do you own a Toyota FJ Cruiser?
Top Picks For Our Puppies
Check out more of our favorites on our New Puppy Checklist.