Orange County Pet Expo 2008
This post may contain affiliate links. We may earn money or products from the companies mentioned in this post.
I just wanted to post a reminder that you can visit the Orange County Pet Expo at the Orange County Fairgrounds in Costa Mesa, CA this weekend (April 11-13, 2008). I wrote a short article about the Pet Expo a couple months back. Here's the link to that article I wrote last January: America's Family Pet Expo in Orange County, CA
"Almost every kind of companion animal is on display and many are featured in educational demonstrations and seminars. Great shows of dogs, cats, birds, fish & reptiles."
The Pet Expo is the place where I first started thinking about volunteering as a foster for local dog rescues and also met and talked to some of the guide and assistance dog organizations.
Orange County Pet Expo April 11-13, 2008
Here are the details on this event:
EVENT: Orange County Pet Expo, Parking is Free
WHEN: April 11, 12, and 13, 2008
HOURS: Friday, 10AM – 6PM; Saturday, 10AM – 7PM; Sunday, 10AM – 6PM
WHERE: OC Fair and Event Center
88 Fair Drive, Costa Mesa, CA 92626
Guide Dogs of America
Guide Dogs of America will have a booth at the Pet Expo and I've been told that we'll be located near the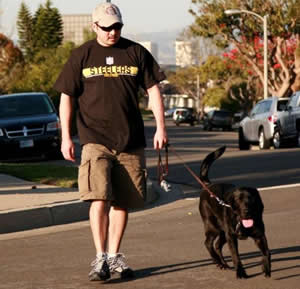 Canidae booth. I was planning on helping out with the GDA booth and contacted our puppy program manager, but never received word whether or not they needed my help. Regardless Stetson (my guide dog puppy) and I plan on going to the Pet Expo Friday April 11, 2008. I'll stop by the GDA booth to see if any of the volunteers need my help. If not I'll be walking around the fairgrounds with Stetson in his yellow vest guide dog vest. The picture to the right is Stetson and I…if you see us at the Pet Expo please say hello.
Cuddly Canines
Cuddly Canines will also be at the Pet Expo. They will be in the pet adoption tent…look for them in their bright green shirts. Be sure to stop by and say hi to the folks at Cuddly Canines.
This is a great event and if you have the time and are in the area I highly recommend you visit the Orange County Pet Expo.
Top Picks For Our Puppies
Check out more of our favorites on our New Puppy Checklist.