Pet Blogger Challenge III
This post may contain affiliate links. We may earn money or products from the companies mentioned in this post.
If you're like me then you're probably just getting into the groove of the new year.  I've been gathering reports, reviewing last years numbers, and setting goals for the coming year, but there's one problem…I'm doing all of that work for my day job, but not for my blog (I must admit I have thought and gotten a few things down on paper for the blog).  Take a peek at A Year In Review.
The Pet Blogger Challenge is the perfect opportunity to focus on some of our accomplishments from last year and set goals for 2013.  If you're interested in participating in the Pet Blogger Challenge then take a look at Amy's post over at Go Pet Frienldy.  Questions are a little different if you're a first timer or a veteran.
So let's get started!
1. How long have you been blogging and provide a link to your post from last year's Pet Blogger Challenge so we can refresh our memories.
I've been writing to the Puppy In Training blog for a little over 5 years.  My first blog post was on August 1, 2007 telling the story about how I adopted my first puppy Linus from the animal shelter.  Here's a link to last years Pet Blogger Challenge post.
2. What do you consider the most important goals you set out in last year's post?
My most important goal was probably the only one I accomplished and that was to "Create and maintain new relationships with other pet bloggers."  Over the past year I had the opportunity to attend 2 pet blogger conferences: BlogPaws and BarkWorld and got to meet many pet blogging friends in person.  I also was lucky enough to attend the Paw Print Blogger Summit in Knoxville, TN.  Those 3 events were the first times I had ever ventured away from my keyboard to learn more about the Pet Blogosphere!
One experience that I will never forget was winning the PetSmart/BlogPaws Build A Business Blog along with Annette from Snoopy's Dog Blog.  This not only gave me a chance to learn more about social media and internet marketing from the gurus at PetSmart, but also allowed me to speak in front of other pet bloggers at BlogPaws about how I was growing my blog.  Definitely a great experience!
Not only did I get a chance to meet many of my pet blogging idols in person, but I also made a concerted effort to foster relationships with other bloggers by visiting blogs and actively commenting on blog posts.  In the past I've been more of a lurker, but in 2012 I made it a point to try and add to the discussion.
3. Have you made progress toward those goals, or have your goals changed over the past year?
I'm sad to say that I listed 4 goals at last years Pet Blogger Challenge and only accomplished 1.  The good news is I did more to build relationships over the past year then I had in the previous 4+ years of blogging.
4. How often do you post?
I just looked back at my stats and in 2012 I had 174 blog posts.  That equates to approximately a post every other day.  However, if you look back on the year you'll see my blogging fluctuates from every day for two months to weeks without a blog post which brings us to the next question.
5. Has your opinion of blogging on a schedule or as the spirit moves you changed?
As much as I try to stay on a blogging schedule it appears that my blogging style is more of a "as the spirit moves me".  Once again, in 2013 I'm going to try and stick to a blogging schedule…we'll see if it actually does stick
If you publish on a schedule, why?

I like publishing on schedule because it keeps me accountable.  I'm the type of person that finds it very easy to just skip a day of blogging which turns into weeks and could lead to months.  I don't want that happening.
How strict are you about your publishing deadlines?
This past year I ventured into writing some paid content and when it comes to other people's money I always stick to the publishing deadlines.
What do you do for inspiration when it feels like you've covered every topic?
I don't have a problem with getting inspired.  I always have something to write about and I never feel like I've covered every topic…maybe in about 20 years!
If you don't publish on a schedule, why?
I always try to post on schedule, but as I mentioned I sometimes go off schedule.  This is usually a problem when one of 2 things get in my way: My day job or life.
How do you think your decision affects your audience?
I'm sure my audience would rather see content on schedule rather than as the spirit moves me, but with other responsibilities in my life I can't always afford the time for blogging.
How do you know when a topic is "post-worthy?"
After  I click the "Publish" button.
6. How much time do you spend writing your blog per week? How much time visiting other blogs?

I probably spend about 10 hours a week writing to my blog and about 5 hours a week visiting other blogs.  However, these numbers shift a lot.  Sometimes I spend more time reading blogs then writing.  If I have lots of free time I will spend upwards of 40+ hours a week blogging.
Share your  tips for staying on top of it all.
My biggest tip for staying on top of it all is to keep a schedule.  I did my best when I allocated a block of time every night to my blogging.  I plan on getting back to this type of schedule in 2013.
7. How do you measure the success of a post and of your blog in general (comments, shares, traffic)?  Do you look strictly at the numbers, or do you have a way of assessing the quality of those interactions?

Here's a look at some of last years numbers which have increased by 32% from the previous year:
I do keep a close eye on my Google Analytics stats, but for me it's a combination of traffic and comments.  First of all, without traffic you will not get any comments.  People have to find your content before they can comment.  On the other hand you can have a lot of traffic without discussion.  One of my favorite parts about blogging is building community.  Mine is still small, but I truly enjoy hearing responses from my readers.
Again I think it's important to have a combination of both.  Not every post is there to foster a quality interaction.  A cute picture of a puppy on Wordless Wednesday will garner many "aww…cute puppy!"  comments, but not a whole lot of quality interaction.  On the other hand an in depth post on crate training puppies can spawn a number of quality comments, questions, and discussion.
8. If you could ask the pet blogging community for help with one issue you're having with your blog, what would it be?
Just one!?  I probably have about 20 or more!  I have categories of issues: Traffic, Monetization, Social Media, Technical, Design, Organization, Time Management, etc.  A lot of my questions don't have clear answers as I've asked most of them at the Pet Blogging Conferences.  If I only get one then…What do you do to build community around your blog?
9. What goals do you have for your blog in 2013?
Unfortunately I only accomplished one of my goals from last year.  This year we're going to strive to do better.  Here are 5 goals for 2013:
Increase and diversify my blog traffic – this blog largely relies on Google for traffic.  This past year in particular I really saw how shifts in the Google Algorithm can effect traffic (Good and Bad).  My goal is to increase my Referral and Direct Traffic by 100% in 2013.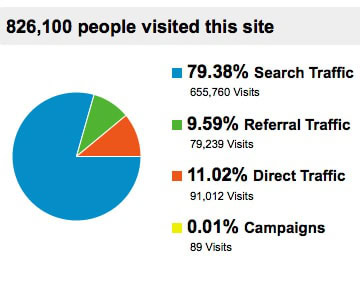 Increase and diversify revenue – I have a goal this year to raise enough money to cover the cost of our next guide/service dog in training.  The cost for a guide dog team is $42,000.
Increase Guest Blogging – Since I've only written a handful of guest posts and accepted only a few others this should be the easiest goal to accomplish.  Our goal for the year will be to write at least 12 guest posts and accept at least 12 guest posts.  Anyone interested?
Weekly Newsletter – I'm doing it this year!  A weekly newsletter!
Participate In Forums And Communities – Have you seen that little widget in the BlogPaws sidebar?  My goal is to get on the BlogPaws "Top Community Members" Widget.
That's a wrap!  If you're interested in participating in this years Pet Blogger Challenge make sure you visit Amy over at Go Pet Friendly Blog and follow the instruction for this years challenge.  Hope to see you all in the Linky!
So what's up with you guys?  How was 2012?  What do you have in store for 2013?  I'd love to hear what you have planned for 2013!

Top Picks For Our Puppies
Check out more of our favorites on our New Puppy Checklist.