If you are considering puppy adoption, I highly recommend visiting one of your local puppy/dog rescues. In past articles I've talked to you about the puppy/dog rescue, Cuddly Canines. I want to do my best to help place these puppies by profiling each puppy, litter of puppies, and dogs on this blog.
I had to get these pictures of Giggles the mixed breed having a very bad hair day. I feel so bad for her. I'm glad Cuddly Canines was able to take her in and clean her up.
***Note this dog may already be adopted as I will keep this information in my archive. Please check the Cuddly Canines website for the most recent puppies up for adoption.
Giggles The Mixed Breed With A Bad Hair Day! And Her Babies
This tiny little lady has a horrible story. She was brought into the shelter on January 9th by her actual owner who said they had too many dogs. She was dumped in this deplorable condition, in active labor! She gave birth right in the receiving area of the shelter! As soon as we got them out, our volunteer managed to get an emergency grooming appointment where this sweet little girl was stripped & bathed, then quickly reunited with her tiny babies.

Can you believe all 4 of those pictures are the same dog?

Once the hair came off, the personality came on! This little girl is all wiggles & giggles, happy to be clean & matt-free! She is tiny, only about 6 pounds!
Here's a picture of Giggles newborn puppies Twila, Twinkle, and Tuck 2 baby girls & 1 baby boy: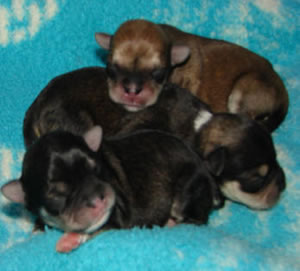 Are you interested in adopting?
If you are interested in adopting Giggles or her babies please visit the Cuddly Canines website. These puppies were born on January 9th, 2008 and won't be available for adoption until at least 8 weeks after their date of birth. If you happen to adopt Giggles or one of her puppies please remember, it's never too early or too late to start them on their training. If you are interested in puppy adoption or fostering here are a few other articles you might enjoy:

Puppy Adoption And Fostering
Dedicated To My Dog Linus
Of course, Giggles and her puppies are not the only dog being fostered by Cuddly Canines. Please visit their website to see the most current pictures of all their dogs and puppies.
I'd love to hear what you have to say about this article. Is puppy adoption in your future? Do you want to try puppy fostering? If so, please visit the Cuddly Canines website.