Puppy In Training Traffic Report – January 2015
This post may contain affiliate links. We may earn money or products from the companies mentioned in this post.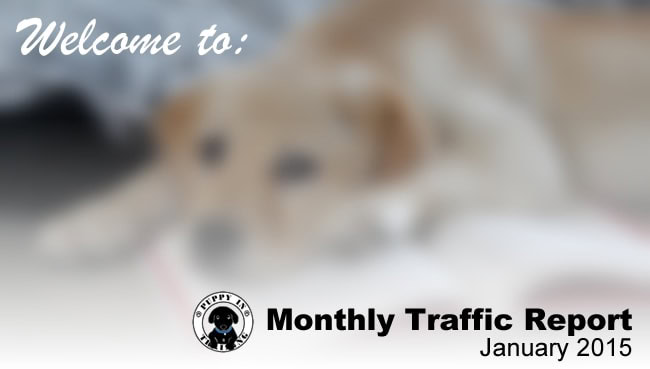 "How do you know where you're going unless you know where you've been?"
Sorry that's probably not verbatim and I really have no idea who said it, but it does sum up the reason for todays post.  Every month I'm going to look back at what we did so I can think about what we are going to do.
I've written traffic reports in the past and it gives me a chance to take a look at what I've done and where I'm going.  It also makes me publicly accountable and this is especially important after a year like 2014…27 blog posts!?  Come on Colby you can do better than that!  Anyhoo, this year we're going to schedule a monthly traffic report that recaps the previous month.  So let's get it on!
While the numbers (at least when you look at the number of blog posts) may show that January was a down month I actually wrote a half dozen drafts which are sitting in the queue waiting to be published this month.  I also added a few new pages and made updates to some of the older pages both of which will never show up in your news feed.
By the way, did I tell you I moved to new home last month?  That has definitely contributed to my slow start this year, but I've also spent a good chunk of this month planning, organizing, updating my blog for 2015.  Maybe we'll just say I'm on the Lunar Calendar which means I'm ahead of schedule 🙂
Traffic Report – January 2015
PuppyInTraining.com
Basic Traffic
Sessions: 76,510
Pageviews: 94,615
Posts: 1
Email Subscribers: 11
One of my BIG GOALs for 2015 is to diversify my traffic.  It's great getting search traffic, but as we've seen in the past Google can be fickle.  One day they love you the next day they hate you.  As of January 2015 Search makes up 86.8% of our traffic!  Diversify! Diversify! Diversify!
Traffic by Channels
Search: 86.8%
Direct: 9.8%
Referral: 1.8%
Social: 1.6%
Other: 0%
The Highlight Reel
We made quite a few design changes this month.  Here are the highlights:
Email Subscription:  We added the SumoMe plugin which has some pretty cool features.  The noticeable ones for you are the new subscription boxes along the top of your browser and the little sliding box in the bottom right corner.
Navigation: We split the navigation.  There's now a top and bottom navigation bar.
Sidebar – We added a few new sections to the sidebar and there's more to come!
Front Page – We added 3 new sections to the bottom of the front page (just above the footer).
Footer – We added sections to the footer.
Social Media – We added social sharing buttons to the left side of your screen
Too much?  Too little?  Let me know your thoughts on the latest design changes.
That wraps up January 2015!  I'm sure I'll bounce around a bit on what I will share each month.  If there's something in particular you'd like to see in the monthly traffic report just shoot me an email or leave me a comment below.
Top Picks For Our Puppies
Check out more of our favorites on our New Puppy Checklist.