This post may contain affiliate links. We may earn money or products from the companies mentioned in this post.
This blog has never been laser focused, but then again are most blogs?    After all in the beginning a weblog or blog was basically just an online journal, right!?  I remember first hearing about blogs in the early 2000's and not thinking for one second that a blog would be anything more than an "online journal".  Today, blogs are a big part of many corporate content marketing strategies and understandably so.  This blog about puppy training has received over 20,000 views in a single day and over 4 million since we started tracking statistics on Google Analytics back in 2008.  In the beginning we had no intentions of turning it into anything more than a journal about our journey raising a guide dog puppy in training named Stetson, but…
Over the past year a lot has changed: work has become more demanding, we moved into a new home, we sold our old home, started raising a fifth puppy in training…the list goes on and on.  One other big change is for the first time in a long time we neglected the blog.  We only had a handful of blog posts in the year 2013 and now that 2014 is upon us I'm wondering…
So where do we go now?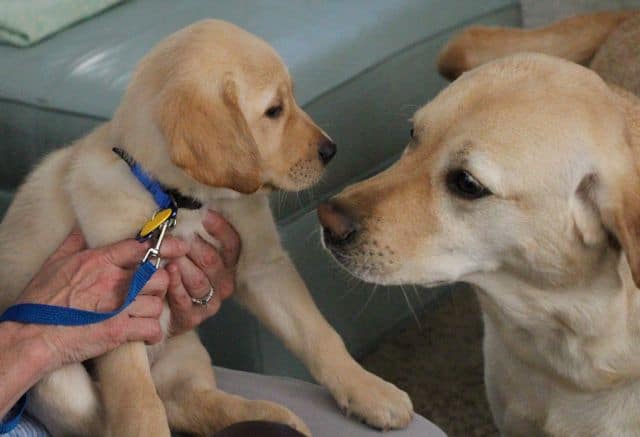 I've often contemplated what this blog could become, but without giving my full attention, time, and effort this blog will never blossom into anything special.  Just another blog amongst the millions of other blogs in the blogosphere.
I've been listening to a podcast recently and two things I got out of the first couple episodes were:
To be successful you need to TAKE ACTION!
If you want to create something worthwhile online then CREATE SOMETHING THAT MAKES THE INTERNET A BETTER PLACE.
At this point I'm thinking about taking this blog in several different directions:
Keep the status quo and let things flow as they may.
Shut it down.
Create a plan, take action, and make the internet a better place.
The Man With The Plan…The Dog With A Blog…
What do I want this blog to be?  What do you want this blog to be?  Here are my thoughts:
Continue Our Journey Raising Service And Guide Dog Puppies – We want to keep in line with our original purpose and do more than our original goals.  We did put together our Puppy In Training TV series starring Dublin, but we can do better.  Social media has arrived since our first days blogging about Stetson.  Our goal is to get more involved with YouTube, Facebook, Twitter, Instagram, Pinterest, Google+.

Blog – This is where it all began it's the hub, the anchor, all updates will lead back to the blog.
Facebook – We've built a fan base of nearly 70,000.  This is a good place for us to interact and involve our followers.  What should we name our puppy?  What breed should we bring home.  Where should we visit next?
YouTube – Video!  Puppy In Training TV has received over 100,000 views since it's inception.  Be ready for a bigger, better season 2 towards the end of 2014!
Twitter – The dog's turn.  Yep, the pup's get to express their opinions here.
Google+ – Lets build community with hangouts!  Ask your questions answers or just have a virtual cup of joe with us.
Instagram – Where's Adelle?  You guess where we are or where we've been.
Pinterest – We are working on our photography skills and what better place to share cute pup pics then on Pinterest.
Newsletter – Yep we plan on getting on a regular schedule this year…I mean it, does anyone want a peanut (extra points if you know where that quote came from) 🙂

The Ultimate Puppy Training Resource – This has become a no brainer.  I get so many questions from readers that I just need a canned answer that I can send them.  I've already done this with a few pages (take a look at the secondary navigation for answers to how to potty train a puppy, crate training, and biting puppies, but it's time to up my game and make a page for all questions puppy!  Plans for an ebook are in place.  Lets do this!
Adoption Resource – I've always wanted to promote rescues, shelters, etc. and I've done so to agree.  The goal of this section is to create a section of the blog specifically dedicated the adoption and rescue including a directory to help others find adoptable pups.
Training Resource – I do my best to answer your puppy training questions, but sometimes people need a little more.  In home training sessions, group training sessions can be invaluable to your pups development as a well-behaved dog.  Go to this directory to find a local, professional dog trainer nearby.
Puppy Sitting – Believe it or not we also get questions about where to find puppy sitters.  Another directory!? Perhaps, but at this time we want to at least point you in the right direction.
Phew…that's quite a bit of work!!!  but remember what i said earlier:
"…without giving my full attention, time, and effort this blog will never blossom into anything special…"
A Little Inspiration From W.W. (not Walter White)
I was a sophomore in high school when Dead Poet's Society came out.  One of my all time favorite movies.  If you visit the Apple website and you are also a fan of DPS then you probably saw that W.W.'s famous poem was featured:
Oh me! Oh life! of the questions of these recurring,
Of the endless trains of the faithless, of cities fill'd with the foolish,
Of myself forever reproaching myself, (for who more foolish than I, and who more faithless?)
Of eyes that vainly crave the light, of the objects mean, of the struggle ever renew'd,
Of the poor results of all, of the plodding and sordid crowds I see around me,
Of the empty and useless years of the rest, with the rest me intertwined,
The question, O me! so sad, recurring—What good amid these, O me, O life?

Answer.

That you are here—that life exists, and identity;
That the powerful play goes on, and you will contribute a verse.
~Walt Whitman
THAT THE POWERFUL PLAY GOES ON, AN YOU WILL CONTRIBUTE A VERSE.  WHAT WILL YOUR VERSE BE?
Thanks Uncle Walt!
That's enough for today's rambling.  Now go take action and make the internet a better place by leaving us a comment and telling us what you would like to see on this blog!
Top Picks For Our Puppies
Check out more of our favorites on our New Puppy Checklist.