Too Cute: Dog Adopts Baby Goat [PICS]
This post may contain affiliate links. We may earn money or products from the companies mentioned in this post.
While shuffling through Digg I came across this story on a Dog who adopts a baby goat. I decided to try the "blog it" feature on Digg to see how it posts information to my blog. It worked okay and sent a little information with a link to the digg article, but not much else.
Here's a little information straight from the story:
"Billy the boxer has become the constant companion of the 12-day old kid called Lilly. He sleeps with the goat, licks her clean, and protects her from any dangers at Pennywell Farm wildlife centre at Buckfastleigh, near Totnes, Devon."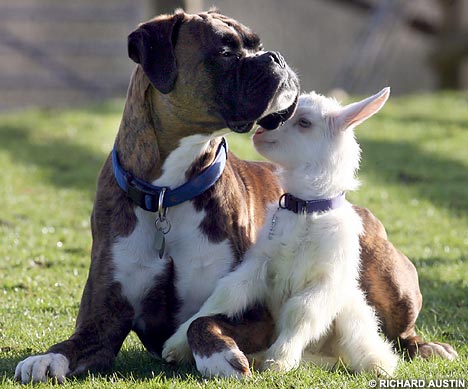 This picture comes directly from the Daily Mail website. If you want to check out more pictures and the rest of this story click the more tab below and it will take you directly to the Daily Mail story: Paternal dog Billy takes on an unusual kid.
I hope everyone likes this post and my experimentation with Digg's "blog it" feature. I'll get back to some of my normal posts and more original content tomorrow.
Top Picks For Our Puppies
Check out more of our favorites on our New Puppy Checklist.