This post may contain affiliate links. We may earn money or products from the companies mentioned in this post.
We made it! Time to find out which blog is the number one dog blog! That's right today we reveal the top 10 dog blogs and in David Letterman fashion we start off with blog #10 concluding with our number 1 dog blog of the year.
We've been following some of our top ten dog blogs for 5 or more years and some of the others we discovered as recently as the past few months. They all have one thing in common and that is we absolutely love the content they are generating.
Just in case you haven't seen our past top dog blog articles here's an explanation of some of the stats we used to find our top dog blog:
Top 50 Dog Blogs – 1-10
In case you're wondering about the weird numbers in the boxes below each blog screen shot here are some definitions:
Compete Unique Visitors – an estimate of how many visitors each site receives per month.
Alexa Rank – ranks sites by the number of visitors and pageviews they receive.
Google Page Rank – is largely based upon the numer and quality of backlinks to a webpage.
Facebook "Likes" – the number of people who "like" the blogs accompanying Facebook Fanpage.
Twitter Followers – the number of people following the blogs accompanying Twitter Account.
D.O.B. – the date or approximate date the domain name was registered.
Unfortunately, I don't have super awesome programming skills so these numbers are just a snapshot at the time I put together this post, but it should give you a good approximation of the current numbers. We start off with our #10 dog blog and we look no further than one of our favorite celebrity dog trainers, Victoria Stillwell.
What they have to say:"She is best known for her role as the star of Animal Planet's hit TV series It's Me or the Dog, through which she is able to share her insight and passion for positive reinforcement dog training by taming some of the world's most unruly pets as she counsels families on their pet problems. She also served as a judge on CBS's Greatest American Dog."
What we have to say: If you asked a dog lover to name two famous dog trainers the first would probably be Cesar Millan and the second just might Victoria Stillwell from the hit tv show "It's Me or the Dog." We had to include at least one if not both of these two famous dog trainers on our top dog blog list, but unfortunately we couldn't find a Cesar blog. However, Victoria had a wonderful blog that includes not only her own musings, but articles from other expert trainers as well.
TOP DOG BLOG #9 – Pawluxury
What they have to say: "eco-living for the everyday dog – We offer eco-friendly, organic, natural dog products made in the USA."
What we have to say: The Pawluxury blog is one of those blogs that I used to come to and read almost religiously. It's actually a companion blog to their ecommerce site where they offer luxury, high-quality, durable, holistic and earth-friendly products for the everyday dog and their owners. I just wish they would get back to updating the blog. We highly recommend you sift throught some of their blog articles. However, you will not see them on this list again next year if we don't start seeing some new blog posts soon. We are big fans of the environmentally friendly dog blogger and that is one of our favorite parts about pawluxury as well as another one of our favorites blog #30 Raise A Green Dog!
TOP DOG BLOG #8 – The Three Dog Blog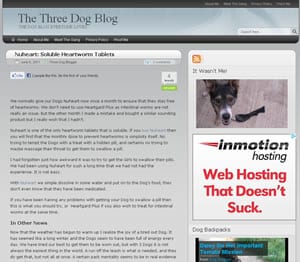 What they have to say: "This site is all about our lives with the dogs. It will be a realistic insight into the ups and downs of dog ownership and the joys and sorrows that go with it. Sometimes challenging, sometimes thought provoking but hopefully most often fun."
What we have to say: Another one of our all time favorite blogs that has slowed quite a bit recently. Again we'd like to see more articles or the Three Dog Blog may also be in danger of falling off our top dog blog list. However, there many great articles if you sift through the content or you might just try searching their content by using the search box in the upper right corner. We have seen some recent changes to the blog design so perhaps we will see a flood of new content soon. We're keeping our fingers crossed. One thing we really like…we finally caught up to the three dog blog with Stetson, Linus, and Dublin we are now also three dog bloggers!
TOP DOG BLOG #7 – Ask Spike Online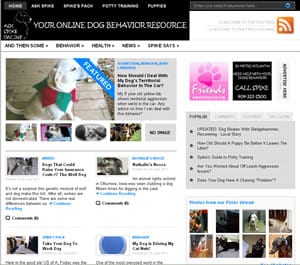 What they have to say: "Hello! I am Spike, and I write Ask Spike Online. I want to help families understand their pet's behavior, the psychology behind it, and what they can do to correct unacceptable behavior. This site is driven by your questionsand situations. I started writing in 2008, but I have been a dog my whole life, helping my mom communicate to other humans what dogs are thinking, both in-person and online. I base my suggestions on the knowledge I have attained through my experience and the experiences of others in my pack and how it relates to canine psychology."
What we have to say: Another dog blog that's been in my feed reader from what seems like the very beginning of time…well maybe since late 2008. A blog from the dogs point of view Spike helps us to better understand why dogs do what. I'm sure we can all use a little help with that. What's our favorite part of the site? Puppies of course. Spike has a section in his navigation bar dedicated to puppies and if you are a winnie the pooh fan then clicking on the PUPPIES link in the navbar is a must!
TOP DOG BLOG #6 – Pet Connection Blog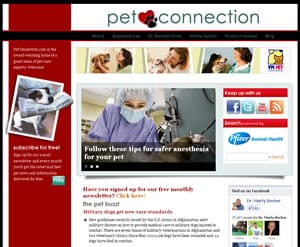 What they have to say: "The Pet Connection (follow us on Twitter at PetConnection) began as a pet-care column in The Sacramento Bee, starting in 1984 and written by Gina Spadafori. Her column later became syndicated, first through McClatchy, which joined with Scripps-Howard and then became McClatchy-Tribune. The Pet Connection had already left, as Spadafori signed with the world's largest provider of syndicated content, Universal Press (now Universal Uclick), in 1995. Dr. Marty Becker became her business and writing parter in 2007. She launched this site as the PetConnection home in 2006."
What we have to say: As you can see Pet Connection was around long before the blog. The Pet Connection blog is one of our favorites with several writers who are experts in their fields. One of our favorite parts about the Pet Connection Blog was their Dog Cars section (DogCars.com). This niche section later merged with the main Pet Connection blog. We still look back at the archives and wish that Pet Connection authors would revive this section of the blog. I guess with the slowing economy people are less likely to buy cars with dogs as one of their main considerations as seen by the demise of one of dogcars.com favorite dogcars the Honda Element. If you're looking for the Dog Cars section go to the blog, check the sidebar, and find the dogcars.com category.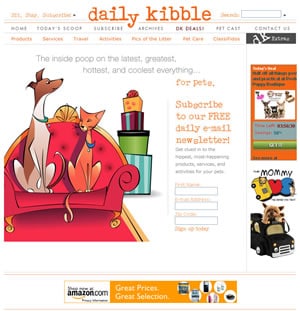 What they have to say: "We are a daily e-mail newsletter featuring the hottest, coolest, latest, and greatest everything for pets: things to do, things to buy, and services for our furry four-legged best friends. We only go where we are invited (i.e., opt-in subscriptions), but once welcomed in, we show up daily Monday through Friday (that's once a week in dog years). Being purely editorial, we only feature stuff we love, hoping to bring you the best of the best, so you can be the first to know. As pet owners, we know that we are responsible for every bit of happiness our pets will ever experience in their lifetimes. That's why we bring you Daily Kibble: not just to provide information, but also to enhance your enjoyment of, and connection to, your pet."
What we have to say: These guys are a little different…the focus is on the daily newsletter rather than the blog. You can still look into the archives, but you need to subscribe to the email newsletter to get your updates (I couldn't find an RSS feed). While this is a bit odd, we do enjoy receiving the short and sweet daily newsletter. It actually reminds me a little bit of my daily groupon email…simple, quick, and easy content to consume!
What they have to say: "Ace is a 5-year-old black lab mix. Ace has a lot of talents like drinking an entire toilet bowl of water. He can also fling his drool six feet high onto our walls. He enjoys retrieving any object, ripping apart boxes, attacking the hose and beating me in dog-paddle races."
What we have to say: Dog Runner, Pet Sitter, Dog Blogger…we're getting close to the top and ThatMutt.com is #4! Many of Lindsay's articles really hit home with me and my dogs. Her recent articles on separation anxiety have helped me with Linus and we love reading her and Ace's unbiased doggy product reviews. The web design has recently changed and perhaps in a transitional stage as it's very plain, but still easy to find the content. We can't wait to read more and can see ThatMutt.com challenging for number 1 next year if Lindsay and Ace have the time to push their blog to the top!
TOP DOG BLOG #3 – The Labrador Brats Dog Blog
What they have to say: "Dakota & Cheyenne are purebred Chocolate Labrador Retrievers and the inspiration behind 8 Paws Up Labrador Retriever Info & Gifts and DogWire Dog Gifts. They are full blood sisters, 9 months apart in age, and are being trained as Therapy Dogs to visit children in local hospitals."
What we have to say: We love Labrador Retrievers! Stetson is a Black Lab…Dublin is a Yellow Lab…Derby was a Yellow Lab, and Linus is…maybe some Lab!? Anyhow we may be a little biased towards Labs, but that doesn't change the fact that The Labrador Brats Dog Blog puts out great content. We'd like to see more frequent dog posts, but we love reading about Dakota and Cheyenne. The main site is a Labrador Lovers shop so if you love your Lab this is definitely the site to visit!
TOP DOG BLOG #2 – Dogasaur
What they have to say: "Our aim is to help the dog owner attain the highest quality of life for their dog. We strive to connect dog experts with dog lovers. And every message is founded on our collective responsibility to support organizations and charities dedicated to helping dogs who cannot fend for themselves. Dogasaur wants our readers to become involved, and come back often enough to become part of the family."
What we have to say: What feels different abotu this site and why is it #2 on our list? First of all we love the web design, second the community aspect really makes you feel they are embracing the social web 2.0 aspect of the internet, and finally their sheer number of Facebook fans really jumps out at your. Great articles on the blog and one thing I really love…The "Featured Adopt Me Dog" scattered throughout the blog archives…cool, cool, cool!!!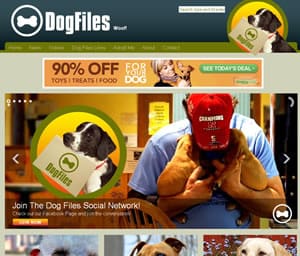 What they have to say: "After adopting an American Foxhound/Pointer mix named Max from a local shelter, Kenn Bell decided to combine his skills as a filmmaker with his immense love of all things canine to create the very best Dog Video Series and Website on the web. After christening it, Dog Files, and making Max the mascot (that's him in the logo), he began to travel around the country documenting how involved dogs are in all our lives. From ice cream socials to rescue groups to military working dogs, Kenn's hope with the Dog Files is to let the world know that dog's deserve our love, care and respect."
What we have to say: And our number 1 Dog Blog is…The Dog Files!!! It was a long and difficult road, but we after much debate between myself, Stetson, Linus, and Dublin we decided that The Dog Files deserved to be our number one blog. What do we love most about The Dog Files? The incredible dog videos! Althought we'd love to see some dog training videos what we've seen is pretty awesome and we know how difficult it can be to put together some simple videos as we've tried to do with our Puppy In Training TV series.. If that's not enough the dog files website design is very nice and easy to navigate. Finally, they've definitely immersed themselves in social media with a huge following on both Facebook and Twitter. Congratulations and great job to The Dog Files!
Final Thoughts for Top Dog Blogs 1-10
It was very difficult to come up with this list as pretty much all the dog blogs listed from 1-50 deserved to be number 1 for one reason or another. We did our best to narrow our list by using the numbers, but in the end much of this list is subjective and follows my own likes and dislikes.
After re-reading my top 10 dog blog list one thing I noticed is my loyalty to the "small" dog blog even though some of these "small" blogs have stopped producing content on a regular basis I still included them in my top 10 list. I guess loyalty to some of my favorite dog blogs is one of my faults, but as a one man blogger myself I understand that it can be difficult to pump out daily content (sometimes it's even difficult to stay on a weekly or monthly schedule). However, I'm hoping some of these blogs make a come back and start blogging on a regular basis again…maybe this series of top dog blogs will be a wake up call and inspire some of our favorites like the Three Dog Blog and Pawluxury to start posting more content in the future.
Congratulations once again to The Dog Files! We haven't been following them as long as some of the others, but we love their great articles and videos, wonderful web design, and how they've really embraced social media.
If you have a dog blog or if you have put together your own top dog blog list please let us know about it in the comments section below.
Don't forget to subscribe to one of our channels so you don't miss any of our awesome upcoming content. I hope you enjoyed this series of articles and we'll speak soon! Facebook, Twitter, RSS.
Top Picks For Our Puppies
Check out more of our favorites on our New Puppy Checklist.