This post may contain affiliate links. We may earn money or products from the companies mentioned in this post.
We're in the home stretch for the count down to the number one dog blog on the internet. Today we feature top dog blogs number 11-20 with a nice grouping of both small, medium, and large dog blogs. We love some of the web designs in today's blogs and we assume that some of these doggy blogs are very well funded with their very own custom design (and perhaps a team of people who work on their website) rather than the free or low cost templates many of us little guys use with our dog blogs. Anyhow, we like a nice web design, but we love great content and that's how some of the smaller blogs rise to the top.
Top 50 Dog Blogs – 11-20
In case you're wondering about the weird numbers in the boxes below each blog screen shot here are some definitions:
Compete Unique Visitors – an estimate of how many visitors each site receives per month.
Alexa Rank – ranks sites by the number of visitors and pageviews they receive.
Google Page Rank – is largely based upon the numer and quality of backlinks to a webpage.
Facebook "Likes" – the number of people who "like" the blogs accompanying Facebook Fanpage.
Twitter Followers – the number of people following the blogs accompanying Twitter Account.
D.O.B. – the date or approximate date the domain name was registered.
Unfortunately, I don't have super awesome programming skills so these numbers are just a snapshot at the time I put together this post, but it should give you a good approximation of the current numbers. Lets get started with one of the bigger blogs to make the list at #20 with the Petside Blog!
TOP DOG BLOG #20 – Petside Blog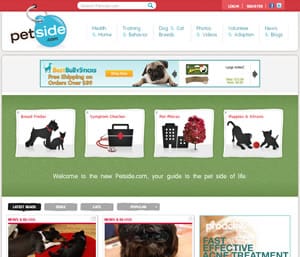 What they have to say:"What is Petside? An easy-to-use, reliable resource for pet parents on health, behavior, lifestyle and trends. We highlight the joys and challenges of having pets by serving up current, topical content from around the pet care world. At its core, Petside is a cuddly place, run by fellow pet lovers, where you can learn how to best care for your best friend."
What we have to say: Petside.com hasn't been around for too long, but boy has it grown. I actually remember seeing the blog in it's early stages and even in the beginning they had a cool design and content. A new feature we recently noticed on the Petside website is the four image's front in center on the home page. It's actually a cool little tool that allows you to search for breeds, check symptoms if your pet is sick, find pet friendly places to visit,and a place to add your puppy or kitten to their development timeline…very cool!
TOP DOG BLOG #19 – Blog Paws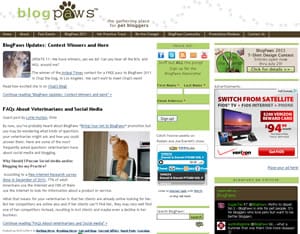 What they have to say: "BlogPaws is an online community site for pet bloggers and brands. We are the go-to resource for bloggers and brands to partner on projects and campaigns, to be educated on social media, and to arrange face-to-face meetings."
What we have to say: The BlogPaws.com blog is much different then most of the other blogs in our top dog blog series. It targets pet bloggers and brands and many of the articles throughout the blog are full of advice on how to increase your readership and marketing your blog versus information on your pet. However, it's not only about internet marketing for pet bloggers there's also information and pictures about dogs and pets. What did we like the most here? Well since we are pet bloggers we do like the idea of getting more readers. The one big thing we like here is the annual BlogPaws Conference where pet bloggers, pet enthusiasts, shelters, rescues and brands together for education, networking and creating worldwide change for pets in need. Pretty darn cool!
TOP DOG BLOG #18 – Pet Food Direct
What they have to say: "Since our beginning in 1997, we have been a company dedicated to providing pet parents & owners convenient online access to the widest variety of pet supplies possible delivered conveniently to your door. We are a group of pet loving individuals that simply enjoy making our customers and thus their pets happy. Hopefully our ecommerce website helps you find what you need quickly and efficiently and thus you can spend more time with your beloved pets."
What we have to say: So it's a company that you can order pet supplies from on the web and they deliver to your doorstep…revolutionary back when they started in 1997, but evolutionary today. What's the big deal? Well not only do they offer a cool store front, but the blog has tons of great information. We love the helpful tips and hints they have for dogs, cats, and other pets. One thing we like (and learned) from PetFoodDirect.com is the way they successfully integrate helpful links back to products that would be useful throughout their articles. Another thing we liked that we don't see enough throughout the blogs we reviewed are dog training videos and any other kind of online video to enhance blog posts. We're doing our best to utilize online video with our Puppy In Training TV and Dog Toys and Products reviews.
What they have to say: "The Whole Dog Journal is a monthly guide providing dog owners with well researched, in-depth articles about all aspects of dog care and training. Features unbiased test reports of dog food, treats, toys, and training ads."
What we have to say: It's kind of funny how I have similar topic blogs bunched together in this case we have dog blogs that are dog food related here at #17, #18, and #21. I was a little bit bummed out that I had to pay to access certain sections of the site the good news is the blog articles I was reading and found useful were free. I just wish they had a higher posting frequency because the articles are great reads. What initially stood out for me were the section headers and of course the section on Puppy Training and Nutrition which was of high interest to me…major points for a section specifically for that subject. However, much to my chagrin some articles are "subscriber only"…boooo. Although we do see a place for paid content and may someday subscribe to the exclusive membership section. Overall we did enjoy all the free information and recommend you take a look too.
TOP DOG BLOG #16 – Petlvr Blog
What they have to say: "PetLvr Community is just a place where Pet Lovers can come together and mingle .. what they do while they are here is up to them!"
What we have to say: What do we like about the PetLvr Community? Well it's the first blog we've come across that is not just one blog, but a community of blogs. As far as we can tell they are using buddypress to allow anyone and everyone manage their own pet blogs giving a wide range of thoughts and opinions.
TOP DOG BLOG #15 – Dog Milk
What they have to say: "Dog Milk is a website dedicated to modern dog design, inspired by Jaime Derringer's love for her two modern pets, Lulu and Beans (right). She felt that there needed to be a place where modern dog lovers can discover new products and sniff out what's beyond the chain pet stores. Whether an innovative pet feeder, cool dog tee, or modern dog bed, Dog Milk strives to bring you the most cutting edge and modern design for your very best friend."
What we have to say: This is a place to see some cool new doggy products not just the run of the mill stuff you find at PetSmart.com. We love subscribing to the RSS feed to see what interesting new item will show up next. If you're looking for something different for your dog then check out Dog Milk.
TOP DOG BLOG #14 – Fido Friendly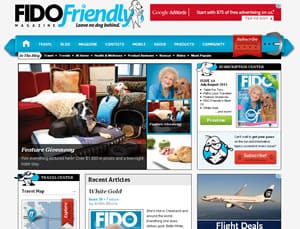 What they have to say: "We are a bi-monthly magazine dedicated to the travel and lifestyle of our canine best friends. This blog is an extension of who we are in print—lovers of all things dog and the roads they travel. Walk, ride, drive, fly, pedal, paddle, or use whatever mode of transportation suits your Fido-friendly fancy, but by all means stay tuned and Leave No Dog Behind."
What we have to say: Another montsrous magazine blog. We love the design! However, it's not just another pretty face as there is substance to that style. We thought the travel destinations section of the blog was pretty cool…Looking for a place to go with your furry friend then look no further then some of the travel reviews on Fido Friendly (btw, they also include some excellent pictures of these dog friendly destinations)!
TOP DOG BLOG #13 – Bloggy Doggies
What they have to say: "We are 4 dogs and our mom who loves us. We dogs decided mom needed our help in writing a blog about dogs. Who better than to help her than us! After all we are the authorities on all things doggie!"
What we have to say: We just noticed that the Bloggy Doggies site is in transition. However, don't let the current plain design fool you there's great content underneath the covers. We know the content is great when you keep coming back to the site and even though Bloggy Doggies is one of the smaller blogs on our list it gets some of the highest marks for content. Kudos to the gang for putting together some of our favorite blog articles!
What they have to say: "A fun Dog Blog filled with good news and fun stuff about puppies and big dogs. The information found here is provided by long-time dog owners who have a ton of experience raising dogs from puppyhood through the senior dog years."
What we have to say: Another group contribution blog, but this one is not separated into different blogs like the PetLvr Community. We've been following for a long time and have found many useful dog an puppy training articles. What stands out here at Dog Times blog is the awesome content. Just like Doggy Bloggies we find ourselves back on the Dog Times blog to leave comments and enjoy their articles.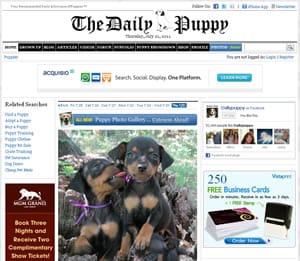 What they have to say: "Welcome to The Daily Puppy; your source for cute puppy pictures, videos, articles and supplies. Browse pictures of the puppy of the day, create a profile for you and your puppy and connect with other puppy parents"
What we have to say: I've been following the Daily Puppy for years and initially I was not going to include it on the top dog blog list because I thought it was only about the pictures. I was totally wrong! There are tons of cool things on The Daily Puppy website including great puppy training information in their blog archives. There were a couple things we thought were uber cool including the little calendar widget int the sidebar that had a small thumbnail of each pup of the day. The second thing that really stood out to us (besides the adorable pup pics) was the Puppy Showdown where it's up to you to vote for the cutest puppy in a head to head battle
Final Thoughts for Top Dog Blogs 11-20
It's been very difficult narrowing our list down to come up with the number 1 dog blog and this article shows some of our very favorite dog blogs that we've been reading for the past 5+ years. Of course as usual you can see that we have quite a variety from the cutest of puppy pictures to one man (or dog) blogs to the super mega humongous audienced blogs that even have printed magazines.
I hope you're enjoying this series of top dog blogs. COMING SOON!!! The number 1 Dog Blog!!! Our next article will be TOP DOG BLOGS #1-10. Don't forget to subscribe to one of our channels so you don't miss the Number 1 Dog Blog. Facebook, Twitter, RSS.
Top Picks For Our Puppies
Check out more of our favorites on our New Puppy Checklist.