This post may contain affiliate links. We may earn money or products from the companies mentioned in this post.
In this post we pass the mid point of the top 50 dog blogs. That's right! We'll be featuring top dog blogs 21-30 today and just like the past twenty featured dog blogs it's a mixture of ginormous multi-author blogs mixed in with some of our favorite smaller one doggie blogs. Don't forget, if you didn't see your name on our initial giant list of dog blogs then please feel free to send us a message with your dog blog information and we'll make sure to include you in next years top dog blog list.
I'm not really sure how this happened, but as you continue through this list you'll notice that there's a wide variety of specialized blogs in top dog blogs 21-30. Here's a little preview before you scroll down:
Green Dog – Keep your dog environmentally friendly.
Pet Adoption – Adopt A Puppy.
Petworking – A Pet Networking blog.
Bully Sticks – Self Explanatory.
Carolina Mountain Dog – About what else a Carolina mountain dog.
Animal Shelter Tips – love some of these tips.
Dog Food Reviews – Looking to change dog foods…look no further.
Others…
Top 50 Dog Blogs – 21-30
In case you're wondering about the weird numbers in the boxes below each blog screen shot here are some definitions:
Compete Unique Visitors – an estimate of how many visitors each site receives per month.
Alexa Rank – ranks sites by the number of visitors and pageviews they receive.
Google Page Rank – is largely based upon the numer and quality of backlinks to a webpage.
Facebook "Likes" – the number of people who "like" the blogs accompanying Facebook Fanpage.
Twitter Followers – the number of people following the blogs accompanying Twitter Account.
D.O.B. – the date or approximate date the domain name was registered.
Unfortunately, I don't have super awesome programming skills so these numbers are just a snapshot at the time I put together this post, but it should give you a good approximation of the current numbers.
Lets get started with blog number 30…a blog that we've been following since it's inception…
What they have to say: "Our site brings you tips, tricks, products, and other information on how you can help your dog go green. We're just starting so keep on watch, there's lots more to come!"
What we have to say: As we previously mentioned we've been subscribing to the Raise A Green Dog Blog since day 1. We here at PuppyInTraining.com try our best to be green dogs and puppies as well and the Raise A Green Dog Blog is one of the best resources for keeping you up to date on the latest and greatest information on keeping you and your pup environmentally friendly. One of our favorite parts of the blog are all the Squidoo Lens. By the way, in case you were wondering the Raise A Green Dog Blog actually started as a Squidoo Lens way back in September of 2007 and just in case you didn't know a Squidoo Lens is a place where you can publish web pages about your favorite things.
What they have to say: "Petfinder is an online, searchable database of animals who need homes. It is also a directory of more than 13,000 animal shelters and adoption organizations across the U.S., Canada and Mexico. Organizations maintain their own home pages and available-pet databases."
What we have to say: We couldn't find a "about" page strictly for the petfinder blog, but we can attest that there's plenty of great information pumping out of their awesome blog. If you've been following us for a while then you know we found Linus, our Aussie Shepherd mix through the petfinder database and since then we've been going back to the site to not only look at adoptable pets, but to read the tips provided by the blog. Definitely our number one feature we love about PetFinder.com is the humongous searchable database and what they do for homeless dogs, cats, and other pets. Keep up the good work guys with your wonderful website and blog!
What they have to say: "Our flagship sites, Dogster and Catster, are the most helpful online sources for all things dog and cat related because we offer knowledgeable and trustworthy expert points-of-view as well as a vast wealth of opinions, advice and wisdom from our large community dog and cat owners. ."
What we have to say: It was kind of interesting reading through the dogster about us page as it mentions them more as a media conglomerate and seems less personal. Anyhow, we love dogster and our dogs are all members. In fact we new about dogster well before we discovered the dogster blog as our pups were signed on to the social networking site. However, we've been following the blog for the last few years and have found valuable information in their articles. The one thing that makes them stand out is definitely the social networking portion of the site. During the height of Friendster, Dogster took advantage and now is host to millions of dog and puppy profiles.
What they have to say: "Mom and I have been sharing with pets and humans like you very valuable information on pet nutrition and natural holistic alternatives to conventional pet care for several years now."
What we have to say: We've been following Shadrach and the Bark-N-Blog for many years now and enjoy reading about natural holistic alternatives. We do not always follow the same lifestyle, but we always want to hear about alternatives to normal commercial products. I was very sorry to hear that Shadrach had recently passed back in April. Rest In Peace Shadrach.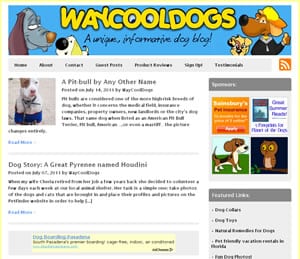 What they have to say: "Way Cool Dogs was originally started by myself, a great-grandmother in south-central Nebraska, telling of our experiences about taking care of dogs. Over time, we began to see issues that were important to dog lovers that needed more attention. Over the years, things that are common everyday practice to is were things we did not know earlier in our own lives. This is what we choose to write about."
What we have to say: We definitely like what they have to say over at WayCoolDogs…"The majority of the dogs who have been turned out or into shelters are due to training issues, which is the owner's fault — not of the dog." Great point! Once again another great person doing great work to support homeless dogs. Tons of great content here including product reviews (something we always love to see) featured front and center. Although it actually takes two clicks to get to the reviews.
What they have to say: "Our Doggies Dog Blog is your online destination for everything dog and for dog lovers."
What we have to say: Doggies.com is another one of those humongous websites with tons of information. The blog portion is handled by Beth and it each article I saw on the site also included a pretty great image (the written content was also very nice).. A big part of the doggies.com website and one thing we liked in particular is their section on dog breeds. There is a ton of information on an assortment of dog breeds and makes for a great resource if you're trying to find the right dog for your lifestyle.
What they have to say: "We have a passion for dogs, and we want to share our knowledge. We fully explain each product and provide a complete list of all ingredients so you know exactly what you're getting."
What we have to say: The K9 Chronicles is a companion blog to the K9 Cuisine website which offers the highest quality dog supplies. So what about the blog? We like how their are six main sections: Rescue Me, Dog Food Dish, Vet Med, Pet Tips, Well Behaved Dog, Pet Travel, K9 Cuisine Blog, and CEO Blog. This sectioning off with most recent articles listed makes it easy to navigate and find information. We think that blogging in addition to your regular ecommerce site is a great way to drive traffic and K9 Chronicles does just that by creating great content!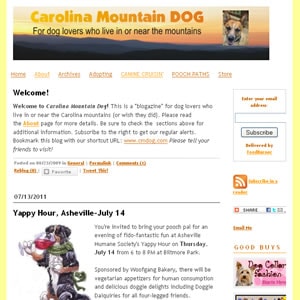 What they have to say: "It celebrates the unique relationship of dogs and the mountains, offering news of interest and valuable information about what to do and where to go with dogs in Western North Carolina and the South Carolina Upstate. Carolina Mountain Dog strongly advocates for humane treatment of animals, animal rights, spay/neuter, and adoption of shelter animals."
What we have to say: The Carolina Mountain Dog may perhaps be the smallest blog to make the top 50 list. However, it's one of those sites that we always seem to be reading when we open our RSS reader. The blog design is a little bit dated and we wouldn't mind seeing an new design. However, we love the simplicity of the blog and of course the great content and we don't even live in or near the Carolina mountains!
TOP DOG BLOG #22 – Animal Shelter Tips Blog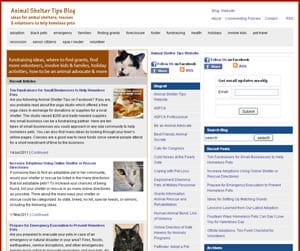 What they have to say: "Our human mom worked in marketing "in another life" as she describes it. She adores animals, so she did help a little, too. She told us she wants to help people help animals by using her past work experience to put together ideas on fundraising, finding grants, and more. "
What we have to say: My mom (the cat lady)will like this one…it's Animal Shelter Tips Blog run by the cats. I know what you're thinking: "Isn't this the top dog blogs?" Yes, but Animal Shelters, Rescues, dog adoption, and how to adopt a puppy are all near and dear to our heart. We support rescue and found some of the information here on Animal Shelter Tips Blog invaluable and something a little bit different that we can share with our readers. What do we like best about this blog? It's focus on Animal Shelter Tips is a narrow niche, but we're glad that the Foxy and Sam are putting in the effort.
What they have to say:"Maybe it's just me, but with all the information out there about dog food, why is it so darned hard to figure out which one to buy? Shouldn't choosing dog food be a whole lot easier? Confused About Choosing Dog Food I think so. That's why I created the Dog Food Advisor… so you can get unbiased help in choosing good dog food."
What we have to say: We found this site recently through our friends on Facebook. Like the name says there is tons of dog food advice. This is more of a resource then a blog I plan on visiting on a daily basis. However, it is good to see the ratings and reviews of just about every dog food brand out there. One of my favorite parts of this blog is something that is a part of every blog and that's commenting. You don't just get the authors opinion, but you also get the opinion of hundreds of other people who feed their dogs the dog food under review.
Final Thoughts for Top Dog Blogs 21-30
Our top dog blogs number 21 to 30 had a wide range of different blogs. I'm not too sure why it ended up this way, but it seems that numbers 21-30 were dog blogs with specializations. Whether your looking for green dog advice or information about your next brand of dog food top dog blogs number 21-30 for whatever reason is a great resource for the specialized doggy information. Anyhow, I hope you enjoyed this portion of the top dog blog series. There's lots of great information here and as you can see I made it easy for you to find each blogs Facebook, Twitter, and website with a click of the button. We're hading into the final stretch now so make sure you visit us again soon so you can see who's #1. Tommorrow we will have top dog blogs 11-20 so don't forget to connect with us through Twitter, Facebook, or our RSS Feed (all options are in the upper right hand corner of this blog!
Top Picks For Our Puppies
Check out more of our favorites on our New Puppy Checklist.