This post may contain affiliate links. We may earn money or products from the companies mentioned in this post.
Welcome back to our top 50 dog blogs series top dog blogs 31-40. We just wanted to quickly mention that some of our favorite blogs are small one person operations while others are large sites presumably with multiple writers, backed by large corporations, and even sites with print magazines in publication. Blogs 31-40 represent both the small one person and the large mega sites. So lets get started!
Top 50 Dog Blogs – 31-40
In case you're wondering about the weird numbers in the boxes below each blog screen shot here are some definitions:
Compete Unique Visitors – an estimate of how many visitors each site receives per month.
Alexa Rank – ranks sites by the number of visitors and pageviews they receive.
Google Page Rank – is largely based upon the numer and quality of backlinks to a webpage.
Facebook "Likes" – the number of people who "like" the blogs accompanying Facebook Fanpage.
Twitter Followers – the number of people following the blogs accompanying Twitter Account.
D.O.B. – the date or approximate date the domain name was registered.
Unfortunately, I don't have super awesome programming skills so these numbers are just a snapshot at the time I put together this post, but it should give you a good approximation of the current numbers.
Lets get started with blog number 40 straight from Ottawa, Canada:
TOP DOG BLOG #40 – Ottawa Dog Blog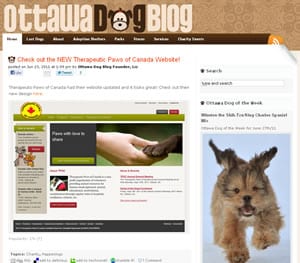 What they have to say: "Ottawa Dog Blog is a resource for people in Ottawa about everything to do with dogs. It features dogs in Ottawa as well as dog stores, parks, breeders, shelters, charity events and offers general information about training, behaviours, outstanding products and more."
What we have to say: A lot of information on upcoming dog events in Ottawa. I wish there was a similar easy to follow source here in Southern California. Also, great pictures in the dog of the week sidebar including many dog profile posts. Altogether a great assortment of information on dogs and dog related things in Ottawa. Also, we love the recent design update.
TOP DOG BLOG #39 – Thoughts Fur Paws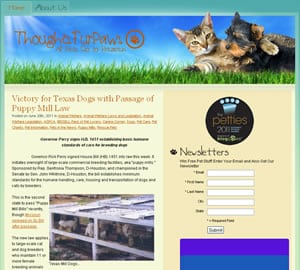 What they have to say: "ThoughtsFurPaws.com is all about my experiences with anything and everything pets. Some people call me a fanatic – and I happen to believe there are lots of others like me out there. I call myself an "Animaniac," like the old cartoon."
What we have to say: Simple and easy to follow classic blog design. One of the great things I love about reading through different blogs are that we are not all from the same area. For instance Thoughts For Paws talks about how to keep your pet tornado-safe something we don't think much about here in California. However, we can take some of these tips and apply them to earthquakes (fairly common in Southern California). Lots of great news and information here for your dog or pet.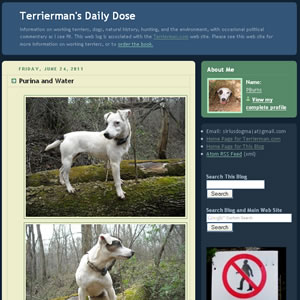 What they have to say: "Information on working terriers, dogs, natural history, hunting, and the environment, with occasional political commentary as I see fit."
What we have to say: A simple blogger blog. This blog actually strays away from it's main subject of Terriers quite often, but has some interesting off topic information. The main topic is terriers and it is a companion blog to the Terrierman website. Some interesting reads here.
TOP DOG BLOG #37 – Bark N' Blog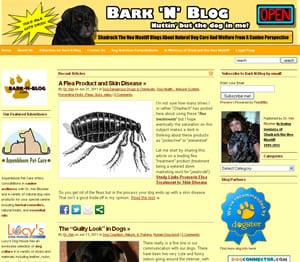 What they have to say: "Mom and I have been sharing with pets and humans like you very valuable information on pet nutrition and natural holistic alternatives to conventional pet care for several years now."
What we have to say: We've been following Shadrach and the Bark-N-Blog for many years now and enjoy reading about natural holistic alternatives. We do not always follow the same lifestyle, but we always want to hear about alternatives to normal commercial products. I was very sorry to hear that Shadrach had recently passed back in April. Rest In Peace Shadrach.
TOP DOG BLOG #36 – Paw Nation
What they have to say: "Your Source for Pet Care, Animal News, Pet Product Reviews and Funny Animal Videos!"
What we have to say: This is another one of those mega pet websites. All kinds of information on all pets including our favorite…dogs and puppies. Part of AOL one of our favorite places to go on this site is the pet product reviews. We love doing our own dog product reviews and love reading what other people think about products. If you want to check out an all inclusive site about pets pawnation might be the place to go…or scroll down to our next top blog as we have a run of a few more mega blogs and some that have actual print magazines in circulation—>
TOP DOG BLOG #35 – Pets.ca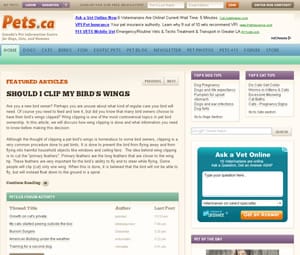 What they have to say: "Pets.ca believes in the ethical treatment of pets. We are against abuse of any kind, and try to foster a better understanding of the relationships between humans and pets."
What we have to say: I love this site as a resource for all things pets and also for what they say in their about statement "against abuse of and kind…" Another one of those super humongous mega pet websites with tons of great information on dogs and other pets. These guys are located in Canada and have over a half dozen contributors to the website. The blog doesn't get updated to often and it's difficult to tell how often other sections of the website are updated, but as mentioned earlier even without regular updates it's a great resource.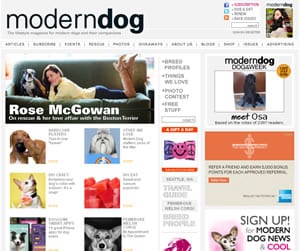 What they have to say: "The lifestyle magazine for modern dogs & their companions. Modern Dog: giving you something to bark about! Cherished family member, best friend, pampered pooch, canine kid… Modern Dog magazine celebrates all the contemporary canines out there—regardless of pedigree. "
What we have to say: I've seen Modern Dog Magazines on the racks at Barnes and Noble and Borders. So obviously they have a ginormous backing. This site has a half dozen separate blogs and once again tons of great information and a website/blog that can be used as a resource for dog owners. Nicely layed out design and I like their dog of the week in the upper right corner of the sidebar.
TOP DOG BLOG #33 – The Bark
What they have to say: "Bark is the magazine of modern dog culture—it speaks to the serious dog enthusiast. Bark is the indispensable guide to life with dogs, showing readers how to live smartly and rewardingly with their canine companions."
What we have to say: The last of the big 4 websites in this post. The BARk is another one of those magazines I've seen on the rack. Once again as suspected from a site with such financial backing, lots of great information in a nicely designed website. One thing I thought was pretty cool on this site is a section for guest posting. I like that idea for such a large magazine publication. I'll have to look into their guest posting policies and see if I can't get some of my articles published to the BARk.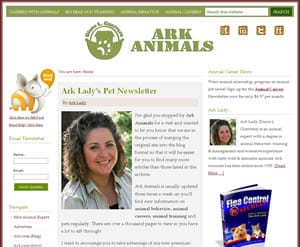 What they have to say: "Ark Animals first appeared on the Internet in 1995 as a private website for me (Diana L Guerrero aka the Ark Lady). It grew with topics related to wild and domestic animal behavior and training, animals careers, and contributions related to conservation. Because of the traffic had to be moved to its own domain in 1997."
What we have to say: I've been following the Ark Animals website for a while now…not all the way back to 1995, but for about the last 3 or 4 years and it has gone through many transitions. The site has tons of information, but that information is a little more difficult to find compared to the previous 4 sites on the list. I can see the same thing happening with my own site and need to figure out a better way to organize blog content. Once again just like my blog the Ark Animals blog postings can sometimes be a bit erratic. However, if you have the chance to dig into the content you'll find some great information. One of our favorite sections is the area on animal careers which is great for animal lovers who are looking for a job with animals.
What they have to say:"Woof Report was created in 2008 as a daily email newsletter delivering handpicked dog care tips, news, products and more. Near the end of 2009, after sending hundreds of daily tips and gaining a loyal (and much appreciated) following, and stretching our budget to the limit — the daily emails came to an end, and the Woof Report team went their separate ways. As the Woof Report founder, I couldn't leave my beloved 'pet project' behind. I continued to find useful dog care and training tips, practical dog products, interesting dog news, and ideas for having fun with my own dog – things that I just had to share….so as of October 2010, Woof Report is back!"
What we have to say: Tons of tips on dog training, products, news, and much more. It's a smaller site that from what I read in the about section run by only one person, but keeps a regular posting schedule. There are several interesting sections on this blog including a forum which is unfortunately not very active. However, one section we do appreciate is the Lend a Paw section which covers tips on helping shelter pets…Linus appreciates the help…Thanks Guys!
Final Thoughts for Top Dog Blogs 31-40
Top Dog Blogs Numbers 31-40 are now in the books. We had another interesting mix with a run of super mega blogs squished in with some great single person operated blogs. In case you hadn't notice I usually give a few extra points to the single person operated blogs because I personally know how difficult it can be to keep your blog running.
I'd like to point out that one of our favorite blogs: the Bark N Blog has a small number of Compete Unique Visitors at 509 while only 1 spot ahead is the AOL backed PawNation with 431,433 Compete Unique Visitors. It just goes to show you that in our Top Dog Blog Series it doesn't matter how many visitors you receive daily…just keep pumping out great content to your blog and I'm sure we'll see you on the Top Dog Blog list in 2012
Don't forget to visit the blog tomorrow for the Top 50 Dog Blogs – 21-30! If you want it automatically delivered to your email box then join our email subscription list or if you're more technically advanced subscribe to our RSS Feed.
Thanks for joining us and we'll see you tomorrow!
Top Picks For Our Puppies
Check out more of our favorites on our New Puppy Checklist.