Toyota FJ Cruiser 2008 – Sylish, Rugged SUV For You And Your Dog
This post may contain affiliate links. We may earn money or products from the companies mentioned in this post.
I finally got off my butt and test drove a few cars on my perfect dog car list. The first car I took out for a spin was the Toyota FJ Cruiser 2008. The salesperson did not give me much help on the vehicle (she seemed to know less about the car than I did), but I did get the chance to take it for a short ride and thoroughly check out the interior and exterior of the vehicle.
The FJ Cruiser is a fairly new vehicle going on sale in 2006 as a 2007 model. This is a compact SUV with retro-styling reminiscent of the Toyota FJ40 Land Cruisers of the 1960's. The one thing our salesperson did mention were the color upgrades for 2008.
BRICK – A deep red color.
SANDSTORM- Beige…looks like the color of poop, but reminds me of the old school Land Cruisers. My college buddy had an old Land Cruiser that was poop color.
ICEBERG – Off White or kind of a milky white color.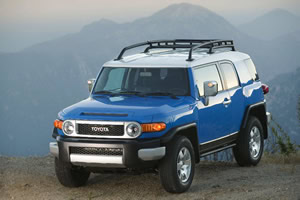 Cars that were mentioned as competitors to the FJ Cruiser were the Nissan Xterra, Hummer H3, Jeep Wrangler Unlimited, Suzuki Grand Vitara, and the Dodge Nitro. I will at the very least take a glance if not test drive all of these vehicles.
As far as looks go on this vehicle…I happen to like the way the FJ Cruiser looks. Although this is personal preference and I have heard the complete opposite from others. I guess it's somewhat of a love hate look.
Toyota FJ Cruiser 2008 Specifications
VEHICLE SPECIFICATIONS
type
4 Door mid-SUV
msrp
$22,545
transmission
automatic/manual
gas mileage
15mpg/18mpg
horsepower
239hp @5200RPM
standard engine
4.0L V6
seating
5 passengers
Does It Stack Up? Dog And Human Criteria Lists
Criteria for the dogs:
Seats that fold flat or easily removable – hopefully fits a crate or two – Unfortunately I did not bring a crate or tape measure. The seats did not fold totally flat and I've read other reviews that said that because they did not fold flat there was not enough space to fit a crate on top of the seats.
Plenty of usable cargo space relative to the size of the vehicle with wide, square backs, and little rear slope to make most of cargo area. – The rear of the car is square with decent cargo space, but again it appears that two large crates would not fit in the rear of this vehicle.
Dog friendly interior – Even the best dog can have accidents in the car. – I knew this was meant to be a rugged, outdoorsy type vehicle, but I was pleasantly surprised by the interior. Some have mentioned that the materials feel cheap compared to other Toyota vehicles (I think people are used to more of a luxury interior). The seat material feels very durable and as our salesperson pointed out also waterproof. The rubber floors and plastic side panels felt equally durable and seemed perfect for me and my dogs.
Door & window locks – Dogs are smart and some can open a car door. – This is fairly standard on most cars and was so on the FJ Cruiser (actually I'm not sure the suicide door windows on the back of the FJ open at all – I read a comment saying that they do not roll down)
All-wheel or four-wheel drive and high ground clearance – for camping or going to the mountains with your best friend (I'm talking about your dog of course). – You can purchase the Toyota FJ Cruiser with 4WD. The car I test drove was a 4WD.
Criteria for the humans:
Price Range: Under 30K – The base model comes in under $23,000 (not including the destination charge) and of course you can get the super high end FJ Cruiser for over $30,000. I would probably find middle ground and get some, but not all of the upgrades.
Curb Appeal – Hopefully the car is not hard on the eyes. – I happen to like the way this vehicle looks and even though I've heard the spectrum of answers on this vehicles looks I do hear more positives then negatives on the curb appeal category.
Fuel Economy -Unfortunately SUV's get worse gas mileage. – 15/18mpg's might be the worst of all the SUV's I plan on test driving. The other major negative is the FJ Cruiser requires premium gas…UGGHH!!!
Reliability – If you're car is not working what good is it? – It's only been on the market for a couple years, but Toyota in general is know for their reliability.

Retains Value – Cars are terrible investments, but we want it to retain some of it's value. – Again I'm going with the it's a toyota and historically Toyota's are pretty good at retaining value on average.
Extras – Any miscellaneous extra goodies the car may have. – This car has suicide doors. Basically the rear doors are smaller and swing the opposite direction of regular car doors.
Car in the City – Smooth ride? Does it have power? Handle Well? – the city drive was fairly smooth, but the steering felt a little squirrelly. The car had decent power and would be able to adequately pass and merge onto the freeway. The City driving handling was just okay, but I'm sure offroading is where this vehicle excels. It's also difficult to see out the back with blind spots in the rear.

Advantages – The Things I Like
The things I like about this vehicle are:
Handles decently in the city for an SUV.
Price – at under 23K base is well under my 30K limit.
Rugged, stylish, retro looks.
Nice power and acceleration.
Durable rubber floors, plastic panels, and waterproof seats .
Disadvantages – The Things I Don't Like
Some things I didn't like in test drive and read on the internet:
Car alarm sets itself after 45 seconds. If you're dogs are left in the car alone they will most likely set the alarm off.
Suicide Doors – My RX-8 had suicides and they are difficult to get in and out of. – the main problem I had with the suicides is when you're parked in a compact spot with a car next to you it is very difficult to open the suicide because you also have to have the front door open nice and wide.
Fuel Economy – 15/18MPG's is awful and to make matters worse you have to use premium gas!
Seats don't fold flat – this makes it difficult to have two crates in the vehicle.
Difficult to see with blind spots.
Conclusions
Overall I really enjoyed driving this SUV. It comes with some really nice pluses, but some huge minuses. As I said before I really, really like the interior of this vehicle which would be very easy to clean. The major downsides for me are the awful fuel economy/premium gas and the suicide doors.
I am just a regular consumer just like everyone else and don't get to thoroughly test drive these vehicles. I review information already on the internet and couple that with my own test drive and opinions. Hopefully this review helps you make your decision, but I'd highly recommend you do additional research on some of the other great auto review websites like Edmunds, Yahoo Autos, or DogCars.com.
There are many more cars to review and this is just the tip of the iceberg. Hopefully at the end of all my reviews I will eventually find the perfect dog car.
If you liked this article check out my first article on the Perfect Dog Car.
Let me know what you think about this car. Do you own a Toyota FJ Cruiser?
Top Picks For Our Puppies
Check out more of our favorites on our New Puppy Checklist.