What Do You Guys Think…Does Puppy = Mischief?
This post may contain affiliate links. We may earn money or products from the companies mentioned in this post.
Do you remember way back when you first brought home your puppy?  It starts off with pure joy and happiness!  Puppy pickup day is one of my favorite days as a guide dog puppy raiser.  However, things  slowly start to change as you bring home your new puppy.
It's been a while since I brought home a new puppy and after a couple days with Toby, an 8 week old guide dog puppy in training I figured out the following math equation: Puppy = Mischief
Puppy = Mischief
It usually starts with a little accident in the house…that's okay no biggie we'll have our puppy potty trained in no time.
Next comes the mouthy behavior and you realize your puppy has little vampire teeth…OUCH!!!
A few moments later he's chewing on your favorite pair of shoes… 🙁
Then he jumps on your favorite dress with muddy paws…ICK!!!
Finally, it's night time…YAY, time to get some sleep…NOPE!  Your puppy decides he's going to cry, bark, howl, yelp, scream all night and you end up with only a couple hours of sleep.
If you haven't raised a puppy recently then you may have forgotten some of these things.  Since I brought home Toby I've been lucky enough not to have experienced all of these joys of puppy raising however, it did bring back some special memories including Stetson screaming in his crate, Linus chewing my sister's shoes (glad you got hers and not mine), and Dublin's mouthy behavior…oh and I can't forget Derby's unmatched exuberance for life (he was a high energy pup).
Don't get me wrong I love puppy raising, but thank god our pups are so cute because those first few days/weeks can be brutal.
The Puppy Pass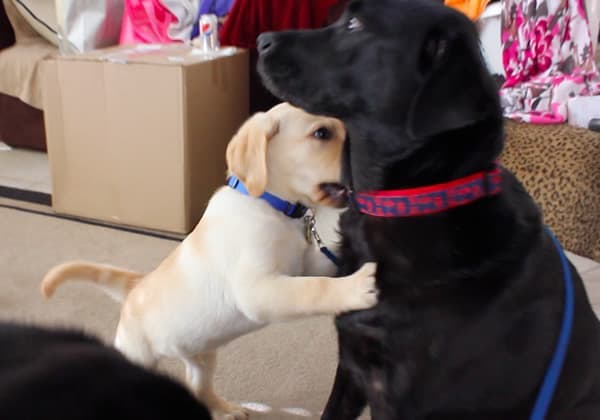 Even Linus and Stetson are none to pleased with puppy mischief.  I think they forget that they used to be annoying little puppies too.  I seem to recall Stetson buzzing around Linus like a gnat.  Toby was lucky because Stetson gave him a puppy pass and pretty much let him do whatever he pleased from chewing his ears to jumping on his back to biting his tail.  Linus on the other hand wasn't as forgiving and put Toby in his place every time he got out of order…Good boy Linus!
We had Toby for 2 weeks and a couple days ago we brought him back to the school so he could go home with a new puppy raiser.  He and his new family were happy, but I'm sure he'll cause at least a little bit of mischief in his new home.
So, what kind of mischief has your puppy caused in your household?  Do you agree: Puppy = Mischief?
Top Picks For Our Puppies
Check out more of our favorites on our New Puppy Checklist.