This is a Puppy Training blog about our journey as guide dog puppy raisers.  Most of the time we like to keep you posted about the latest puppy training tips, dog events, animal shelter and rescue information, puppy videos and pictures, dog toys and product reviews, and many other goings on in the wonderful world of puppies and dogs.  However, from time to time we may get a little personal…sorry for that.  Here's a bit of information that's going on in our life right now.
You may be wondering…"where have you been?" I haven't written a post on this blog for over two months. I apologize. I 'll try to be more diligent with my posts to this site. Lets start off with Halloween which is right around the corner. Our last Guide Dogs of America (GDA) meeting was our annual Halloween meeting. Most of our dogs were dressed in costumes. It's a good idea to dress your dog up for several reasons…first, your dog will be more tolerant to wearing different kinds of outfits on their head, feet, bodies (good for guide dogs because they will be wearing a jacket or harness for a good part of their lives)…and second, your dogs gets used to being handled by you.
Great Halloween Dog Costumes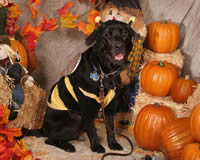 Anyways, here is a picture of Stetson in his bumble bee outfit. The other guide dogs in training should have their pictures posted on our local Orange County GDA website at http://www.ocgda.com. Our group did just recently purchase the domain name ocgda.com, so feel free to check out all of the latest Orange County Guide Dog information at our new ocgda website.
By the way, if you want to see some great dog halloween costumes check out The 6 Best Dog Costumes On The Internet.
Puppy Training Jobs
Who is Canine Companions for Independence. Taken straight from their website: "Canine Companions for Independence is a national non-profit organization that enhances the lives of children and adults with disabilities by providing highly-trained assistance dogs and ongoing support to ensure a quality partnership." I heard about CCI about 6 months ago and read through most of the pages on their website and browsed several of their monthly newsletters. About two months ago I noticed the job description for Puppy Program Manager listed on their website. They actually had two Puppy Program Manager positions open up one in the Southwest (Oceanside, CA) and one in the Northeast (Farmingdale, NY).
I thought what a great position…managing volunteers who do the same thing I'm currently doing with Stetson. I live about 45 minutes from Oceanside and emailed my resume for that position. I do have management and volunteer experience, however I was not hopeful because I do not have volunteer management experience. Anyways, several weeks passed and I received a call from CCI requesting an interview.
Needless to say I was very excited. I prepped for my interview by reading through the entire CCI website and also going over my interview preparation books. I put on my suit and headed out to Oceanside. I was excited just to see the CCI facility let alone interview for a job. When I arrived they had me fill out an application and I interviewed with two of the program managers. They were very pleasant and easy to talk to. I would say I did okay in my interview, but nothing fantastic. There were several dogs walking around the office. I assume they were Puppies in Training like Stetson. After the interview I got home wrote a couple of Thank you notes and sent them back to CCI.
It's been about 2 1/2 weeks since my interview and just yesterday I received a letter from CCI (a bad sign). It was a standard rejection letter thanking me for interviewing and giving me the good news (you have some great skills) bad news (however we are looking for someone who better fits the position). Unfortunately, not a happy ending for me this time…oh well, I was just thrilled to have the opportunity to interview for the position. I'm not sure if they are still accepting resumes, but if you are interested you can go straight to their jobs link on the CCI website.
Good luck to anyone who applies for a job and good luck to whoever the next Puppy Program Manager is for CCI's Southwest office.
So that's what's going on in the life of a Guide Dog Puppy Raiser.  What about you?  How's your life going?  Are you raising a puppy or working for one of the wonderful service or guide dog organizations across the country?  We'd love to hear what people are up to in the comment section below.