Word Wednesday – Puppy Siesta
This post may contain affiliate links. We may earn money or products from the companies mentioned in this post.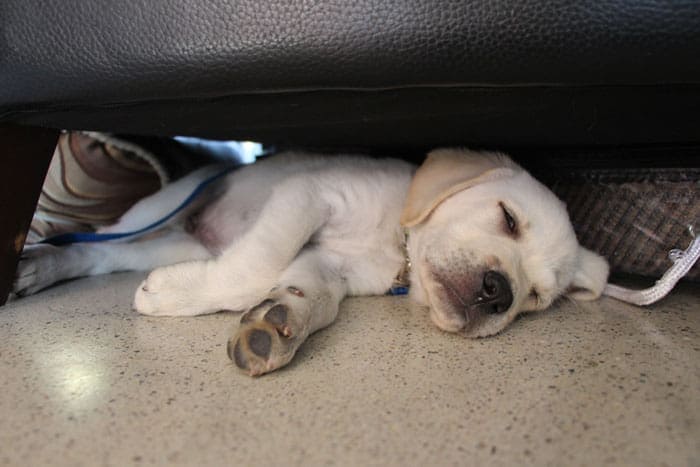 Siesta noun
a midday or afternoon rest or nap, especially as taken in Spain and Latin America.
Puppies love siestas!  I love siestas!  Therefore by the transitive property (learned in high school Geometry class) I must be a puppy (raiser)!  Yeah, sorry none of that really makes sense.  Plus you know anything I pull from my high school days must to be bunk.
Anyhow, I do have to say I love my siesta as much as Archer (if not more) and I also love him giving me a little break from his cray, cray puppy behaviors.  Honestly he's a very good puppy and Raven (our Golden Retriever) takes the brunt of his puppy zoomies.
In the early days under the couch or ottoman was his favorite puppy siesta spot, but today he doesn't fit underneath quite as well so he's now more comfortable in his favorite doggy bed.
Speaking of puppies and siestas this brings back memories (nightmares) of my first few weeks with Stetson.  Back when he was a puppy the only time I had a chance to sleep was during his siestas because at night he just wanted to bark, cry, whine, howl 🙁  If you haven't already, take a look back at my puppy, Stetson's first night at home.
What about you guys?  Do you get a good nap in during your pup's siestas?  Where is your pup's favorite place to take a siesta?  Tell us all about your puppy in the comment section below.
Top Picks For Our Puppies
Check out more of our favorites on our New Puppy Checklist.