How To Train A Puppy Like A Guide Dog Puppy In Training
Do you have an adorable puppy who's driving you nuts?  Not long ago we brought home our first guide dog puppy and after the initial excitement wore off we soon realized we were in for an extreme test of our patience.  My name is Colby and I've been raising and training guide dog puppies for the past 5 years.  Follow me and my pups on our journey from puppy to working guide dog.  If you've ever had a question about how to train a puppy then you've come to the right place.  We share our puppy training tips from our experiences as guide dog puppy raisers including how to potty train a puppy, crate training puppies, upcoming puppy adoption events, product reviews, and puppy behavior problems (biting, destructive chewing, digging, nipping, barking, jumping up, and leash pulling).
If you'd like to learn more about puppy training and follow our journey to becoming guide dogs then please enter your email address and click "Sign Me Up!" for free updates.

How I Learned "How To Train A Puppy"
How did the Puppy In Training website come to be?  When friends and family learned that I was raising a guide dog puppy in training I suddenly became an authority on dogs and puppies.  I have read many books on dogs including, dog training books, dog tricks, puppies, dog breeds, socialization and much more, but never really considered myself an authority (until now).  I may be a knowledgeable person on dogs and puppies, but I also have tremendous resources around me including Linus's trainer Sue Myles, Stetson's trainer Ramona Audette, our entire Orange County Guide Dog's of America group, the good people working at Guide Dogs of America in Sylmar, CA, my library of dog training books, and the power of the internet. As time has passed I have gained more and more knowledge on all things puppies and dogs.  I've even been cited in several major publications on the internet including:



Have you signed up to get free updates yet? If not, enter your email below:
Why Puppy In Training?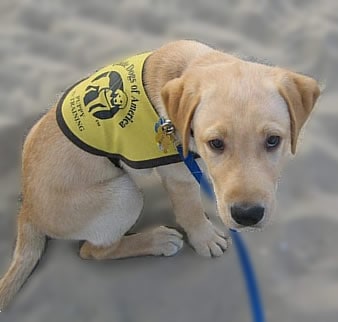 "Puppy in Training" is the writing on Dublin's training vest. Stetson, Derby, and Dublin were  Guide Dog puppies in training for the non-profit organization Guide Dogs of America. I'm using these pages to share insight on their training as well as things I learn about Stetson, Derby, Dublin, and my rescue dog Linus, and all the doggy related questions I hear from day-to-day.  If you look at the picture of Derby to the right you can kind of make out the Puppy In Training words on the bottom of his vest.
Dogs In Training
Dublin is a purebred Yellow Labrador Retriever bred at our school, Guide Dogs of America. He's currently working on his house manners, basic obedience, and puppy socialization.  All of this to prepare him for his formal guide dog training when he returns to the guide dog training school.
Stetson is a purebred Black Labrador Retriever also bred at Guide Dogs of America.  He's a little bit older than Dublin and he is a career changed guide dog.  After attending formal guide dog training school for about 2 months Stetson decided he did not want to work as a guide dog so we took him home as a family pet.  Over the past year Stetson has been doing sniffer training (k9 nosework training) and is currently working towards his first Odor Recognition Test (ORT) with the odor birch.  Stetson is also interested in becoming a therapy dog.
Linus is an all black Australian Shepherd Mix we picked up from the Carson Animal Shelter.  He's quite accomplished in both puppy kindergarten (took it twice) and basic obedience.  We also plan on enrolling him in sniffer training as soon as a beginner level course is available in our area.
Derby is a purebred Yellow Labrador Retriever bred at Guide Dogs of America.  He was my second puppy in training and unfortunately got dropped from the program at 12 months because he had trouble focusing and was two excitable in new situations.  He was adopted through the Guide Dogs of America adoption program.
Colby, as already mentioned has been a guide dog puppy raiser for the past five years.  He enjoys working with his three dogs on all aspects of puppy and dog training and has attended hundreds of dog training classes and puppy training classes from puppy preschools and puppy kindergartens to basic dog obedience training, k9 nosework training, canine good citizen training, therapy dog training, and guide dog training.
"My dogs and I have been through a lot over the past decade and love sharing all we know here on the website including guide dog training, therapy dog training, canine nosework training, puppy raising, dog product reviews, dog adoptions, dog rescues, dog shelters, dog events, dog trainers, dog training schools and much more. We hope our journey in the puppy universe will help others with their goals in raising and training puppies.  If you have any questions for me please go to our contact form and I'll do my best to answer your questions."
Check out:
We do our best to update the Puppy In Training blog between two and five days a week and encourage you to subscribe to our RSS Feed.  Many of the images are of my dogs and other guide dog puppy's in training from my group. Some images are taken from the web. If you see one that belongs to you then please contact us via our contact form and I will gladly credit it accordingly or remove it immediately.
If you want to learn some great puppy training tips, all you have to do is enter your email address below and click "Sign Me Up!"
Thanks for visiting our site!
Linus, Stetson, Dublin, and Colby