Which Dog Crate Is Best For My Puppy?
This post may contain affiliate links. We may earn money or products from the companies mentioned in this post.
This post is sponsored by Carlson™ Pet Products. We only share information we feel is relevant to our readers. Carlson™ Pet Products is not responsible for the content of this article.
It was a rainy day on January 7th, 2005. I asked the sales associate at the pet store: "which dog crate is best for my puppy?"
Yep, I'm talking about the day I rescued Linus from the Carson Animal Shelter.
I already knew I wanted to crate train Linus, but I had yet to research the different types and styles of crates.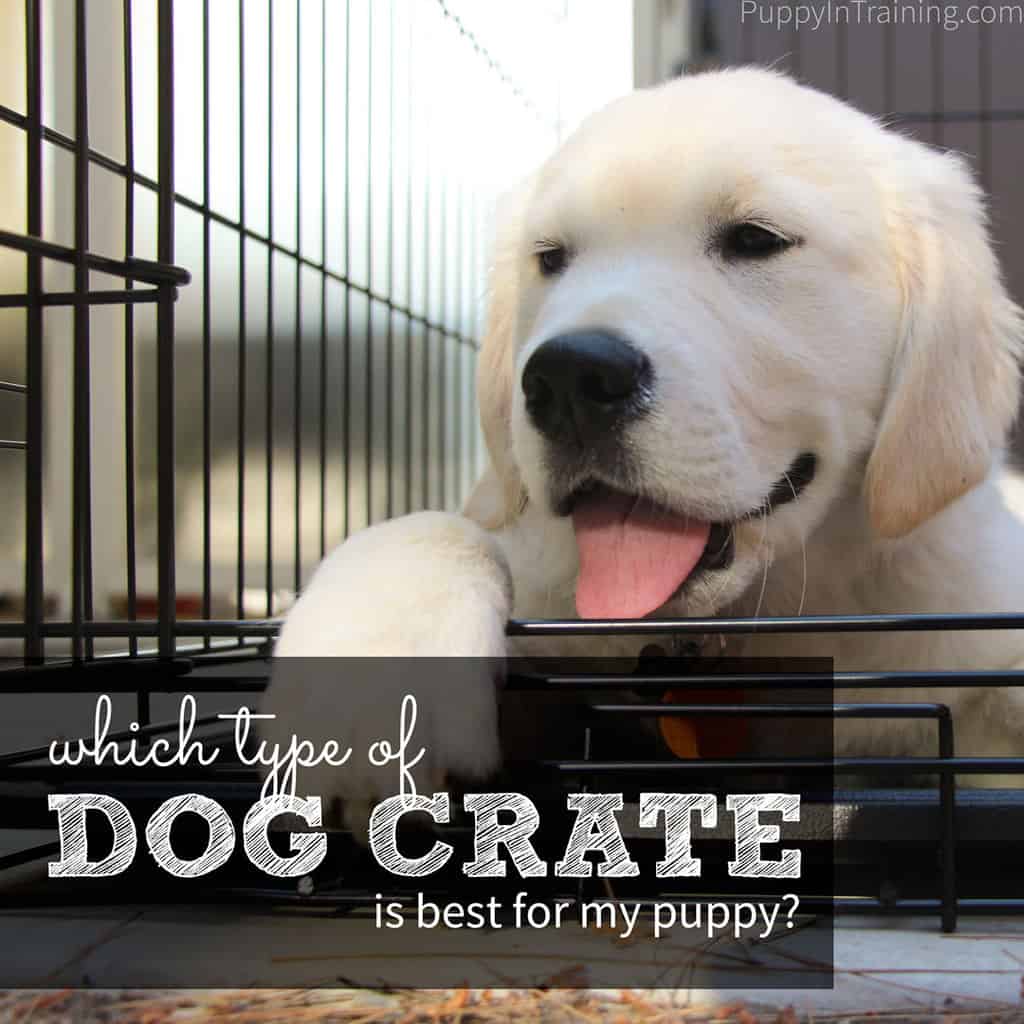 Fast forward 13 years…I've crate trained over a dozen service dog puppies using several different types of crates and today I'm going to share with you my answer to the question: "which dog crate is best for my puppy?"
Which Dog Crate Is Best For My Puppy?
I've been raising puppies for Guide Dogs of America (GDA) and other service dog organizations for 12 years! Holy cow!
One of the great things about raising for an organization like GDA is they help you get started with your new puppy in training. They give you a puppy starter kit, puppy raiser manual, and you also have the option of borrowing one of their crates.
Over the years I've had the chance to borrow different sizes, types, and styles of crates. On top of that, I've purchased my own crates and I've also received crates from our sponsor Carlson Pet Products for review.
So, which dog crate is best for my puppy? Let's break it down:
What Is The Proper Size Crate For A Puppy?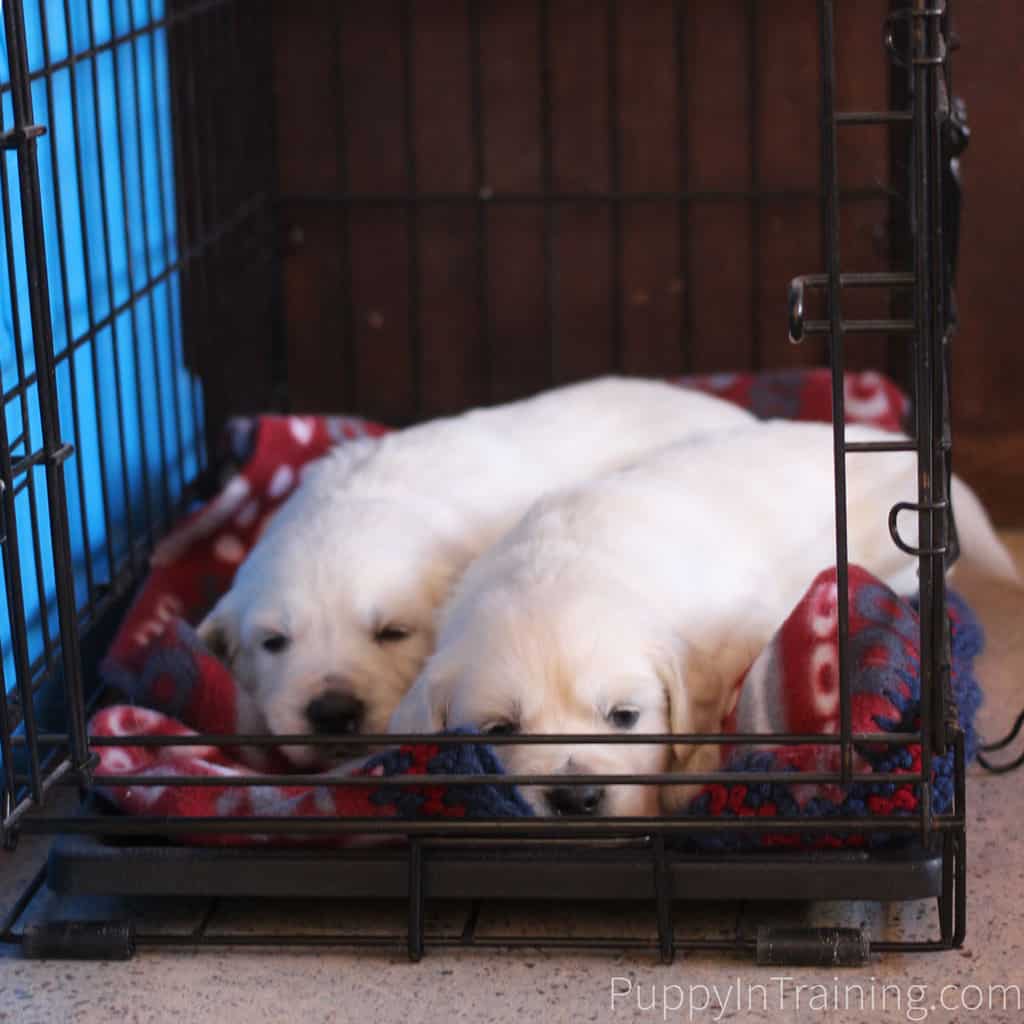 If you plan on crate training your puppy then it's uber important that you choose the proper size crate for your pup or get a crate that can adjust to the size of your puppy.
What is the proper size crate for a puppy? A crate should not be too big, but large enough for your puppy to stand, stretch and turn around.
Two options I'd recommend:
Get the proper size crate for your puppy and purchase a larger crate when you puppy outgrows the small one.
Get a large crate with a divider so you can increase the size of the crate as your puppy grows. We like our Carlson Double Door Crate w/ Divider.
When we brought home Linus we purchased a large wire crate with a divider.
However, when we raised puppies for GDA we borrowed a small plastic molded crate which was much easier for transporting our small puppy from the campus to our home.
As our pup outgrew the small crate we moved him to an intermediate and later a large crate (also borrowed from Guide Dogs of America).
Plastic vs Wire Dog Crates
I've used and owned both wire and plastic crates.
Which crate do I prefer for my puppies?
Wire Crates.
Why?
Easily Stored: If you have multiple crates like me or if you decide you don't want to use the crate anymore you might need to store your crate. Wire crates are collapsible and easier to store. The plastic crates I've owned can be made into two half shells and stored, but they still take up more space then the wire crates.
Visibility: Every puppy is different. Some like to see out of the crate while others like it more dark and den-like. We like the wire crate because you can either have it open so your pup can see everything going on around him or we throw a blanket over the top so he can't see out which can be good for quiet time. Unfortunately, you don't have this options with a plastic molded crate since it's mostly all closed up with limited visibility for your puppy.
Divider: Most (but not all) wire crates we've come across also have a metal divider allowing you to adjust the size of the crate to fit your puppy as he grows. We've yet to see a plastic molded-crate with a divider.
Plastic Tray: Our wire crates came with a plastic tray that is easy to slide in and out. If your puppy has a potty accident in his crate it's easy to slide the tray out and clean up. We've rarely had puppy pee or poop accidents in the crate, but we have had vomit and diarrhea that was easy to cleanup by sliding out our plastic tray.
Those are all wins for the metal wire crates, but are there any wins for the plastic molded crates? hmmm…
One thing…When we put a blanket over the top of the crate we've had some of our puppies decide it was their new toy and chew and shred the blanket.
One more thing…The plastic tray is not as durable as the rest of the crate. Ours have cracked and required replacement over the years.
The plastic crates are enclosed and wouldn't require a blanket over the top and therefore no shredded blankets unless your pup decided to shred the nice plush blanket you put in his crate to keep him cozy. Yes, that has happened too.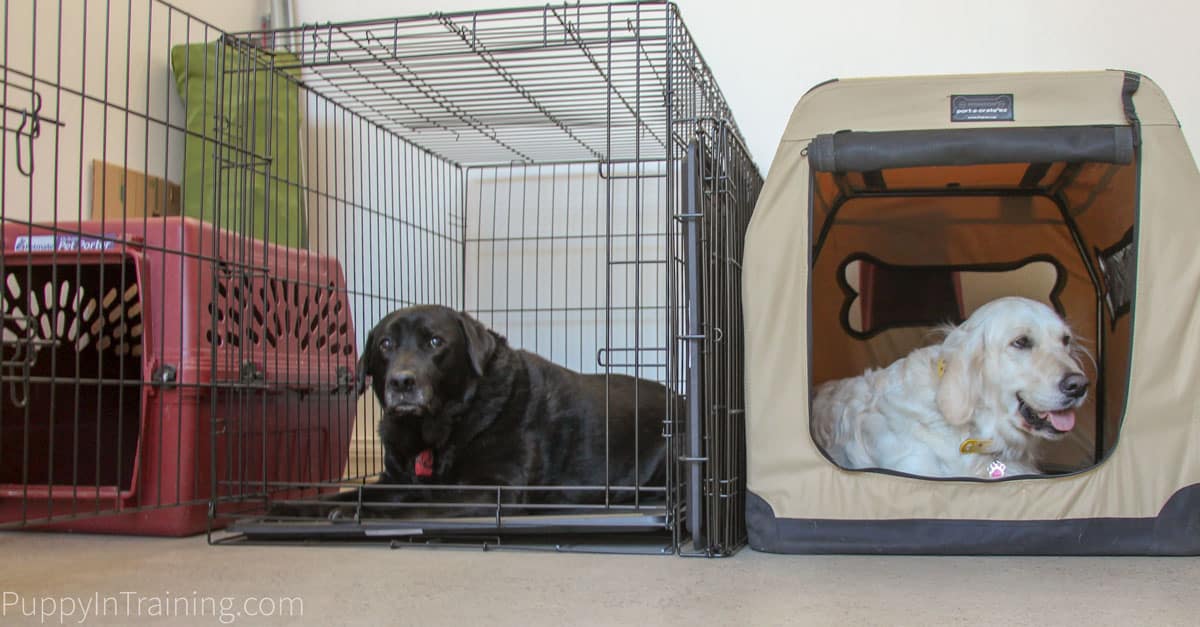 Travel Dog Crate
I'm not an expert with the travel crates, but I have tried two in recent years.
On a whim, we bought a pop-up travel crate at Target that we thought we'd use at the beach.
My advice on this and similar pop-up crates?
I do not recommend pop-up crates like the one pictured below.
Why?
Because this particular pop-up crate was so light, when my puppy, Derby laid up against the sidewall, it collapsed. After he figured out he could move the crate he tried to use it like a hamster ball.
Pop-up crates might work well for smaller dogs, but in my experience with my Lab puppy…no es bueno (those 4 years of Spanish are really starting to pay off).
See the travel crate Raven is sitting in the image 2 pics up? I used that crate with Stetson in our hotel room at BlogPaws 2016.
It worked perfectly as a getaway for Stetson in our hotel room in between learning sessions.
It was much sturdier than the popup crate, but lighter and more portable than our regular wire crate.
Of course, we're talking about puppies. My biggest concern with using a mesh travel crate like the two mentioned above is I can envision a puppy getting bored and chewing through the mesh.
I would definitely not leave my puppy (or even an older dog) unsupervised in either of these travel crates.
Fashionable Dog Crate Or Furniture?
Disclaimer: I've never used a fashionable dog crate/furniture, but I wanted to include this category to have a complete list of crates available to you, the reader. The crate I listed is highly rated on Amazon.com. However, please always perform your own due diligence.
We have yet to buy a dog crate that is also a piece of furniture unless using our wire crates as nightstand counts? Ugliest nightstands ever!
I can't say whether or not the below crate is a great product. However, I did want to list the option here so you could see there are some more stylish crates on the market.
Crown Pet Products Wood Pet Crate End Table
If interior design is on the top of your list then you might want to try one of these crates.
My biggest problem with crates that look like pieces of furniture?
They can be a bit pricey!
Oh, and when one of my puppies puts tiny teeth puncture marks in my stylish new dog crate/furniture…yeah, no longer stylish…
Heavy Duty Dog Crates
Disclaimer: We have not had the need for a heavy-duty crate and therefore we have not tested this category of crates. Once again I wanted to include these options so you, the reader would have a complete list of options. The crate I listed is highly rated on Amazon.com. However, please always perform your own due diligence.
Fortunately, we have not had the need for one of these heavy-duty dog crates.
However, we have heard of some puppies that are capable of destroying the plastic molded and/or wire dog crates.
If you have a destructive puppy you may want to opt for a heavy-duty crate like the one listed below:
Guardian Gear ProSelect Empire Dog
That thing is a BEAST! And, speaking of pricey…YIKES!
What Dog Crate Are We Using With Our Puppies?
We are currently using two different Carlson Dog Crates with our puppies and dogs.
We still have, but do not really use the plastic molded crates. Our travel crate is somewhere in the garage collecting dust (I pulled it out for today's photoshoot) and I think the popup crate met its demise during our move back in 2014.
If I was planning on only purchasing one crate for my puppy then I'd far and away choose a metal wire dog crate like the Carlson Double Door Dog Crate w/ Divider.
Why The Wire Dog Crate Is Best For Your Puppy
Here's a quick recap of why we chose a wire dog crate like the Carlson Double Door Dog Crate over all other options:
Versatile – You can use it with your puppy all the way to adulthood. You can use it at home or for traveling. You can leave it open so your puppy can see the world or cover it up with a blanket for privacy and quiet time.
Durable – We've been using several of our wire crates for well over 10 years. One Exception: the plastic tray cracks and will require replacement.
Easy to use – It doesn't require a brain surgeon to setup or collapse the crates.
Easy clean up – It's easy to slide the plastic tray in and out if your puppy makes a mess.
Inexpensive – Great value for a crate we've used for years with many of our service dog puppies.
That's a wrap! Now that you know what dog crates I prefer. It's time for you to sound off…
Did you or are you crate training a puppy?
If so, what kind of crate(s) did/do you use?
Tell us about your experiences in the comment section below.
Related Article:
Top Picks For Our Puppies
Check out more of our favorites on our New Puppy Checklist.