Welcome to PuppyInTraining.com! The premier website for new puppy owners, answering all your puppy raising and training questions.
PuppyInTraining.com is best known for its award-winning blog and YouTube channel where Colby shares his puppy training tips and experiences raising guide and service dog puppies.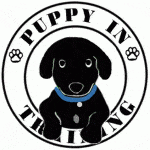 Bringing home a new puppy can be one of the most exciting things you experience in your life. There's nothing better than a cute, adorable, cuddly puppy sleeping on your lap.
However, what do you do when your puppy starts chewing your valuables (I literally had a puppy chew up $500 in cash), biting your hands, barking in the crate, or peeing and pooping in the house?
If you've run into any of these problems then you're in luck, because here at PuppyInTraining.com we have the answers.
On January 7th, 2022 we started raising our 17th puppy in training!
Follow our journey as we share our tips and experiences raising our Goldador (Golden Lab mix) guide dog puppy, Anna!
Our Story
In October 2006 I applied to raise a puppy for Guide Dogs of America and a few months later in February 2007, I brought home my first guide dog puppy in training, Stetson.
From day one my plan was to document the journey of raising and training a guide dog puppy by writing to a blog.
…6 months later…
I clicked the publish button and PuppyInTraining.com was officially launched on August 1st, 2007.
Since our launch over 14 years ago, we've helped thousands of new puppy owners with their puppy training and behavior problems, reached over 10 million readers through our blog, and started a successful Facebook page and YouTube channel chronicling the journey of puppy in training #3, Dublin from 8 week old puppy to working guide dog.
We also have over 20,000 subscribers to our FREE Resource Library giving our readers access to all of our printable Puppy In Training PDFs.
As Seen In

PuppyInTraining.com has been awarded as a top dog blog and featured in many print and online publications including OC Register, OCTA, Carlson Pet Products, America's Family Pet Expo, and PetSafe.
About Colby Morita
Colby Morita is a service dog puppy raiser/trainer and founder of PuppyInTraining.com, a blog that has been visited by tens of millions of people since its inception on August 1st, 2007.
My Work Story
As a working I.T. professional, I always gave back to my community by volunteering at various organizations including the Special Olympics, Working Wardrobes, and Habitat for Humanity.
In 2005 I rescued my first puppy, Linus from the Carson Animal Shelter starting my journey as a new puppy owner.
Shortly after rescuing Linus, I decided to merge my love for dogs with my enthusiasm for giving back to the community.
At a local Pet Expo, I inquired about the various volunteer opportunities with rescue organizations, therapy dog schools, and guide dog schools.
While I was intrigued by the idea of raising a guide dog puppy I decided a 2-year commitment might be more than I could handle. So, I decided a short-term assignment like fostering dogs and puppies would be a better test of my dedication.
I ended up fostering 11 dogs for local rescue including a litter of German Shepherd mix and Chihuahua mix puppies.
After my adventures fostering rescue and shelter dogs, I decided I was ready to commit to raising a guide dog and in February 2007 I brought home my first guide dog puppy, Stetson.
This started my journey to learn all I could about training dogs, specifically service dogs.
Since February 2007 I've raised and trained 16 guide and service dog puppies in training.
In 2016 I raised my first litter of English Cream Golden Retriever puppies and donated three pups to service dog schools. Since then I raised litters in 2017, 2019, and 2020 and donated puppies from each litter to service dog schools in California and Washington.
I've worked with several service and guide dog schools over the years including:
As a lifelong learner, I continue to attend classes, seminars, and conferences about training dogs.
Recognition & Awards
Here are a few of my accomplishments over the years:
B.S. Ecology & Evolutionary Biology, University of Arizona
Service Dog Puppy Raiser (15+ years)
Dog Trainer Apprenticeship, Wags And Wiggles
Dog Trainer Apprenticeship, TLCAD
Suzanne Clothier Dog Training Seminar
Clicker Expo Training
The Puppies
I'm most proud of all the puppies I've trained over the years whether they became working service dogs, therapy dogs, or career changed into family pets.
| No. | Name | DOB | Breed | Status |
| --- | --- | --- | --- | --- |
| 1. | Linus | 11/7/2004 | Aussie Lab Mix | Former rescue puppy. We said goodbye to Linus on 5/7/18, RIP. |
| 2. | Stetson | 12/21/2006 | Black Lab | Retired Guide Dog living in Arizona. Dublin passed away September 2023, RIP. |
| 3. | Derby | 5/7/2008 | Yellow Lab | Career changed Guide Dog placed through GDA adoption program. |
| 4. | Dublin | 5/18/2010 | Yellow Lab | Service Dog for a little girl with TBI living in Washington. |
| 5. | Apache | 12/22/2011 | Golden Retriever | PTSD Service Dog living in Oklahoma. |
| 6. | Adelle | 5/2/2013 | Yellow Lab | Mobility Service Dog living in California. |
| 7. | Raven | 6/15/2014 | Golden Retriever | Breeder for future Service Dogs. |
| 8. | Archer | 7/13/2015 | Yellow Lab | My career changed from Service Dog to family pet. |
| 9. | Buster | 11/9/2016 | Golden Retriever | Autism Service Dog. |
| 10. | Berlin | 11/9/2016 | Golden Retriever | Breeder for future Service Dogs. |
| 11. | Bear | 11/9/2016 | Golden Retriever | My career changed from Service Dog to family pet. |
| 12. | Charlie | 12/29/2017 | Golden Retriever | My career changed from Service Dog to family pet. |
| 13. | Downey | 4/30/2019 | Golden Retriever | Mobility Service Dog. |
| 14. | Doni | 4/30/2019 | Golden Retriever | My career changed to family pet. |
| 15. | Elsa | 5/16/2020 | Black Lab | Retired Guide Dog living in Arizona. Dublin passed away in September 2023, RIP. |
| 16. | Sandy | 10/27/2020 | Golden Retriever | Facility Dog. |
| 17. | Anna | 11/2/2021 | Golden/Lab Mix | In For Training (IFT) April 2023 |
My Personal Story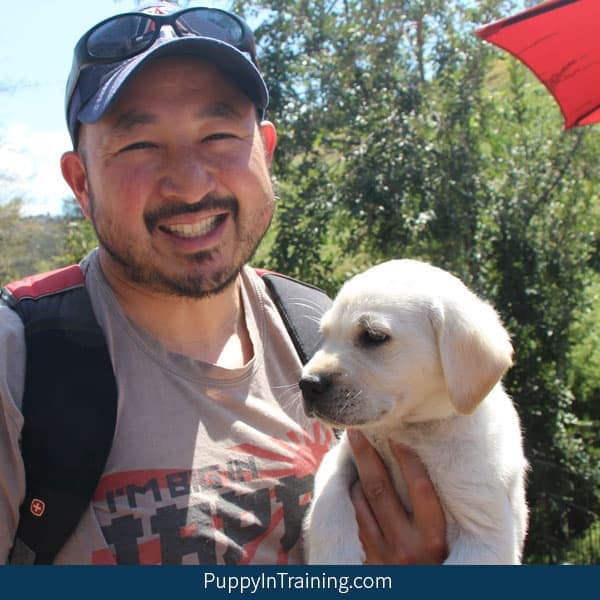 I'm the quiet guy in the back of the room. The wallflower at a party. I was a shy kid in high school.
It may seem different when you read one of my blog posts, watch one of my YouTube videos, or see our latest post on Facebook, but make no mistake I am an introvert.
However, even as an introvert, I can talk about three things for days: My three little girls, training puppies, and hockey.
I grew up in Fountain Valley, California, and went to college at the University of Arizona earning my degree in Ecology and Evolutionary Biology.
During my freshman year I remember seeing a shirt that read "The University of Arizona, the best 5 or 6 years of your life." I laughed at that t-shirt, but 6 years later I was still living the college life in Tucson, AZ!
And yes they were the best 5 or 6 years of my life!
That was a long time ago, now my life revolves around my wife, 4-year-old daughter, 3-year-old twin girls, 7-year-old Golden Retriever, 1-year-old black Labrador Retriever, and 16-week-old Goldador guide dog puppy in training.
Yep, the days of staying up until 3 am with my college buddies are long gone.
Now I marvel at every remarkable new accomplishment my kids make in life. I'm loving every minute of it!
Outside of my family and raising puppies I love playing sports. I played tennis in college and I've been playing ice hockey for over 30 years.
In more recent years I started playing pickleball, a cross between tennis, ping-pong, and badminton.
Life is great!
If you have any questions please don't hesitate to reach out through our contact form.
All the best,
Colby