How To Handle Your Puppy's First Night At Home
This post may contain affiliate links. We may earn money or products from the companies mentioned in this post.
Your puppy's first night at home. It's exciting, it's fun, it's definitely, and above all else, it's exhausting.
In today's blog post, we cover some things to think about before your puppy arrives at your home.
It's been about a year (UPDATE: Yowzers! It's been over 17 years now!) since I brought a 7-week-old puppy named Stetson home from Guide Dogs of America (GDA).
It made me think of our wonderful first meeting in Sylmar, CA, and also the countless nights without sleep for the first 4 weeks with our new pup.
Puppy Pickup Day
GDA does not leave you empty-handed after you pick up your puppy from the school.
In fact, they give you a puppy manual on what to expect and what you should do during those first few days and nights at home.
These steps aren't only for guide dogs and can be followed by anyone bringing home a puppy for the first time.
Guide Dogs of America also sends you home with a "Puppy Go Home Kit" that includes some of the first things you'll need for your new puppy including collars, leashes, dog food, etc.
Check out our new puppy checklist for all the items we think you need before bringing home your new puppy.
QUICK TIP: You probably won't be able to get your hands on a guide dog puppy manual. A good alternative that we highly recommend and read before bringing home our first puppy, Linus is Puppies for Dummies.
When You First Get Your Puppy Home
QUICK ACCESS: If you're having puppy training problems then you should join our Puppy Training Tips email list and get instant access to our New Puppy Owner Checklist PDF. To get started CLICK HERE.
Everything's New…Everything's a First…
First things first…we are informed that up to this point, your puppy has been with his mother and his littermates in a sterile environment.
UPDATE: Guide Dogs of America starts working with new puppies before they go home with their puppy raisers in their Puppy Head Start program. However, every puppy will have a different start. Make sure you talk to the breeder, rescue organization, shelter, or whoever was last taking care of your puppy. Find out as much information about how your puppy was raised before he/she goes home with you.
It's advised that your puppy's first week at home should be a quiet one. The puppy should be allowed to explore and meet his new family.
You should now start teaching your puppy his name (amazing because now Stetson knows his name like the back of his paw).
When you first arrive home give your puppy a chance to relieve himself in an area you have designated for that purpose (Stetson's designated spot was in the gravel area on my patio).
In case you need to brush up here's a tutorial we wrote up on the basics of potty training your puppy.
Take your puppy out on a leash (without his bib on) — (GDA puppies in training are never allowed to "Get Busy" with their bib/jacket on) — and repeat "Get Busy" (Remember this may be the first time your puppy has heard these words).
Allow your puppy 10-15 minutes, if he hasn't relieved, take him inside. Try again in 10 minutes.
If the puppy does relieve himself in the proper area, give him lots of praise. Then let him explore the house (remember to supervise – don't let him out of your sight).
Afterward, you may take him inside, but remember to supervise your puppy; do not let him out of your sight. Talk to your puppy when it explores to make him feel more at home.
QUICK RECOMMENDATION: We recently started training our puppies to alert us when they have to go potty by using a potty-training doorbell called the Smart Bell. It requires a little bit of training, but it's a good alternative to your dog scratching up the backdoor.
Puppy's First Night At Home
If you've raised a puppy before then you probably know this is where the real fun begins (sarcasm…this is actually when you learn that you do not get to sleep your first night(s) home with a new puppy).
QUICK TIP: Check out this blog post if you want to know everything you should expect from your 8-week-old puppy.
The first few nights at home may be difficult for both you and your pup.
At night the puppy will feel lonely and will probably demonstrate this by whining (Oh, you betcha!).
These are a few things that you can do that might make the puppy feel at home.
1. Your puppy's sleeping quarters should be in a small crate.
We use a MidWest Life Stages Double Door Crate which comes with a divider (this allows us to adjust the crate size) and put a blanket over it to make it seem cozier.
2. Keep the crate in a draft-free area next to your bed.
For approximately the first three weeks, if your puppy cries, take him out, on a leash to his relieving area.
After relieving put him back into his crate. Do not give him any treats or any playtime. Put him right back into his crate and he should go back to sleep.
3. Under no circumstances take the puppy to bed with you.
This will form a very undesirable habit.
Trust me…it's difficult to avoid doing when your puppy is whining all night, but it's very important to leave him in his crate.
4. Give the puppy a stuffed dog toy to snuggle with.
I was told to bring a plush dog toy with me to GDA when we met the litter and get each of Stetson's littermate's scent on the toy.
Then when it was time to put Stetson in his crate for the first night he could snuggle with the toy and smell the scent of his littermates.
QUICK TIP: Over the years we've tried many different plush toys for our puppy's first night home. Our favorite and one we highly recommend is the Calmeroos Puppy Toy with heartbeat and a heat pack. Our last puppy, Anna loved her Calmeroos Puppy Toy and it helped her sleep better on her first night in her crate.
Puppy's First Feeding
This will be your puppy's first meal by himself. Once your puppy's food (we feed our puppies and recommend Wellness Core Natural Grain Free Puppy Food) is prepared, you will start having your puppy sit and wait for his food.
Hold your puppy by his collar by slipping your thumb in his collar and set his food about two feet away.
As soon as he stops wiggling, say the words "O.K." and release your puppy.
This should be done at every meal throughout training.
Using this method it usually takes less than a week for your puppy to start waiting for his food on his own.
My Experiences With My Puppy
At Stetson's Puppy Kindergarten, I was always reminded that every puppy is different. Even within a breed.
There are several people in our group who have raised 10 or more Labrador Retrievers in the Guide Dogs of America program and each one is different.
My experience with Stetson was very difficult in the early days and weeks.
I had no problem with Stetson when I first got him home.
I already knew about the trials and tribulations of house training and crate training after raising my first rescue puppy, Linus.
Puppies tend to piddle about every 10 to 20 minutes. You have to watch them like a hawk or they will end up using your house as their personal restroom.
Stetson had some accidents here and there, but nothing out of the ordinary.
The agony came in the evening.
Stetson did NOT take to the crate!
He whined, howled, cried, and barked…probably made every noise he could possibly produce, but would not relax and go to sleep.
He did sleep once in a while (honestly I felt like a zombie for over a month).
During those first 4 weeks, the most sleep I got was 6 hours, broken up 3 or 4 times a night by whining, howling, barking…you get the picture.
I was a wreck and I thought Stetson would never get used to his crate.
The only way I was able to get him to sleep was to talk to him for 5-10 minutes, telling him what a "good boy" he was when he wasn't crying (if he did cry I would just keep silent until he stopped).
To try and quiet him down I'd either say "quiet" or "Shhh".
I have two words for you – consistent and patient.
After about 4 weeks of consistently sticking to my guns, not letting him out of his crate, and praising him when he was quiet Stetson suddenly stopped making noise in his crate.
He'd let me sleep through the night and I thought I'd reached bliss.
I'm constantly reminded that I need to be consistent and patient with Stetson's training. In the long run, it pays off. Stetson has not barked, howled, or whined in months.
As a matter of fact, I can only recall him barking one time in the past 6 months (he barked because he was trying to get my attention to go outside).
I actually think it's kind of unusual that he doesn't bark at all anymore, but I'm lucky to have more peace and quiet.
If you're having trouble getting your puppy to quiet down in his crate at night then take a look at this article that includes 20+ tips for helping your puppy get used to his crate.
FAQs – Puppy's First Night Home
Where Should A Puppy Sleep The First Night?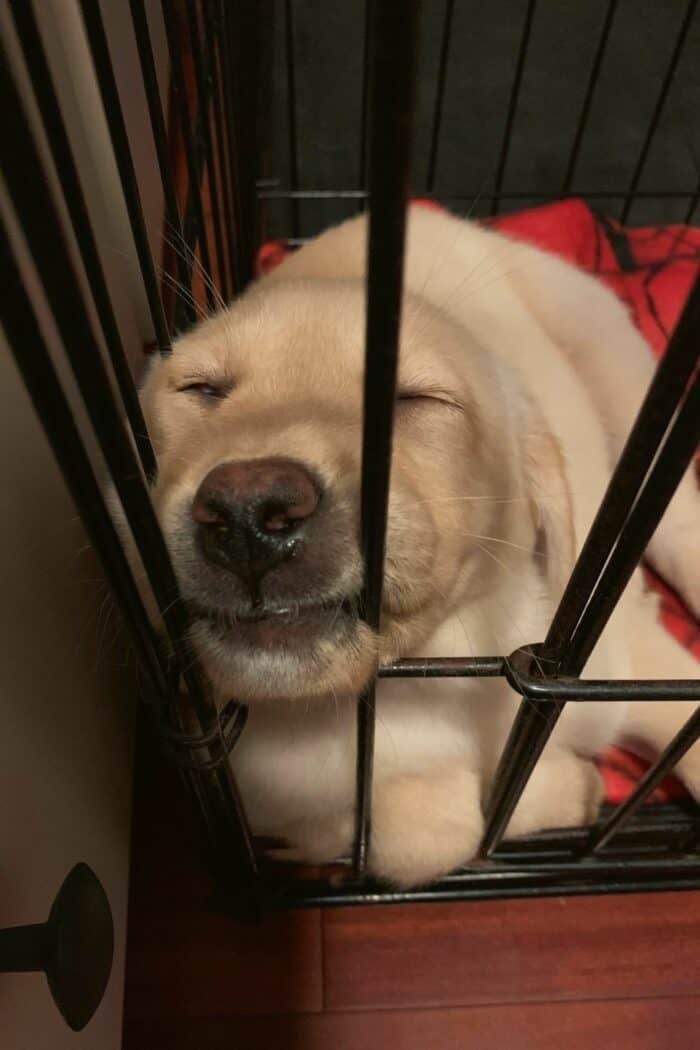 New puppy owners often ask me where should a puppy sleep on the first night.
ANSWER: All of our puppies sleep in the crate on the first night. Why?
Starting on day one we want our puppies to get used to sleeping in their crate.
If we allow them to sleep elsewhere like our beds then we are reinforcing the behavior of sleeping on the bed.
Therefore, trying to start them in the crate will be more difficult on day 2.
Also, I want them to get used to sleeping in their crate until they are potty trained and learn the appropriate rules in our house i.e. they won't chew my socks, shoes, bed posts, baseboards, drywall, doors, etc…yes, my past puppies have all chewed all of these and more!
Should I Let My Puppy Cry The First Night?
Hopefully, your puppy loves the crate and sleeps through the first night without a peep. Most likely he will wake up crying 2-4 times at night.
What happens when your puppy starts crying? Should you let your puppy cry the first night?
That question is more complicated than it seems. The answer is YES and NO. I'm going to give you a couple of most likely scenarios.
First, as mentioned earlier we crate-train our puppies. If at the end of the night, our puppies start crying in the crate they will most likely settle down after about 5-10 minutes of whining. Therefore, yes we let our puppies cry.
Second, if our puppy wakes up in the middle of the night and starts crying we take him immediately to his potty spot.
After he goes potty we take him straight back to his crate to go back to sleep. This generally happens 2-4 times a night.
Those are the two most likely crying scenarios with your puppy. However, there are an infinite number of other possibilities for puppies crying in the crate on the first night. If you're having issues please leave us a comment.
Should I Leave My Puppy Alone On The First Night?
It's your puppy's first night away from his littermates. It's his first night in a new home. It's the first night away from the only family he's known. It's possibly the first night away from his mama.
Should you leave your puppy alone on the first night?
The short answer is no, please don't leave your puppy alone on his first night. The long answer is we set up our puppy's crate next to our bed (where you'd normally find a nightstand). I sleep about a foot away from my puppy in my own bed, puppy in his crate.
If I feel like my puppy is experiencing some anxiety on his first nights home I will also sometimes sleep on the floor for a few nights and slowly start to migrate back to my bed.
How Long Will A Puppy Cry The First Night?
This is the question I fear when I bring home a puppy. The answer is it depends, every puppy is different.
We've had puppies sleep through the first night for 8 straight hours with no crying.
We've had other puppies cry the majority of the first night with only short respites (I'm looking at your Stetson).
However, you probably want to know what I consider normal for how long a puppy will cry at night.
ANSWER: the average puppy will cry for 5-10 minutes in his crate before you go to bed. At this point he will likely settle down and go to sleep.
Over the next 8 hours, most puppies will wake up 2-4 times and will need to go outside and potty.
When you get back from the potty break most puppies will cry for another 5-10 minutes before they go back to sleep.
After about 8 hours of sleep, your puppy will want to wake up and eat breakfast.
Can My Puppy Sleep With Me The First Night?
As I mentioned earlier, all of my puppies sleep in their crate on the first night.
Why don't I allow my puppies to sleep in bed with me?
I want my puppies to get used to the crate and I DON'T want any potty accidents in my bed. This calls for a story:
Many years ago, I talked to a friend who allowed her puppy to sleep in her bed. She told me the puppy pooped and pee'd in the bed.
She cleaned up the mess but could still smell poop. Later she realized she rolled over poop and it got stuck to the back of her PJs…Ewww…
That story has "stuck" in my head for years and now I'm adamant about no puppies in the bed.
Your Puppy's First Night – Quick Recap
Make sure you have all the essential items you need for your puppy. Check out our New Puppy Checklist.
Get a good book on raising and training a puppy like Puppies for Dummies.
Your puppy's first few days should be a quiet one. Let him get comfortable in his new environment.
Start training your puppy immediately with basics like potty training, name, and crate.
Always supervise your puppy.
Use a small crate near your bed. – We recommend the MidWest line of crates.
Give your puppy a stuffed dog toy to snuggle with. – we highly recommend the Calmeroos Puppy Toy with heartbeat and heat pack.
Puppy's first feeding – have him wait before meals. – we give our puppies and recommend Wellness Core Puppy Formula.
Be consistent, persistent, and patient when training your puppy.
Conclusion: Rest Up Before You Get Your Puppy
Get lots of rest before getting your puppy. The first night with a puppy is often a sleepless night.
More often than not you'll at the very least have to wake up several times to take your puppy out to go potty.
On the other hand, if you get a homesick puppy then you might have to endure a night (possibly several nights) of barking, howling, crying, and yelping puppy.
Hopefully, you get the latter and are only disturbed a few times in your nightly slumber.
Good luck!
That's it! Hopefully, now you're prepared for the first night home with your puppy.
How did you do with your puppy's first night at home?
Tell us your experiences in the comment section below.
Related Article
UPDATE: This post was originally published on January 30th, 2008. We made some updates and left some of the content the same. We've learned a lot over the years and it reflects in the new information.
Top Picks For Our Puppies
Check out more of our favorites on our New Puppy Checklist.