Word(less) Wednesday – Puppy Siblings!
This post may contain affiliate links. We may earn money or products from the companies mentioned in this post.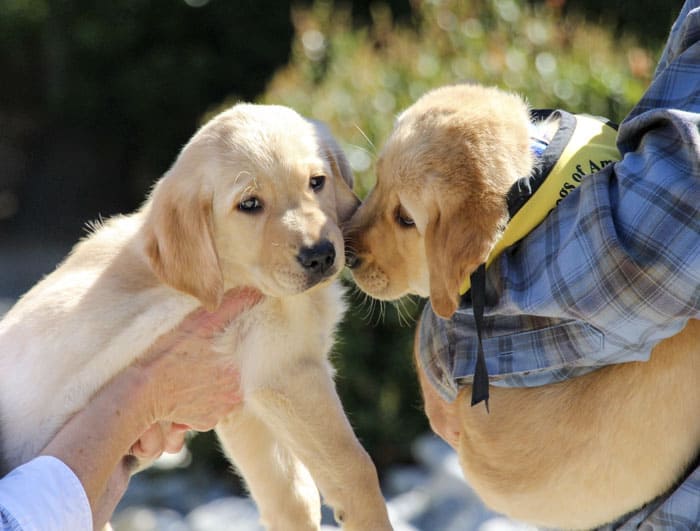 Siblings noun
each of two or more children or offspring having one or both parents in common; a brother or sister.
A couple weeks back we stopped by the Guide Dogs of America campus and got to see puppy raisers meet and bring home their puppies in training.  This is a wonderful opportunity to meet your pup's siblings and the wonderful puppy raisers who are tasked with training these guide dog puppies in basic obedience, good house manners, and socialization.
We've been lucky enough to attend puppy pickup day over a dozen times.  Sometimes to pickup our own pups and other times to support our friends during their pickup day.  The first day with your puppy is a lot of fun, but the interesting part happens when you get home and experience the first night with your puppy.  If you are planning on crate training your puppy like we do with our guide dog pups then I suggest you check out this article I wrote about Stetson first night home a few years back.
Anyhow back to siblings!  One of our favorite things about raising puppies for an organization like Guide Dogs of America is you also get to see the progress of your puppy's siblings.  At GDA, litters are identified by letter.  Therefore if you have a "D" litter puppy then all of the puppies in that litter will have a name starting with the letter "D".  For example: Derby had siblings: Dexter and Dutch (there were a few others…I can't remember the names off the top of my head).  It was always cool to hear about my pup's siblings and their stories going from puppies in training to working guide dogs.
Back to you guys.  Are you in touch with any of your puppy's siblings?  If so, how similar/different are they from your pup?  Tell us about it in the comment section below.
Top Picks For Our Puppies
Check out more of our favorites on our New Puppy Checklist.