Dog Training – AKC's Canine Good Citizen (CGC) Program
This post may contain affiliate links. We may earn money or products from the companies mentioned in this post.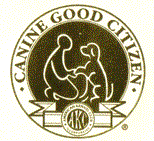 Last week at our GDA meeting I was told that we would have the opportunity to certify our dogs in the AKC's Canine Good Citizen Program. I have heard of this certification before and I know that many dog owners use the Canine Good Citizen training and testing as a prerequisite to therapy dog certification.
I'm very interested in getting Stetson the best training possible in preparation for his duties as a Guide Dog and the Canine Good Citizen Certification would look great on his resume. And if Stetson did not make it as a Guide Dog then I would definitely do my best to certify him as a therapy dog.
AKC's Canine Good Citizen (CGC) Program
There are 10 test items in the CGC Program. Here's the list:
Test 1 – Accepting a friendly stranger

In this test Stetson has to remain in position while the handler (me) meets a friendly stranger. Stetson is pretty good at this and doesn't usually break position when I meet a stranger.

Test 2 – Sitting politely for petting

Stetson needs a little bit of work in this area. He doesn't always stay seated when he is petted…something we've been working on, but as far as I can tell he may not have to remain seated for the test.

Test 3 – Appearance and grooming

I groom Stetson quite frequently including bathing, brushing, brushing teeth, cleaning ears, and cutting nails. He should be fine on this test.

Test 4 – Out for a walk (walking on a loose lead)

Stetson is pretty good on walks. He usually keeps a loose lead. He should be fine on this test.

Test 5 – Walking through a crowd

Stetson is not bothered by walking through a crowd. He should be fine on this test.

Test 6 – Sit and down on command and Staying in place

Sit, down, and staying in place is one thing we are constantly working on. Stetson should be fine on this test.

Test 7 – Coming when called

Stetson loves coming when called. He shouldn't have a problem on this test. My only worry is how hard he's going to hit his head into my shins.

Test 8 – Reacting to another dog

This is the big one. We really need to work on his reactions to another dog. Basically the handler (me) and Stetson will meet the evaluator and a dog. Stetson must remain calm and show no more than casual interest in the other dog. My Mom, Stetson, Linus and I practiced this yesterday and Stetson did great, but he sees Linus everyday. I need to work on this with dogs Stetson does not already know.

Test 9 – Reaction to distraction

For the most part Stetson is not bothered much by distractions. He should be fine on this part of the test.

Test 10 – Supervised Separation

Stetson is fine when he's separated from me. I often think he will not even care when he leaves for his formal guide dog training. He just seems to have fun wherever he goes. He'll be fine during supervised separation.
Why Doesn't Linus Get Tested For CGC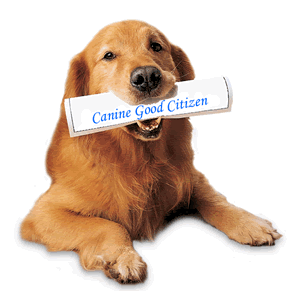 Linus is an awesome dog, but there are just some tests I'm pretty sure he'd never be able to pass in the Canine Good Citizens Program. Actually he is much better than Stetson on several of these tests. However, I don't think he'd ever be able to pass Test 9 – Reaction to distraction. Linus is a bit timid and gets frightened easily by distractions. The examples listed on the AKC website are dropping a chair, rolling a crate dolly past the dog, having a jogger run in front of the dog, or dropping a crutch or cane. Linus shies away from these things which is a negative reaction and would most likely not pass this portion of the exam.
I have about a month to prepare Stetson and will find out most of the details on the test this Tuesday.
I'm looking for people with well behaved dogs to work on Test 8 – Reacting to another dog. If you have a well behaved dog and would like to work on this portion of the test with me then please contact me in the comments section of this article. By the way, I'm located in Orange County, CA.
For more information on the Canine Good Citizen Program visit the AKC website.
Are you interested in getting your dog CGC certified? Have you completed this program? I'd love to hear what you have to say especially if you are interested in or have already completed the Canine Good Citizen Program.
Top Picks For Our Puppies
Check out more of our favorites on our New Puppy Checklist.