Puppy Adoption – German Shepherd Mix
This post may contain affiliate links. We may earn money or products from the companies mentioned in this post.
If you are considering puppy adoption, I highly recommend visiting one of your local puppy/dog rescues. In past articles I've talked to you about the puppy/dog rescue, Cuddly Canines. I want to do my best to help place these puppies by profiling each puppy, litter of puppies, and dogs on this blog.
***Note this dog may already be adopted as I will keep this information in my archive. Please check the Cuddly Canines website for the most recent puppies up for adoption.
Richie the German Shepherd Mix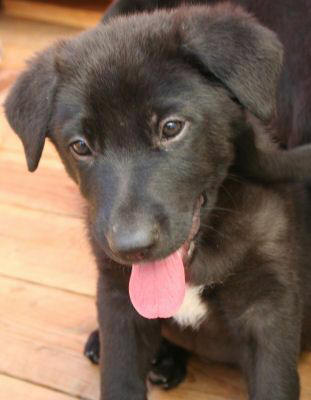 Richie

Born on December 30th to a purebred German Shepherd mommy & what looks like a Black Lab daddy, Richie has the happy, good nature of a Lab & the loyalty of a German Shepherd. A real winning combination! Since birth, he has been in a foster home with 3 kids, other dogs, and cats. Richie is well on his way to being housebroken & responds very quickly to training! This boy is going to make a fabulous family pet.

Richie is in Redondo Beach
Are you interested in adopting?
If you are interested in adopting Richie please visit the Cuddly Canines website. If you happen to adopt Richie please remember, it's never too early or too late to start him on his training. If you are interested in puppy adoption or fostering here are a few other articles you might enjoy:

Puppy Adoption And Fostering
Dedicated To My Dog Linus
Of course, Richie is not the only dog being fostered by Cuddly Canines. Please visit their website to see the most current pictures of all their dogs and puppies.
I'd love to hear what you have to say about this article. Is puppy adoption in your future? Do you want to try puppy fostering? If so, please visit the Cuddly Canines website.
Top Picks For Our Puppies
Check out more of our favorites on our New Puppy Checklist.