How To Handle The 3 Most Common Puppy Health Problems
This post may contain affiliate links. We may earn money or products from the companies mentioned in this post.
When I first picked up Linus from the Animal Shelter I really didn't know to much about how to handle the most common puppy health problems. The shelter gives you a little bit of information (maybe it's different today then it was years ago), but it does not compare to the packet of information I received as a guide dog puppy raiser from Guide Dogs of America (GDA). As it turned out after bringing my shelter puppy Linus home I had many puppy health questions to ask my veterinarian.
I love being a puppy raiser and one of my favorite days is picking up a brand new puppy for the first time. There's always a lot of excitement on puppy pickup day and one thing I don't think a lot about are future puppy health problems. Good thing GDA sends puppy raisers home with a packet of information including important info on the most common puppy health care tips.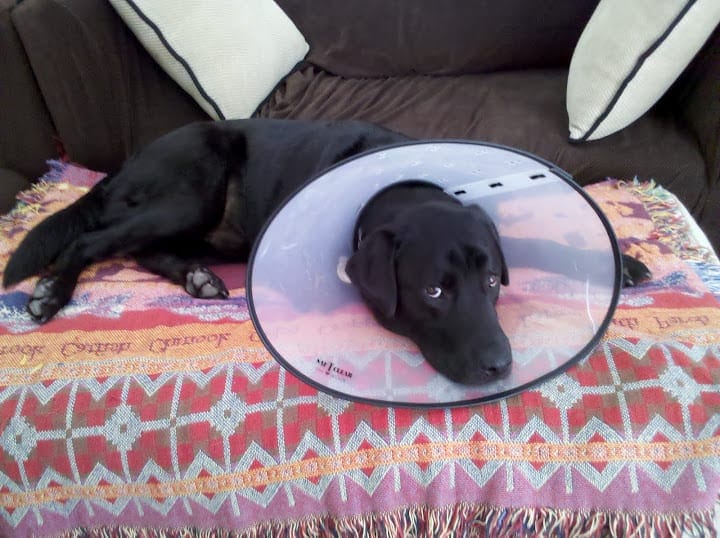 Stetson Wearing The Cone Of Shame
Most Common Puppy Health Care Tips
Please always contact your veterinarian if you are experiencing a puppy health problem.
If it's your first time raising and training a puppy then a lot of information may be new to you including future puppy health problems. Lucky for me as a guide dog puppy raiser I was issued a short sheet of paper detailing what I can do when my dog runs into health issues. Here's the information I received on puppy pickup day. Hopefully this information will some day help you and your dog.
PUPPY VOMITING
NO FOOD OR WATER FOR 6-8 HOURS, or you will upset the stomach more.
Afterward, give small, frequent feedings of a bland diet, such as 2/3 rice to 1/3 boiled chicken.
Give water in the form of ice cubes, just 3 or 4 in the pup's dish.
If there is no change in the puppy's condition within 24 hours, call GDA (call your veterinarian).
PUPPY DIARRHEA
Call GDA (call your veterinarian), we will probably want you to drop off a stool sample.
If puppy has diarrhea, but no vomiting, give 3-4 ice cubes every hour.
Follow steps 1,2, and 4 from the puppy vomiting section above.
PUPPY FLEA CONTROL
The following products are recommended by GDA for the prevention of fleas:
PROGRAM – Given orally once a month.
FRONTLINE – Applied topically to the dog's skin once a month.
These products may be started as young as 8 weeks of age. Please refer to the Puppy Manual for detailed information about these products. Do not use any other products (i.e. dips/insecticide, shampoos/flea collars) with Program or Frontline.
I've been raising guide dog puppies for over 5 years now and I've encountered each of these puppy illnesses. Lucky for me all the puppy vomiting, diarrhea, and fleas were more of an annoyance then anything for me to get alarmed about. However, that may not be the case with every puppy. Puppy vomiting, diarrhea, and flea control can all be serious issues and I'd definitely recommend you contact your veterinarian as soon as possible if you run into any of these common puppy health problems.
As I've mentioned earlier in this article please contact your veterinarian any time you are having a puppy health problem. Veterinarians are the experts and they should always be notified if your puppy is experiencing an illness.
Hopefully you never run into these health problems with your puppy, but if you have tell us what you did to treat your puppy's upset stomach or flea problem. I'd love to hear your thoughts in the comment section below.
Top Picks For Our Puppies
Check out more of our favorites on our New Puppy Checklist.